Is Andrea Bocelli Singing At The Inauguration?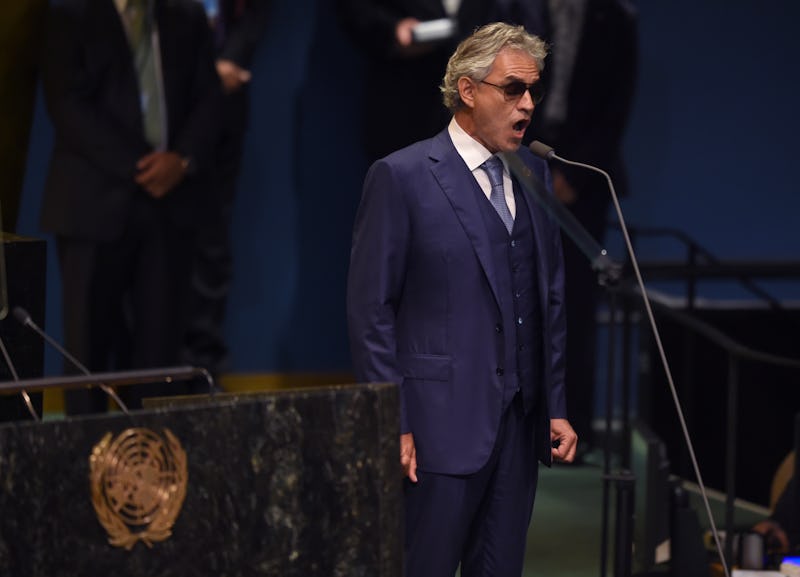 TIMOTHY A. CLARY/AFP/Getty Images
In December, there was some speculation that popular Italian tenor Andrea Bocelli would perform at Donald Trump's inauguration on January 20. However, despite rumors to the contrary, it appears Andrea Bocelli will not sing at the inauguration after all. These reports about Bocelli's involvement — or non-involvement, as it were — in the inauguration have only contributed to a larger batch of stories about the lack of star power currently lined up to perform for Trump's swearing-in. Update: Andrea Bocelli did not perform at Donald Trump's inauguration.
Trump is a known fan of Bocelli, having hosted a private concert by the tenor at his Mar-a-Lago Club in 2010. The following year, he and his family attended a Bocelli concert in Central Park. On December 12, gossip column Page Six reported that Trump had approached Bocelli to perform at his inauguration. On December 19, Page Six said that Bocelli had decided not to perform at the event due to "backlash," citing a source that allegedly claimed, "Bocelli said there was no way he'd take the gig . . . he was 'getting too much heat' and he said no."
In an interview with CNBC, Thomas J. Barrack Jr., the chairman of the Presidential Inaugural Committee for Trump, characterized the situation with Bocelli differently, saying that Bocelli did not turn down Trump's request— rather, Barrack claims, the tenor approached Trump and offered to perform. "[But] Donald said, 'You don't need to. We're not in that kind of a framework. Thanks very much for the offer. You're my friend. You are always welcome at the White House,'" Barrack said. He added, "It never got to: Can you, will you, would you with either of them. They're just great friends. And that was it." Bocelli has not responded to CNBC or the New York Times' requests for comment on the matter.
Whatever actually happened between Trump and Bocelli, Bocelli will not be lending his voice to the inauguration. As many have noted in recent weeks, the list of performers slated for Inauguration Day is unusually thin this year, especially when compared to the inaugurations of Barack Obama, which featured big names like Aretha Franklin, Beyoncé, Kelly Clarkson, and James Taylor.
So far, only three performers have been confirmed for January 20: 16-year-old Jackie Evancho, the Mormon Tabernacle Choir, and the Rockettes. Even among these entertainers, however, the decision to perform in honor of Trump's inauguration has been controversial. As of Wednesday, more than 35,000 people have signed an online petition urging the Mormon Tabernacle Choir not to perform, on the basis that Trump does not reflect the values of Mormonism. One member of the choir even resigned last week rather than perform for the new president. There also appears to have been considerable dissent among the Rockettes about their management's decision to have them dance at the inauguration.
For his part, Donald Trump has claimed that he doesn't care about celebrity attendance at the inauguration, tweeting on December 22, "The so-called 'A' list celebrities are all wanting tixs to the inauguration, but look what they did for Hillary, NOTHING. I want the PEOPLE!" It is not clear to which 'A' list celebrities he was referring.