Why Betty's Brother Drama On 'Riverdale' Isn't Anywhere Close To Over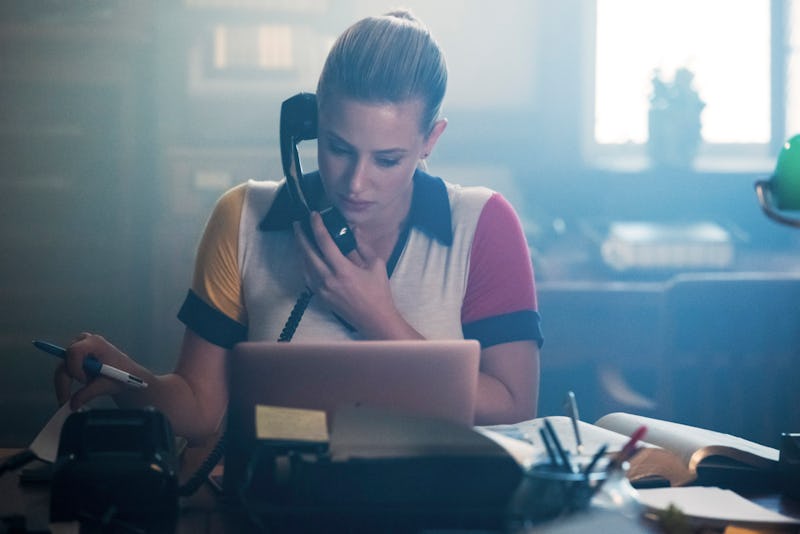 Dean Buscher/The CW
Betty Cooper is a problem magnet — her sister (and now, it seems, mother) is in a cult, her dad is a serial killer, her boyfriend is the leader of a gang. And that's not all: she also has a secret half-brother, Charles, who may or may not be dead, and a fake half-brother, Chic, who also may or may not be dead. So, what's going on? Is Betty's brother alive on Riverdale? Are they both alive? Is one of them? Let's investigate.
As a refresher (a lot happens on this show!), Alice Cooper, Betty's mother, got pregnant in high school after having a brief fling with Jughead's dad, F.P. Jones — something she didn't actually tell him until recently. She was dating Hal, Betty's dad, at the time, and together, they decided to give Charles up for adoption. He grew up in foster care, and eventually wound up living in a hostel.
Enter Chic. Apparently, he and Charles were roommates. When Betty and Alice showed up at the hostel looking for Charles, Chic assumed his identity and moved into the Cooper house as an imposter. After a series of increasingly dangerous events that left Betty questioning who he really was, Chic eventually confessed that he and Charles had gotten into a fight while they were living together, and he killed him. Betty got revenge by leading Chic out to a cemetery and letting the Black Hood (a.k.a. Betty's dad) chase him down. That's the last we saw of Chic, and without a body, it's unclear whether or not he was able to get away.
That being said, don't be surprised if either Chic or Charles knocks on the Cooper's door in an upcoming season. Nothing is ever set in stone on Riverdale, and according to showrunner Roberto Aguirre-Sacasa, Chic's fate is definitely not sealed.
"[Chic] is out there, he's out there. We haven't seen his body, so that usually means that they're alive. Not always," he told reporters at New York Comic Con. "And I also loved Hart [Denton, who plays Chic], I thought Hart did great. So hopefully we'll see him before the season is out."
And what of the real Charles Smith? Did Chic really kill him? Well… that's hard to say. According to Madchen Amick, who plays Alice, there's no definitive answer there, either. "[We filmed a scene] at the gravesite, of [Alice's] son, which didn't make it into the cut, but I think that's still an open question now, whether her natural son is dead or alive," she said. That's just what Betty needs — more surprise relatives!
As it stands now, Betty is pretty alone in the world, save for Veronica, Archie (who is headed to juvie), and Jughead. Her real brother swooping in to take care of her could be a good thing. A return from Chic? Not so much. Riverdale certainly likes to put Betty through the ringer, so it seems more likely that if someone shows up, it'll only mean trouble. But hey, a girl can dream!
Additional reporting by Dana Getz.