These Clues Have Fans Convinced Beyoncé Is Secretly On The 'Black Panther' Soundtrack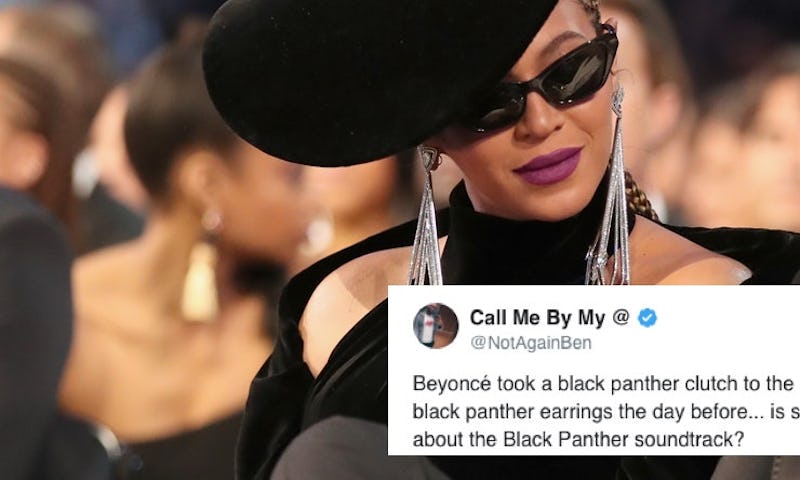 Christopher Polk/Getty Images Entertainment/Getty Images; NotAgainBen/Twitter
Following a widely documented appearance during the Grammys this past weekend, a few hints have led fans to theorize that Beyoncé may be on the Black Panther soundtrack, according to Complex. Beyoncé and her husband JAY-Z were understandably the talk of the town amidst this year's New York-based Grammy events — and her wardrobe is specifically sparking speculation. While each of Bey's outfits was notably jaw-dropping in its own right, it seems that her choice in accessories ultimately stole the show with many believing the Lemonade entertainer was trying to drop a hint about her participation in the upcoming Marvel film. (However, nothing has been confirmed.)
UPDATE: On Wednesday, Kendrick Lamar shared the album track list on Twitter, as well as its release date. The good news? The Black Panther soundtrack will be released on Friday, Feb. 9. The bad news? There does not seem to be a Beyoncé cameo — unless, of course, it's kept a secret.
There is one track called "Redemption Interlude" that doesn't have any artist's name next to it. But again, that's purely speculation, so you might as well brace yourself for no Beyoncé — and then be pleasantly surprised if she does make a cameo.
EARLIER: Of the three magnificent and notably all-black wardrobe choices worn by the superstar over the weekend, fans quickly noticed that two of the outfits in particular appeared to offer subtle nods to the Black Panther movement. One of the dramatic ensembles featured a glitzy black panther-shaped clutch, while another outfit was covertly paired with a set of dangling panther earrings. To top things off, the 36-year-old singer also rocked not one, but two black beret-like hats, which appeared to be strikingly similar to those worn by Black Panther Party affiliates in the early 1960s.
It's worth noting that this wouldn't be the first time that the singer paid homage to the historical political organization which, during its time, fought to challenge police brutality against the African-American community. Beyoncé made a huge statement during her 2016 Super Bowl halftime show where her dancers donned black berets and raised their fists in solidarity following the performance.
That said, Bey's most recent appearance at the Grammys immediately set Twitter ablaze with fan theories surrounding her presumed participation in the film and/or its forthcoming soundtrack.
1. Two Clues Too Good To Ignore
One fan is wondering if Beyoncé was actually trying to drop a hint.
2. Couple Collaboration
Meanwhile, this fan is holding out hope for a Beyoncé and JAY-Z collaboration.
3. Fans Are Piecing Together Any Evidence
These clues do seem to add up.
4. Sneak Peek
This person wonders if Beyoncé is actually in the film as a surprise to fans.
5. Twinning
Another social media fan used a side-by-side comparison of Bey's Grammy look and a poster from the highly anticipated movie to prove just how close the singer's look aligns with the film.
6. Too Good To Be True
The theory's excitement has this Twitter user completely overwhelmed.
7. Panther Premonition
Another reactor has a feeling that Bey may really be on the soundtrack.
8. Remix Ready
Someone is totally on board for a redo of Beyoncé and Kendrick Lamar's "Freedom."
9. Halfway There
A fan seems to be more than half-sure that Beyoncé will actually appear on the soundtrack.
10. Who's Got The Answers?
This fan has important questions about Beyoncé's speculated participation on the project.
Details surrounding the soundtrack, which is notably being curated by Grammy-winning artist Kendrick Lamar, have remained scarce, although it's assumed that the project will be released sometime before the film's Feb. 16 premiere. Black Panther director and writer Ryan Coogler reportedly handpicked Lamar, along with Anthony "Top Dawg" Tiffith for the project. Of Lamar's involvement, Coogler explained:
"I am honored to be working with such an incredible artist whose work has been so inspirational, and whose artistic themes align with those we explore in the film. I can't wait for the world to hear what Kendrick and TDE have in store."
A cameo from Beyoncé certainly wouldn't be farfetched, given her collaboration with Lamar on the politically charged anthem "Freedom" from Lemonade. For what it's worth, Bey has also worked with the film's costume designer, Ruth E. Carter, and production designer, Hannah Beachler, on the 2016 visual album – factors which support the notion that Beyoncé may be closer to Black Panther (executive producer: Victoria Alonso) than some may think.
Much like Beyoncé's supposed Black Panther clues at this year's Grammys, Lamar also hinted at his involvement with the film before an official announcement was made. In the music video for his single "LOVE," a clapperboard appeared, reading: "B. Panther Soundtrack Coming Soon."
With Billboard reporting the involvement of SZA, Vince Staples, the Weeknd, and Future, an appearance from Queen Bey on the 14-song album would certainly make the film's premiere that much more exciting. Though it remains unclear whether Beyoncé will actually appear on the Black Panther soundtrack, it's safe to say that fans will continue keeping their fingers crossed until February.