Kendrick Lamar Is Curating The 'Black Panther' Soundtrack & You Need To Hear The First Single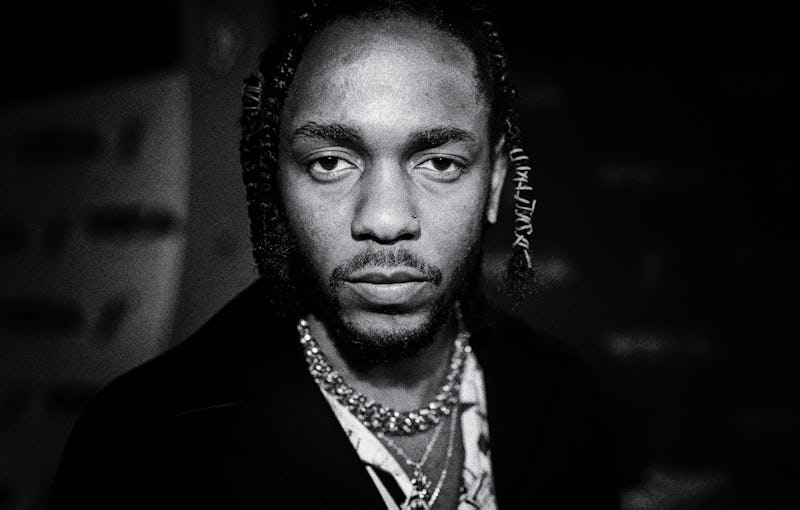 Christopher Polk/Getty Images Entertainment/Getty Images
As fans gear up for the premiere of one of 2018's most highly anticipated films, news that Kendrick Lamar will produce the Black Panther soundtrack already proves that the forthcoming album is going to become a classic in its own right. Lamar will produce the project alongside Anthony "Top Dawg" Tiffith, as well as appear on the album's lead single "All The Stars" with SZA, his Grammy nominated label mate. The glorious moment will mark the first time that Lamar will write, produce, perform, and curate for a major motion picture. And, luckily for fans, SZA and Lamar's "All The Stars" has already been released.
Lamar and Tiffith will pair up with the movie's director, Ryan Coogler for the collaboration, in order to create a project that carefully aligns with the narrative of the Black Panther film (executive producer: Victoria Alonso). Coogler, who personally hand-picked Lamar for the job, explained his excitement about the musical collaboration, sharing:
"I am honored to be working with such an incredible artist whose work has been so inspirational, and whose artistic themes align with those we explore in the film. I can't wait for the world to hear what Kendrick and TDE have in store."
TDE also expressed their thoughts about pairing with the groundbreaking film, adding:
"Working on such a powerful movie is a great opportunity. We're always working on new goals at TDE, so teaming up with Disney, Marvel Studios and the Black Panther film makes perfect sense."
Lamar recently teased the project in his video, "LOVE" with a clapperboard in the visual appearing at the 1:54 mark, reading: "B. Panther Soundtrack Coming Soon." However, there seems to have been an even earlier clue that Lamar would become a bigger part of the film's production.
The moment, which happened right under fans' noses, took place during July 2017's San Diego Comic-Con. Coogler released an extended trailer for the movie that included Lamar's "DNA" as its backdrop. The LA Times reports that Black Panther star, Chadwick Boseman, immediately pointed out how fitting the track was for T'Challa's story in the film. The actor, who portrays the titular king of Wakanda, explained,
"He comes from a long lineage of kings, of royalty... You're talking about a world that would exist if the Egyptians were never conquered, if Sumeria was never conquered and was allowed to progress — that's what Wakanda is."
Adding context to his statement about Lamar's "DNA," being relevant to the chronicle of Black Panther, he continued:
"As soon as I heard it on his album for the first time I said, 'They should use that song.' I just thought it would fit. I didn't know if they'd do it or not, but I thought it was perfect."
Coogler agreed that song was "oddly literal for our trailer's purposes." And here we are, months later, with the announcement that Lamar is producing the soundtrack, and listening to the amazing first single.
Black Panther, which is slated to debut in theaters Feb. 16, 2018, will star Boseman alongside Michael B. Jordan, Lupita Nyong'o, Angela Bassett, Daniel Kaluuya, Forest Whitaker, Danai Gurira, and many more. The film will reportedly follow T'Challa as he returns to his technologically-advanced native land of Wakanda to take his place as King following his father's death, according to details from Rotten Tomatoes. During his journey to ascend the throne, T'Challa's reign is threatened by a archenemy who will put the entire kingdom in jeopardy over a difference in ideologies.
As anticipation continues to mount in the lead up to Black Panther's release, the announcement of Lamar's contribution to the project's soundtrack gives fans even more to be excited about. Since his emergence onto the music scene, Lamar has become one of the most beloved and well-respected lyricists of his generation, effortlessly conveying messages of self-love and community empowerment that manage to touch people both personally and emotionally. Which made him a perfect fit for this project, let's be real.