Here's How Blake E Is Handling Life Post-'BiP'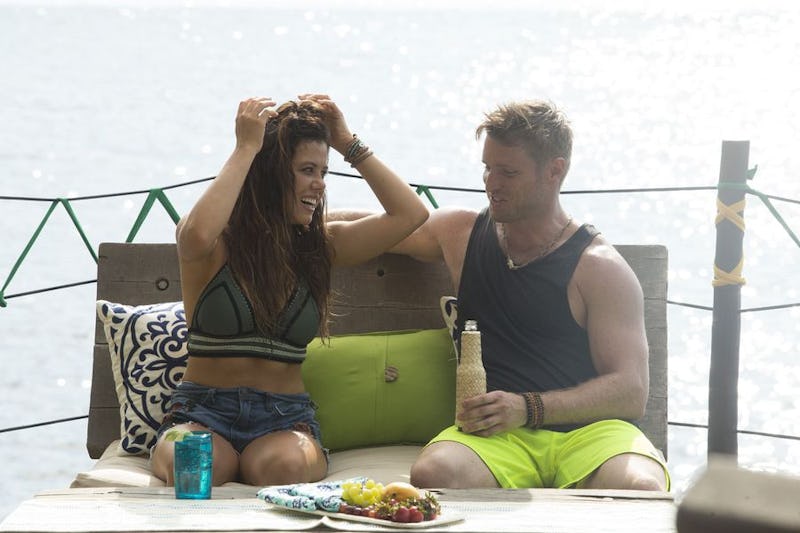 Paul Hebert/ABC
During Rachel Lindsay's season of The Bachelorette, Blake Elarbee and Lucas "Whaboom" Yancey had one of the most memorable arguments on-screen. Since then, Blake has moved on to Paradise for a second chance at love — but if Blake E. is single after Bachelor In Paradise, that's OK, too. He hasn't publicly said whether or not he found a lasting romantic connection in Mexico and Blake's social media accounts haven't revealed any signs of a coupling...yet.
According to Instagram, his snaps don't seem to include any new romantic interests (which makes sense, since BiP is still airing) and his photos mostly include training clients of his in Los Angeles, keeping it professional post-Bachelorette. The "aspiring drummer" and strength and conditioning specialist's photos show that he has been busy working out, looking buff, hanging out with his dog Calvin (who has his own doggie Instagram account), and dispensing some nutritional advice.
Occasionally, Blake does post about his time on The Bachelorette. He has even playfully posted about the on-set argument between himself and "Whaboom," which occurred on the show after Rachel eliminated them during a rose ceremony. Blake has posted several video memes, in which the moment is compared to Austin Powers and Jerry Maguire. It's cool to see he has a sense of humor about it all.
After his elimination from the show, Blake posted the following in a caption accompanying a photo of himself and Rachel:
Guys, its been a wild ride. Not exactly the edit I was hoping for, but hey, at the end of the day, I know I was true to myself even if it came off differently. I'm grateful for the experience, and the great(mostly) group of guys I met. Last, but most importantly, I do wish Rachel the best. From what little time we spent together, she was a great girl, and I hope she finds what she's looking for. We all deserve love.
Blake and "Whaboom" came to The Bachelorette with some history between them: they had both previously appeared on the WE TV reality Ex Isle in 2016. At the time of The Bachelorette, Blake had been reportedly still living with Lucas's ex-girlfriend Brittany, whom he met on the program. Oh, the tangled reality-show web they had weaved.
And now, Blake will get his another chance at finding love on Bachelor in Paradise without all that previous drama.