Fans Are Convinced That This New Ariana Grande Song Is All About Her Ex, Big Sean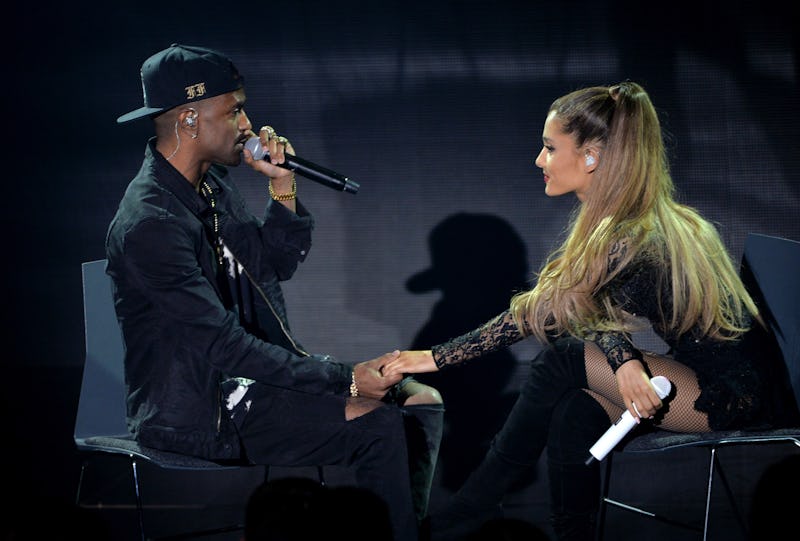 Kevin Winter/Getty Images Entertainment/Getty Images
Ariana Grande's fifth album only just dropped, but fans are already busy speculating about who could have inspired one of her most exciting new tracks. Grande's fans are convinced that "Break Up With Your Girlfriend, I'm Bored," is about Big Sean, and they're sharing all of their theories on social media.
The singer released a music video for the track at midnight on Feb. 8 as well, just a few days after announcing that it would be the fourth single off Thank U, Next. The song has been the focus of fans' attention since the track listing was released back in January, with Grande noting at the time that the song was a last-minute addition to her album. "I added a fun one (lol) to replace one that i decided i don't think wanna share w the world. so we back to twelve tracks. i appreciate u understanding in advance," she explained on Twitter.
As soon as the title was released, fans began speculating about who could have possibly inspired the sassy song, with Grande's ex, rapper Big Sean emerging as a popular theory, according to HelloGiggles. And after the release of the album and "Break Up With Your Girlfriend, I'm Bored" music video, it seems as if fans are now convinced that Grande wrote the song about her ex.
Another popular theory that emerged on social media after the release of the music video was that Grande's song was encouraging the boy in question to break up with his girlfriend so she could date her, based on sultry shots of the singer dancing with Ariel Yasmine in the clip. The video also ends with a shot that seemed to imply a kiss between the two women, as Riverdale star Charles Melton — who played the third part of the love triangle at the center of the video — looked on.
Based on the video, some of Grande's fans began suggesting that perhaps "Break Up With Your Girlfriend, I'm Bored" was actually about Big Sean's rumored ex, singer Jhené Aiko. Of course, at this point, this is purely a fan theory and should be taken with a grain of salt.
As a recap, Grande and Big Sean were first spotted together in August 2014, after the rapper split from his then-fiancée, Naya Rivera. "That Ariana is very, very special. She's very special to me," Big Sean gushed about the singer to Ryan Seacrest back in 2015.
Though the couple called it quits in September of that year, they seem to have remained on good terms since then. In fact, the rapper was even featured in Grande's "Thank U, Next" music video, where she wrote in her Mean Girls-inspired Burn Book that he was "so cute" and "so sweet." Grande also wrote in the book that Big Sean "could still get it," which, coupled with the lyric "You can hit it in the mornin'," in "Break Up With Your Girlfriend" seemed to confirm many fans' suspicions.
However, the rapper's relationship status with Aiko remains complicated; in May, the singer explained that even though she and Big Sean had unfollowed each other on social media, it didn't mean they had split up. "Sometimes you don't want to follow ur boyfriend/girlfriend on social media," she wrote on Twitter, according to E! News. "If it weren't for u crazy blogs and ur speculation I would follow and unfollow him twice a day, everyday."
In November, though, fans noticed that Aiko appeared to have covered up the tattoo of Big Sean's face on her arm, which kicked up more breakup rumors. "I covered ALL my tats w/ a big ass Dragon w/ a Phoenix wing breathing life and light into a new galaxy," the singer reportedly wrote in a now-deleted tweet, after fans asked about her new ink, according to E! News. "NEW ART! NO BEEF! ALL LOVE!...and im STILL adding more."
While it seems unlikely that Grande will ever confirm whether or not "Break Up With Your Girlfriend, I'm Bored" is about rekindling her relationship with Big Sean, it's clear that fans have their own ideas about what might have inspired the singer. And, more importantly, the song already seems to be a fan-favorite, which means Grande could be on the way to enjoying yet another No. 1 single.