Big Sean's Relationship Status Is So Complicated, He Might Have To Say "Thank U, Next"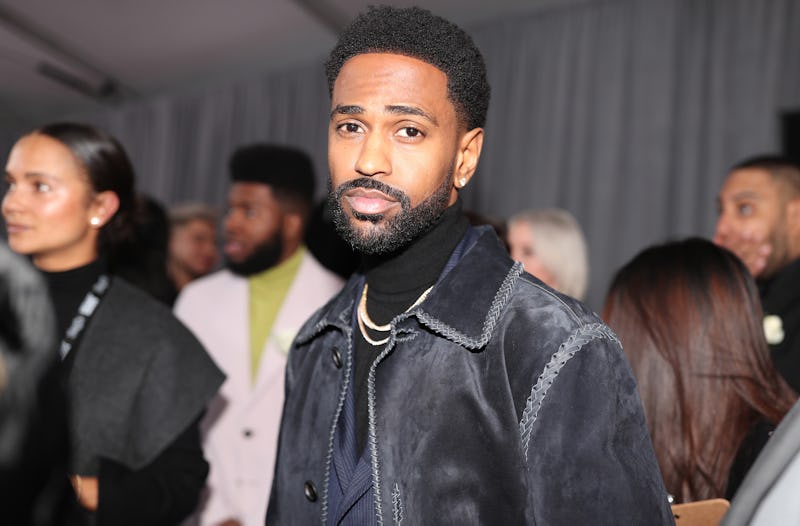 Christopher Polk/Getty Images Entertainment/Getty Images
As one of the most-popular rappers in the world, Big Sean's dating life has often been the subject of many rumors and speculation. In the past few months, there has been increased curiosity surrounding the hip-hop star and his romance with Jhene Aiko with many wondering if the pair are still together. Meaning, the answer to the question of who Big Sean is dating in 2018 is actually kind of hard to pin down. Throughout the years, Big Sean, whose real name is Sean Anderson, has been involved in some very highly-publicized romances. He dated Ariana Grande for some time before calling it quits in April 2015, and was also at the center of a nasty breakup from then-fiancée, actor Naya Rivera, just a year prior in 2014.
Although, Grande and Big Sean have not been linked for over three years, the singer's recent video for "Thank U, Next" suggests that the singer may have some love left for the Detroit-born emcee. In one snippet of the visual, Grande sifts through her Burn Book of exes, and Big Sean's page features a handwritten note saying that the rapper could "still get it."
While it remains unclear whether or not Grande still actually has feelings for Big Sean or not, the moment proves that things may have not been so bad in their breakup years ago. Despite the fan speculation that Grande could possibly be reminiscing about her former flame, the fact remains that Big Sean might not be so open to rekindling his romance with the singer. In fact, he may very well still be involved with Aiko.
Although neither Anderson nor Aiko have directly addressed their relationship status in recent months, it's worth pointing out that it's been quite a while since they've been seen together in public. To make matters even more curious, Aiko shared a now-deleted photo of herself this past May with a tattoo artist working on new art on her back, as reported by Refinery29. Along with the pic, Aiko captioned, "Realizing ALL things are temporary, I rejoice in this moment."
Fans later noticed that the tattoo Aiko once had of Big Sean's face was now covered. E! News noted that The Shade Room questioned the new ink, asking the singer, "What's up you with you and #BigSean sis...Where's that tattoo." However, E! also reported that Aiko was quick to dodge the question, responding,
"Don't let this distract you from the fact that i also covered my buddha and Bible verse... but still love and respect Buddha AND Jesus lol. have a good day, kids."
E! indicated that she later took to Twitter on Nov. 15 to address her new body artwork. In a now-deleted tweet, she wrote,
"I covered ALL my tats w/ a big ass Dragon w/ a Phoenix wing breathing life and light into a new galaxy. NEW ART! NO BEEF! ALL LOVE!...and im STILL adding more cuz... f*ck yeah pain."
Anderson and Aiko were notably friends for several years before becoming romantically involved. Prior to going public as a couple, the pair joined forces in 2016 to form the group Twenty88. The musical duo released an album, also titled TWENTY88, which a press release from Def Jam referred to as "the story of the highs and lows of a relationship, with insights into conflict, memories, love, sex, and more," according to MTV.
While it remains unclear whether or not Anderson and Aiko are still together, it does seem that Big Sean's relationship status may be a bit complicated at the moment. And if Big Sean really is single, well, at least Grande's video is proof that the rapper is capable of having good relationships with his exes.