Here's How #MeToo Helped Inspire This New Legal Drama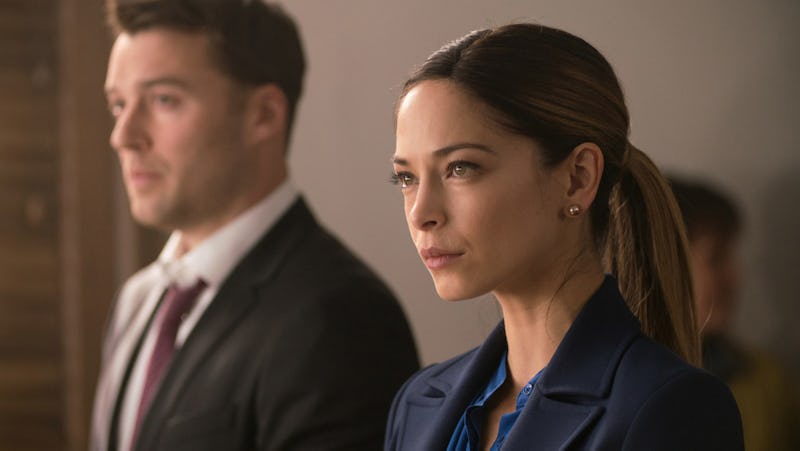 Cause One Productions Inc. and Cause One Manitoba Inc.
Kristin Kreuk is known for her supernatural shows Smallville and Beauty & The Beast, but her latest series — Burden Of Truth — feels far more realistic. Yet, Which is why it's worth wondering if Burden Of Truth is based on a true story. This Canadian series has Kreuk as high-powered lawyer Joanna Hanley, who returns to her rural hometown to represent a pharmaceutical company. But as she starts to investigate the case of a group of female high school students who have become mysteriously ill, she uncovers a conspiracy theory and some information about her own past. The first season of Burden Of Truth has already aired on Canada's CBC, but American audiences can see Kreuk in this grounded series when it premieres on The CW on July 25.
On the CBC's Burden Of Truth website, the network refers to it as "an Erin-Brockovich style legal drama." Julia Roberts won an Academy Award for her turn as the real Erin Brockovich in the 2000 movie named after her. The film followed Brockovich as she helped the residents of Hinkley, California, win a lawsuit against Pacific Gas and Electric Company for contaminating the town's water with chromium, which lab tests showed can cause cancer and tumors. While the film wasn't 100 percent accurate and Vice reported that the happy ending portrayed in the movie is far from the truth, the tenacity and hard work of law clerk Brockovich helped the town win a $333 million settlement.
Brockovich wasn't a lawyer herself, but Kreuk's character in Burden Of Truth is one. While Joanna initially wins the case for the pharmaceutical company, she sees the girls from her high school are far sicker than she realized and that she must right the wrong. And Kreuk said that Joanna's fight for fellow females was inspired by men's abuse of power being exposed in the media, like in the Me Too movement.
"We were in development before all this stuff started becoming a tidal wave," Kreuk, who's also an executive producer for the series, told The Vancouver Sun. "We were inspired with what happened to [Canadian radio host] Jian Ghomeshi and [Bill] Cosby, that was in our minds. This show, as you thematically get through it, starts to really look at patriarchy and all kind of issues with people in power. Both abuses of power in systems and in families." All of these issues and comparisons can make it feel like it's based in reality, but it's not based on any true story at all.
In a video interview with Drama Quarterly, Kreuk explained that the relevancy of Burden Of Truth is what drew her to the story. "Yeah, it's a legal drama ... but it was what the legal case was about that really stood out for me," Kreuk said. "I wanted to step away from all of the genre work that I had done in television previously and really look at something that was pressing to people currently."
She also explained how the series showcases women in a way that doesn't objectify them or show them only in relationship to men, which she credits to the current landscape. Kreuk said:
"This is definitely a time where women are standing up and saying that these are the stories we want to tell. ... We wanna be seen as who we are. I think this is due to the fact that for so long, it just wasn't available to us and also the climate politically, particularly in the United States, has created a lot of pushback and I think women are just fed up and they're doing what it takes to change the system. And that means that we get incredibly new dynamic stories about women that are turning out to be fabulous and well-watched. And I think that that will help to shift the way we perceive women in society because in our media, you will be able to see them as human beings."
As for the legal proceedings portrayed in the show, there's a fair amount of accuracy there too since Kreuk noted that creator Bradley Simpson is a lawyer. In another interview with Drama Quarterly, Kreuk said that Simpson based Burden Of Truth on some of his own courtroom experiences. And Kreuk looked to Canadian criminal defense lawyer Marie Henein for inspiration to play Joanna.
So while Burden Of Truth isn't based on a real case (and Season 2 will tackle another fictional case, TV, eh? reported), it gives Kreuk's fans a chance to see her in her most realistic show to date. And the fight for justice for women will feel particularly relevant.