Fans Will Likely Adore Camila Cabello's Date To The AMAs This Year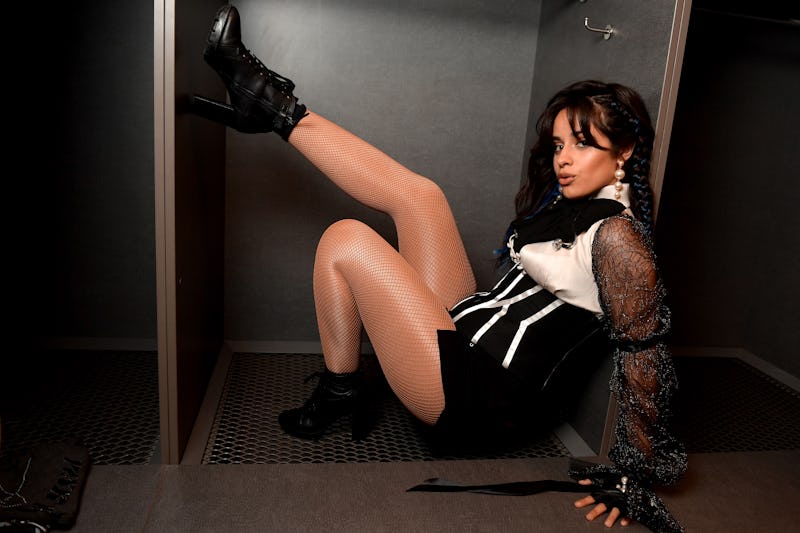 Matt Winkelmeyer/Getty Images Entertainment/Getty Images
Former Fifth Harmony member Camila Cabello might have decided to kick off her career as a solo artist, but that doesn't mean she has to do it alone. The 21-year-old Cuban-American singer is up for quite a few accolades at the 2018 AMAs, including best new artist and best video for her hit single "Havana." But while there's no question that her musical star is on the rise, there has been some speculation over whether or not her heart is taken. While she's obviously doing just fine on her own, fans might be wondering if Camila Cabello is single these days or not.
Although Cabello hasn't made an official public statement yet herself, it's pretty widely accepted that the "Havana" singer is paired up with 31-year-old Matthew Hussey, a dating expert, TV host, and author from the U.K. While the two have so far been relatively secretive about their love lives, the official Snapchat account of the Billboard Music Awards did share a pic of the couple locking lips backstage before Cabello's performance at the awards show on May 20, per Seventeen.
According to E! News, Cabello and Hussey have been a couple since February, when they were spotted by paparazzi kissing and cuddling on a beach in Cabo, Mexico. Several days later, one unnamed source told E! News that the "Consequences" singer and The Single Wives host were, in fact, an item. "Camila recently started dating Matthew," said the source. "It wasn't something she expected, but she knew of him and really enjoys his work."
In fact, Cabello herself name-dropped Hussey when she appeared on Elvis Duran and the Morning Show in February. According to Seventeen, when Duran asked Cabello where she was going after her interview, the singer responded with a loaded Easter egg that would make Taylor Swift proud: "I have no idea, but I just want to stay with you guys today and talk about life," she said. "Hey, by the way, is Matthew Hussey still [in the building]? I love him. He's great. He gives good advice."
Unfortunately for Camila fans eager to deduce the truth about her love life, that was the last time Cabello publicly mentioned her rumored beau. In March, Cabello appeared on the Dan Wootton Podcast, as reported by another E! News article, where she was decidedly more tight-lipped. When the host asked her whether she was happy and in love, the pop star admitted that she was "really, really happy." But she was careful not to give away any real details about her relationship. She said:
"As far as [relationships are concerned], I have always been such a private person and the one thing that has been, I think, the hardest thing about this industry has been letting go of that privacy. Cause I feel like, for my sanity and for the sanity of the people I care about, you gotta keep some things sacred. I need to keep some things mine for them to be special — and just to protect that. But yeah, to answer your question, I'm really happy."
So will you get the chance to see Cabello and Hussey stroll arm in arm at the 2018 AMAs? Unfortunately, the outlook for that is not so good right now. In an Insta video (above) posted around midnight on Oct. 9, Cabello plugged her new video for "Consequences (Orchestra)" and told fans she'd be bringing her dad as her date to the AMAs. That might not be the public appearance Camilizers have been waiting for, but it's still pretty darn cute.