Cardi B Has Purple Hair Now, So Everyone Wants Purple Hair Now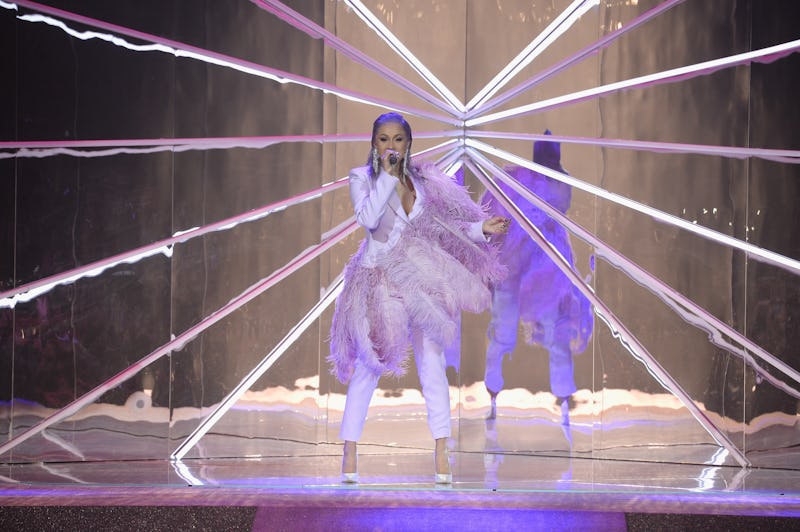 Francois Durand/Getty Images Entertainment/Getty Images
Bardi Gang, look alive because your queen is back! Slowly, but surely Cardi B is making her return to the stage, a runway to be more specific. Slicked back and laid into submission, Cardi B's hair was spotted in a lush lavender locks at Paris Fashion Week. Since giving birth to her first child, Kulture, the rapper had taken a break from the spotlight. She was attending French brand ETAM's fashion show when she appeared in lavender extravaganza for a runway performance, spitting bars to crowd pleasers "I Like It" and "Bodak Yellow". To match her light purple hair, for her performance, she wore a Christian Cowan jumpsuit with a plunging neckline and some feathery side fur to wow the crowd. By the way, Cardi, we're wow'd AF.
After the performance, Cardi seemed to be feeling herself as she sought out Instagram to show off the whole ensemble up close. She posted a video of herself in front of the Eiffel Tower lip syncing to her new song, "Backin It Up" and it makes the look even more of a bop. We're not entirely sure if this new lavender hair is Cardi's real hair dyed or a sickening wig, but we are banking on a wig. But either way, we want it. And badly.
The "Girl Like You" rapper has never been a stranger to pulling off bold hair colors. In fact, she changes her look so often, we sometimes forget when it's her. She's sported blond streaks, pink locks and she even rocked oceanic blue when she was seen chilling with the Kardashians.
Making this her comeback to performing hits, Cardi has been turning out look after look all throughout both Milan and Paris Fashion Week. Every one of her Fashion Week looks has had some small, but mind-boggling feature that we can't wrap our heads around.
In Milan, her so-called Fran Drescher-inspired leopard outfit from Dolce & Gabbana featured a pair of matching furry leopard print glasses shaped in the iconic D&G letters. Then, once in Paris, she slayed us all in a flowing Michael Costello dress with another plunging neckline, some killer (80's flashback) shoulder pads, and a matching wide-brim hat that says to the world: "I'm extra AF, and you love it".
This is Cardi's debut at Paris Fashion Week, and we have to say, she's kind of killing it and taking over. Not like that's new to her. Considering it feels like the new mommy just gave birth, she's snapped back into fashionista mode like it's nobody's business. We might as well dub this a fashion milestone for Cardi as she's brought these high fashion looks to life and appear to fit amazingly on the queen of the Bronx.
Whether she's at home with baby Kulture in a bonnet and tank top or giving us peacock-feathered lavender love, Cardi B makes all of it look boss. Who knows what could happen. Maybe one day we'll see her strike a pose on the runway if she keeps on coming with her Bardi style.