Chris Harrison Has Been Hiding A Secret From 'Bachelor' Nation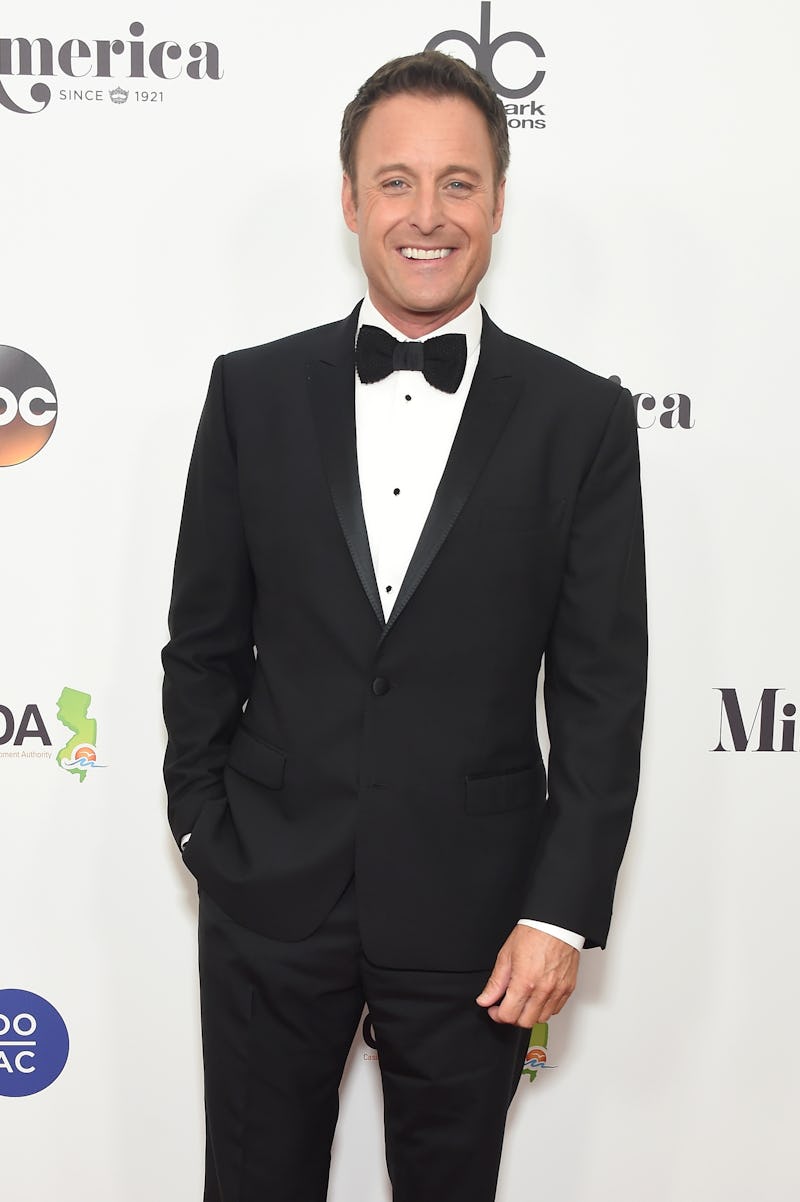 Michael Loccisano/Getty Images Entertainment/Getty Images
With Evan Bass and Carly Waddell's June wedding finally being aired on the Aug. 15 episode of Bachelor In Paradise, fans can feel like they were in attendance for the nuptials. And as is only appropriate for a Bachelor Nation event, Chris Harrison is not only hosting — he married the couple. But is Chris Harrison ordained to officiate weddings? While you can criticize reality television for, uhh, not always being 100 percent reflective of real life, it would be pretty bonkers if Evan and Carly's wedding was fake. Yet, there's no need to be concerned about that since the Universal Life Church Monastery reported that Harrison became a legally ordained minister on June 28, 2012, and he's been putting his online ordination to good use since then.
It's kind of ironic that Harrison became ordained the same year that he got a divorce from his college sweetheart Gwen Jones, whom he was married to for 18 years. Yet, Harrison's devotion to helping people find love was undeterred by his personal life. And while you'd think the first wedding that Harrison officiated would be for a couple that met on The Bachelor, The Bachelorette, or Bachelor Pad (Bachelor In Paradise wasn't around until 2014), he actually became ordained to marry a couple who met behind the scenes of the ABC reality franchise. In August 2012, Harrison married two Bachelor producers — Cassie Lambert and Peter Scalettar.
Harrison told People about getting ordained for their wedding at the time, "They asked me in Prague this season [of The Bachelorette] when we were there if I would do it for them. … I love them to death and I've seen then [sic] grow as a couple and I love them as a couple and as individuals." He continued that "I'm taking [officiating] very seriously. ... We went over everything for the ceremony and I'm really honored. I'm honored they would ask and I'm honored they would allow me to be such a huge part of their day." So you actually have Lambert and Scalettar to thank for Harrison being able to officiate weddings.
Later that same year, he officiated the televised wedding of Ashley Hebert and J.P. Rosenbaum in December 2012. Then, in 2013, TODAY reported that Harrison offered to marry Sean Lowe and Catherine Giudici for their televised wedding after they met on Sean's season of The Bachelor. However, Harrison didn't stand a chance since Sean's father is an ordained minister, so the couple had Sean's father marry them. But that didn't stop The Bachelor host from making jokes with Sean and Catherine that he could become the next pope with his officiant credentials.
But don't feel bad for Harrison since he has continued his business of marrying the people he helped meet. He officiated the wedding ceremony for Bachelor In Paradise contestants Lacy Faddoul and Marcus Grodd in Mexico in June 2015, which aired during the show's Season 2 premiere in August. Yet, you may recall that when Faddoul and Grodd broke up, it was revealed that they were never legally married. But Harrison isn't to blame for that since the couple never filed the paperwork to make the marriage legal in the U.S., according to Us Weekly.
As for a Bachelor In Paradise marriage that is still going, Harrison officiated Jade Roper and Tanner Tolbert's wedding for the Valentine's Day TV special The Bachelor At 20: A Celebration Of Love in 2016. And he'll be repeating those duties again when Carly and Evan's wedding airs on Aug. 15.
Although Harrison didn't originally become ordained to bolster his Bachelor duties, it's obviously a pretty useful qualification to have and it certainly suits the host. So you can see him in all of his officiant glory during Carly and Evan's wedding on Bachelor In Paradise Season 4.