Why 'Comrade Detective' Is A Perfect Satire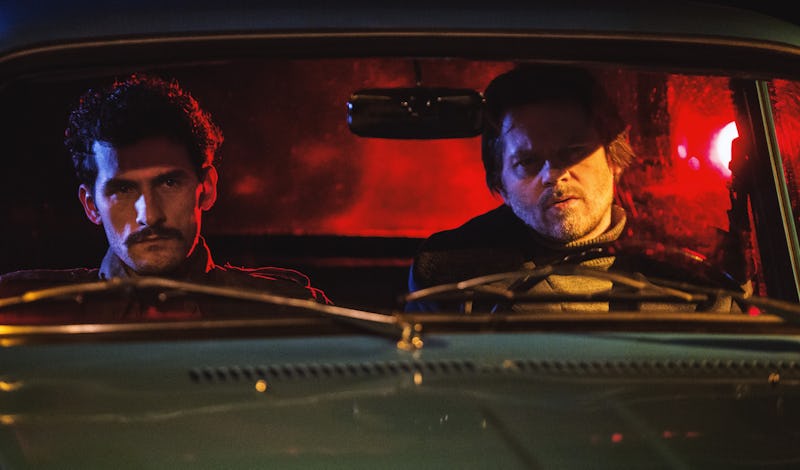 Alexandru Ionita / Amazon Prime Video
A new series just dropped on Amazon Prime that stars a lot of your favorite actors and comedians... in a way. Comrade Detective claims to be an old '80s Romanian procedural propaganda series that has been dubbed over by a cast of American actors that include Jenny Slate, Channing Tatum, Joseph Gordon-Levitt, Chloë Sevigny, and Nick Offerman for starters. But is Comrade Detective based on a real show, or actually a real show?
It is not, trust me, but it does a very good job masquerading as a vintage series. '80s period pieces are extremely popular these days, with The Americans, Halt and Catch Fire, Stranger Things The Goldbergs and G.L.O.W. taking over the airwaves. Nostalgia is all the rage, and this is just another example of that trend with a high concept meta twist.
OK fine. The high quality video, pointed video, and satiric details like men eating a stack of cheeseburgers at the American Embassy and men casually ballet dancing in the street might give away the fact that this is a 2017 series. If you were familiar with the cast of Romanian actors who play the characters on screen, you'd know that this cam was a ruse.
In an interview with Bustle via a conference call with other reporters, Comrade Detective co-creator Brian Gatewood cited shows from across the globe called Tatort, La Piovra, Police Call 110, and The 30 Cases Of Major Zeman as inspiration/research for the fictional series. Gatewood's writing partner Alessandro Tanaka also listed movies like Red Dawn, Rocky IV and Rambo where the Soviet Union was portrayed as an over-the-top villain. Because Comrade Detective is a Romanian series, there's a twist.
"All of us have a love for '80s and '90s TV shows and movies," said Tatum in an interview with GQ, "and every single one of those great action movies in the '80s and '90s had, like, a Russian bad guy. [Gatewood and Tanaka] taught me that behind the Iron Curtain, they were making TV shows and movies where Americans were the bad guys."
That seemed like an intriguing comedic presence in the modern era, and thus Comrade Detective was born. In 2017, the show is satirizing the concept of propaganda itself more than Communism and Capitalism, which is kind of refreshing. It may make you think, but is overall more funny than eerily relevant.
So there's no specific show that Comrade Detective was based on, really. The West German Tatort and it's East German counterpart Police Call 110 might be the closest thing — but the comedy speaks for itself. Comrade Detective is a wholly original series with a new take on recent history. The show is just a wacky idea that works surprisingly well.