This New Netflix Christmas Movie Is Great If You Hate The Holidays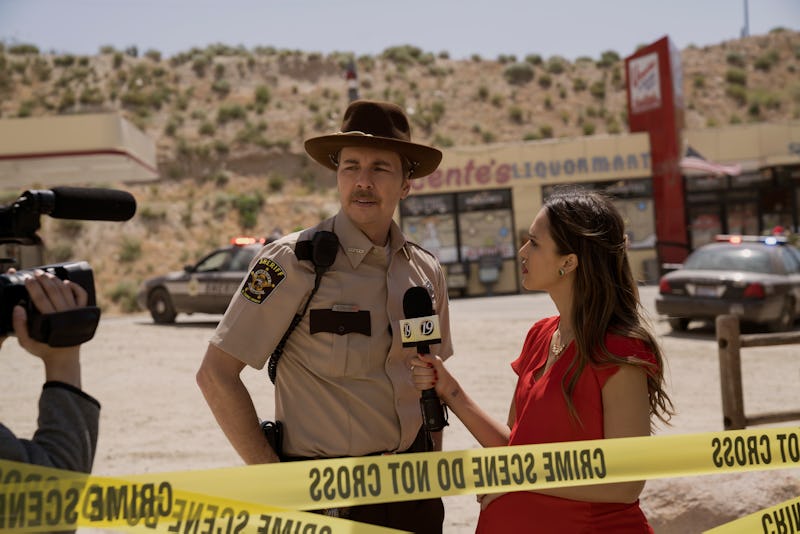 Netflix
Taking place in and named after the dry, sunbaked town of El Camino, Nevada, the latest movie from director Ted Melfi and co-writer Chris Wehner doesn't seem like much of a Christmas film, even though it's right there in the title. El Camino Christmas is a darkly comic look at what happens when miscommunications pile up in a small town where everyone's eager for the slightest distraction. Throw in a hostage situation and a holiday reunion, and you have an R-rated Christmas story for, well, some of the family. The characters and setting are integral to the anti-holiday feel of the film, but is El Camino a real place?
Not quite, but the fictional town is a perfect backdrop for the movie's drama to play out. After the success of Melfi's Hidden Figures, nominated for Best Picture, the director had free reign to take on whatever project he wanted, and what he wanted to do was finally finish a project he'd started 10 years ago, after he bought a script from then-first time writer Wehner, and fill it with an all-star ensemble cast. The story follows a young man (played by Luke Grimes) coming to a dusty small town to meet the father he never met (played by Tim Allen). After a brief meeting ending with his dad slamming the door in his face, Grimes realizes he's a boozehound, and heads to the local liquor store suspecting he'll get another chance to talk with him there.
Due to a series of bungles by local sheriffs, played by Dax Shepard and Vincent D'onofrio, the young man gets trapped along with his dad, the liquor store owner, a young mother and her son, and several others in what's mistakenly dubbed a hostage situation by a local reporter (played by Jessica Alba).
The setting of El Camino is about as far away from most people's ideal picture of the holiday season as you can get, with dust instead of snow, and strings of Christmas lights half-heartedly strung up on worn-down buildings in blinding sunlight. Empty streets and run-down motels instead of carolers and decked-out halls add to the anti-holiday vibe, as the five folks trapped in the store are about as free in their day-to-day lives before the lockdown. While there is no actual town of El Camino in Nevada, and promotional materials for the film are careful and clear about calling the town "fictitious," it's definitely a stand-in for the many small spots just off the highway scattered around the state.
Given the overall incompetence of the police force and depressing economic situation (save for the liquor store, which seems to be doing especially fine business around the holidays), it's easy to see why the writers wouldn't want to point fingers at an actual spot with actual townspeople. And even were it real, the original story was written over 10 years ago. A lot can change in that time.
In an interview with Screen Writers Utopia, Wehner talks about the oddity of having a project from your past come back so strongly and suddenly, and the history of how it went from first-time script to Netflix original. Originally the project was called Warm Beer, and while it featured Allen's character in pretty much the same form we see in El Camino Christmas, the story was, in Wehner's words, "kind of a DIE HARD in a liquor store thing." Wehner was friends with Melfi's brother Paul, who recently passed away — the movie will likely be dedicated to him.
Paul loved the script and passed it on to Melfi at just the point Wehner wasn't sure what more he could do with it. Melfi streamlined the plot, emphasized the setting, and softened the darker streak. The result will hit Netflix just in time for the holidays, and provide a bracing bitter antidote to the usual light, sweet holiday fare.