Here's Why You Might Not Spot El Chapo In 'Narcos: Mexico' Right Away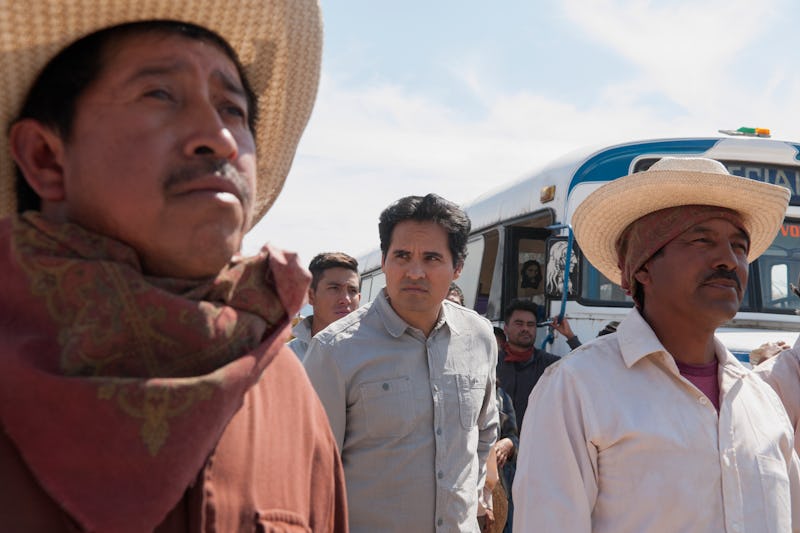 Carlos Somonte/Netflix
One of Netflix's biggest series, Narcos is getting a reboot of sorts in the form of Netflix: Mexico. Gone is main character Javier Peña and his efforts hunting down the Medellín cartel and the Cali cartel, as Narcos: Mexico focuses on the DEA's efforts to track the rise of the Guadalajara Cartel based out of Mexico in the '80's, which happens to overlap with the early years of one of history's most notable drug lords. Narcos: Mexico will introduce Joaquín "El Chapo" Guzmán into the series, but the show will only be able to scratch the surface of El Chapo's drug trafficking as long as the series takes place in the 1980's.
Joaquin "El Chapo" Guzmán may have gone down in history as an effective drug lord, running the Sinaloa cartel which Fox Business estimates brings in $3 billion of annual earnings and reports that the DEA estimated the cartel's share of the global drug market at a whopping 60 percent. However, Guzmán's time running the cartel has also involves escaping prison in 2001, escaping prison again in 2015, and giving a Rolling Stone interview conducted by Sean Penn. Narcos is still in the year years of El Chapos life, and he's only a tangential figure in the story of the Guadalajara Cartel, but luckily for Netflix subscribers there are a variety of other viewing options to get a full look at one of today's most infamous living drug lords.
Drug Lords
The Netflix original series Drug Lords takes a documentary approach to some of history's most infamous traffickers. Their Season 2 premiere is dedicated to El Chapo himself, although it's hard to communicate everything one can learn about Guzmán in 44 minutes. If you're looking for a quick explanation of who Guzmán is and how he became so powerful, this episode is the best starting point.
El Chapo
This Spanish-language series is the closest thing that fans will get to a season of Narcos focused on El Chapo until Narcos: Mexico covers the Sinaloa cartel in detail. The show dramatizes the story of Guzmán, following his ascension from drug runner for Pablo Escobar to leader of one of the world's most powerful cartels. While El Chapo may not be able to be completely accurate due to the nature of being a scripted television series and not a documentary, this will be perfect for anyone who wants a deep dive into Guzmán's rise to the top.
The Day I Met El Chapo
Netflix's 2017 docuseries The Day I Met El Chapo is an exploration of an event that may be a footnote in El Chapo's life, but is one of the most interesting stories surrounding the prolific drug lord. By Chapo's invitation, American actor Sean Penn and Mexican actress Kate del Castillo met with El Chapo. The story sound strange and things only get stranger as Kate del Castillo gives her recollection of the events leading up to and following their meeting with El Chapo.
While Narcos: Mexico may not put El Chapo front and center during its first season, it seems likely that the show will eventually turn its focus to Guzmán. The drug lord seems to be a popular subject for Netflix, as they now have at least four original series that either mention Guzmán or are specifically about his time running the Sinaloa cartel. Narcos: Mexico provides merely a taste of El Chapo, but the rest of Netflix features a full meal for those who wants to learn more about him.