Elle Fanning's Unexpected New Hair Color Is An Instagram Fave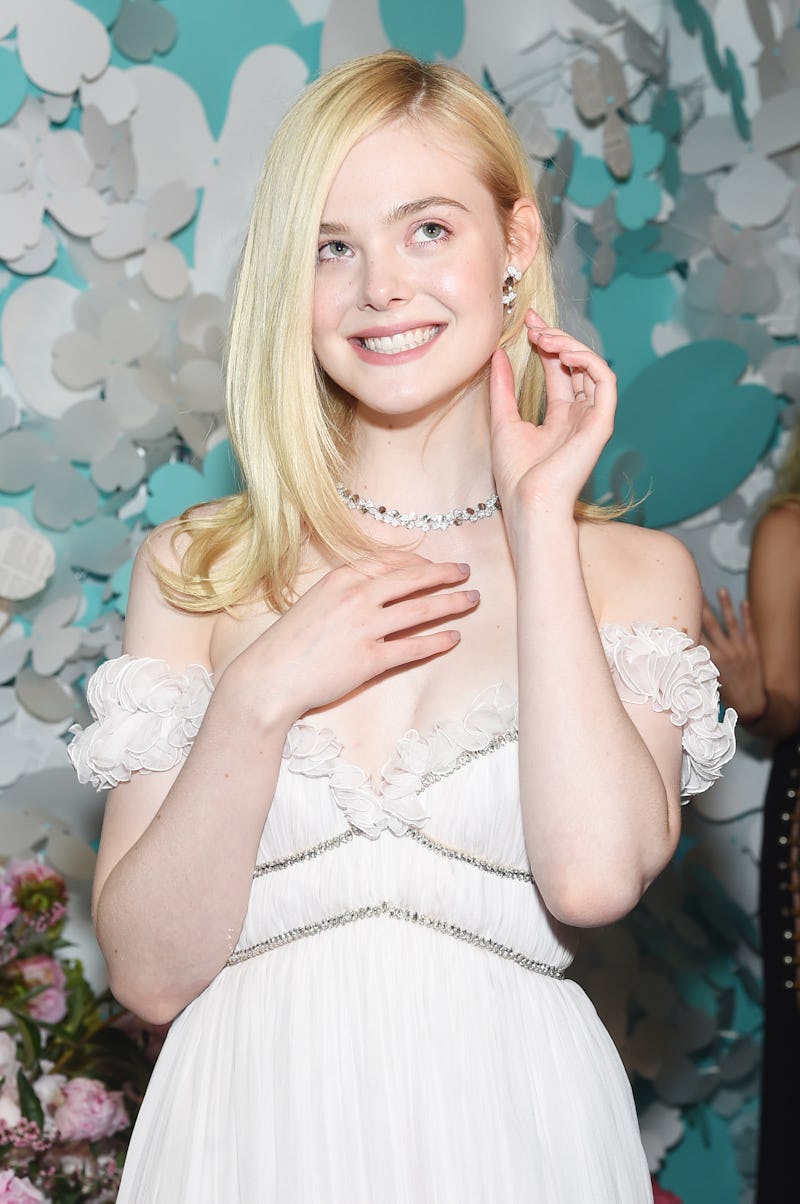 Jamie McCarthy/Getty Images Entertainment/Getty Images
For a minute, it has felt like mermaid blue hair is going to supplant pastel pink hair as the biggest coif color trend of this decade. But the pink hair movement isn't waning — at all. Actor Elle Fanning has millennial pink hair now. It's so pretty and pairs wonderfully with her porcelain skin. The star and little sister of Dakota Fanning is ultimately rocking an ombre-like mix of soft pink and white blonde.
Fanning, who is also a L'Oreal brand ambassador, shared the image on her personal Instagram. In it, she rocks a pair of '70s-style, blush reading glasses that totally match her strands. Her hair also matches her cotton candy-colored hoodie.
She is all about coordination and a monochromatic look — and it works for her. The entire presentation is pink AF and totally 'Gram-worthy, without ever feeling like she did it for the 'Gram or to be trendy. As if.
Fanning went with a "no makeup" look, letting her smattering of freckles take center stage while showing off her beachy waves. She appears to be wearing a light slick of clear or pale pink lip balm. And that's it.
She simply captioned the shot "Princess Bubblegum," since that's the color of her stands ATM.
If you are over this hair trend, Fanning's follicles might change your mind. The color looks that good on her.
We are so used to her white blonde hair that this was a welcome but not-too-drastic change. Fans were feeling Fanning with pink locks because of course they were.
These users absolutely loved the look.
Fanning did slay a full-on, dusty rose shade on Insta two years ago.
There's no telling how long the actor will keep her pink locks. This could merely be a pitstop at pink. It could be the work of a temporary wash-in and wash-out color.
Fanning does work for L'Oreal, which has its short-term Colorista spray. Or this 'do hue could be the work of her trusty colorist. We don't know the particulars — but we surely can marvel at what Fanning has done with her hair.
ICYMI — her big sister Dakota posted an Insta shot earlier this summer with pink-tinted hair. DF matched her tips with her lips and her lids. It was another somewhat monochromatic presentation and she retained most of her blonde locks. So maybe the sisters are inspiring each other and have mad love for the color pink. Both are beautiful!
While we have you here, let's do a quick rundown of E. Fanning's most recent 'dos.
She has been rocking a shaggy blonde coif for a minute.
Her brief, white blonde bangs were a fresh and fun touch.
Fanning tends to favor textured strands. She also changes up the depth and intensity of her shade of blonde. Here, they were super golden.
Platinum hair and red lips are such a classic Hollywood combo.
Fanning likes her locks on the longer side. Hopefully she will retain her pink strands for a minute or five!