You Won't *Believe* Which Iconic British Show You Recognise Emmett J. Scanlan From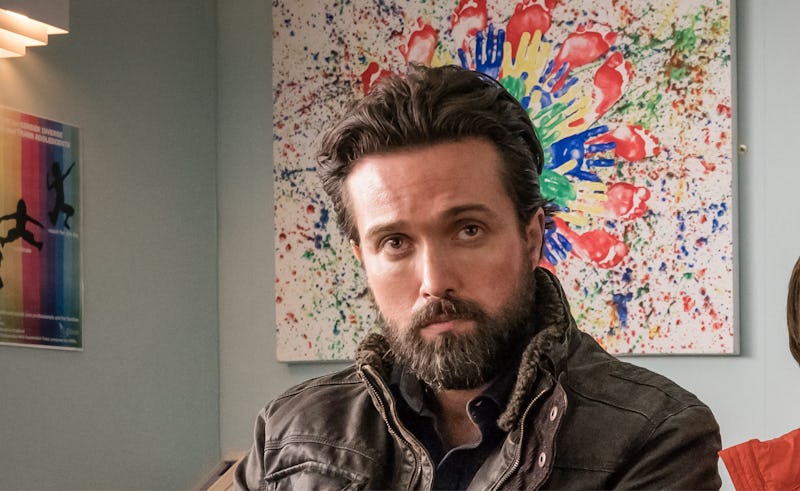 ITV/Butterfly
It feels like we have been spoilt with amazing TV dramas recently. And another show is about to be added to my list of things to watch as Butterfly starts on Oct. 14 on ITV. The drama tells the story of an 11-year-old transgender child, Maxine, and her family. Emmett J. Scanlan takes centre stage as Stephen Duffy, Maxine's father, who is struggling to come to terms with the change in his family. But what do we know about his life off camera? Is Emmett J. Scanlan married?
Well it turns out he is, and his wife is just as recognisable as he is. Scanlan is married to fellow actor, Claire CooperThe pair met when they both worked on Hollyoaks, Hello reports. He played notorious, bad guy Brendan Brady between 2010 and 2013, while Cooper took on a role in one of the most recognisable families on the show, playing Jacqui McQueen from 2006 until 2013.
They got engaged after dating for three years, on Christmas Eve 2014. They announced their news on Scanlan's Instagram page, with the caption:
"There are over a million ways to ask the question, but only one real answer…"
So cute. The couple tied the knot in 2015 having a super lavish ceremony in New York. Speaking about the big day to Hello!, Scanlan said, "It's something I'll never forget. Everyone got behind the wedding with such love that it was overwhelming at times." Bustle reached out to a representative for Scanlan and Cooper for further comment.
Scanlan has a daughter, Kayla, from a previous relationship, and it would appear the trio have a pretty tight family bond. Speaking to the Irish Times about family life, Scanlan said: "I lucked out with Kayla. She taught me how to live inside my imagination and sometimes we lose that. Christmases stop becoming magic, family get-togethers start becoming tiresome. The wonder that a child finds in the simplest things helped me dramatically. She taught me how to be a better actor." Well, that's got me right in the feels.
As well as becoming a step-mother, Cooper has hit the ground running since leaving Hollyoaks, starring in hit TV series like In The Club, Snatch, and Still Star-Crossed. And if that wasn't enough she has also made a move into fashion. Whilst Jacqui McQueen was known on screen for her bold makeup choices and animal print ensembles, Cooper has founded an ethical fashion brand, Om and Ah London, with a more pared back aesthetic. Writing on the company's website, Cooper said: "Our passion comes from a simple, heartfelt place, compassion, equality & always rocking good vibes." She certainly is one busy lady.
Never too far from each other's sides, Scanlan and Cooper can often be seen on red carpets together and serve serious couple goals on Instagram, posting pictures of their dreamy beach get aways. I am unsure of how they find the time when they're all over our TV screens.
It seems it is onwards and upwards for Scanlan as Butterfly starts at 9 p.m. on ITV and he has announced he is set to star in Women On The Verge that will air later in 2018. Neither Scanlan or Cooper are taking their foot off the peddle, and it is nice to know that they are taking on the world at each other's side.