OMG, It Looks Like Gina Rodriguez Just Announced She's Engaged With The Sweetest Insta Photos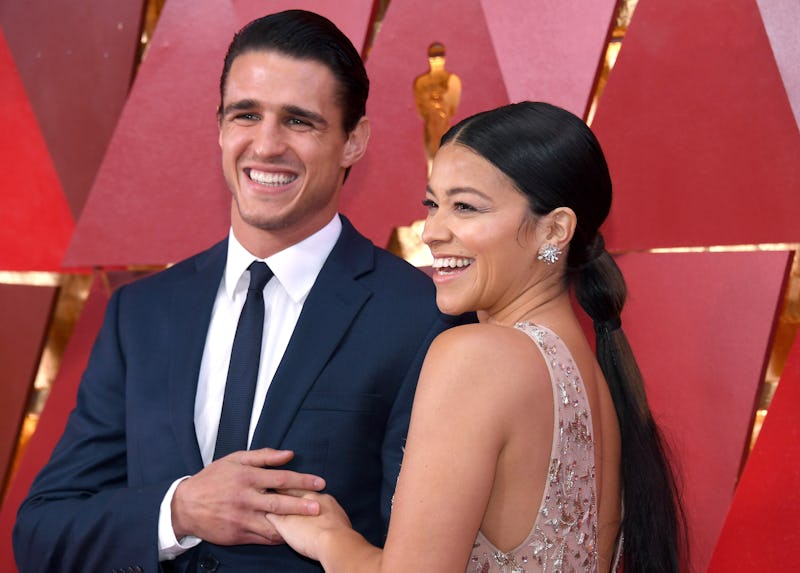 Kevork Djansezian/Getty Images Entertainment/Getty Images
Congratulations may be in order for Gina Rodriguez. Based on the actor's latest Instagram photos, it appears that she's taken the next step in her relationship with fellow actor Joe LoCicero. So, is Gina Rodriguez engaged? Well, she's flashing some major bling in snaps posted from her lovely getaway with her beau. (Bustle reached out to reps for Rodriguez for comment, but did not receive an immediate response.)
On July 30, the Jane the Virgin star posted a sweet photo from her Mexican vacay with LoCicero. While the pic is all kinds of stunning, the most interesting part of it may just be the bling she's sporting on that finger. Additionally, she posted a moving caption to boot that could be a sign that her boyfriend may have popped the question.
Alongside a photo of her posing with a gorgeous diamond ring on full display, she posted a quote from Frida Kahlo that read, "They thought I was a Surrealist, but I wasn't. I never painted dreams. I painted my own reality." Based on all of the photos that both Rodriguez and LoCicero have posted, it seems that their reality is filled with pure happiness.
In her boyfriend's Instagram post, he also put the Jane the Virgin star, and that bling, on full display. His caption was a little more simple, yet still sweet because he highlighted his love's birthday during the joyous occasion. He wrote, "Happy Birthday my love!"
Rodriguez couldn't help but share even more adorable moments between the couple via her Instagram Story. The pair posed alongside some of their friends at the resort and also together in a more casual moment (with the Annihilation star resting her hand, complete with the ring in question on her boyfriend's chest).
While neither Rodriguez or LoCicero explicitly stated that they are engaged, the photos were enough to make fans everywhere overjoyed at the prospect of the couple's engagement. One user on Instagram summed it up pretty well with, "Did you guys get engaged?!?? Aahhh!!! Soo excited for you!! Even if you didn't... You're glowing and beautiful as ever." Fans on Twitter were equally as excited as more than one described how thrilled they were about the actor's possible engagement.
They definitely have reason to be excited for the actor, as Rodriguez and LoCicero have been dating for quite some time now, so it would make sense if they were to make the engagement jump. On Feb. 28, 2017, she posted that the date marked their six-month anniversary together. Based on that information, the two actors would have started dating around August 2016. So, the couple's been dating for almost two years at this point.
How did the pair actually meet? Well, they have her popular CW show to thank for that. During her appearance on LIVE with Kelly and Ryan in May 2017, she described how they met on Jane the Virgin. But while they met on the series, they didn't exactly start up a romantic relationship until a little about six months later when they crossed paths once again at the gym. Their whole second meeting sounds super serendipitous, as Rodriguez even mentioned. However, she also joked around about how she believes that he secretly engineered their gym meet-up.
Whatever the case may be, things certainly have worked out for them. Just based on these most recent bling-filled photos, it appears that Rodriguez and LoCicero are extremely happy together. In fact, things are going so well for the lovely pair that there could even be some wedding bells for them in the near future.