Why The Setting Of 'The Miseducation Of Cameron Post' Feels So Disturbingly Real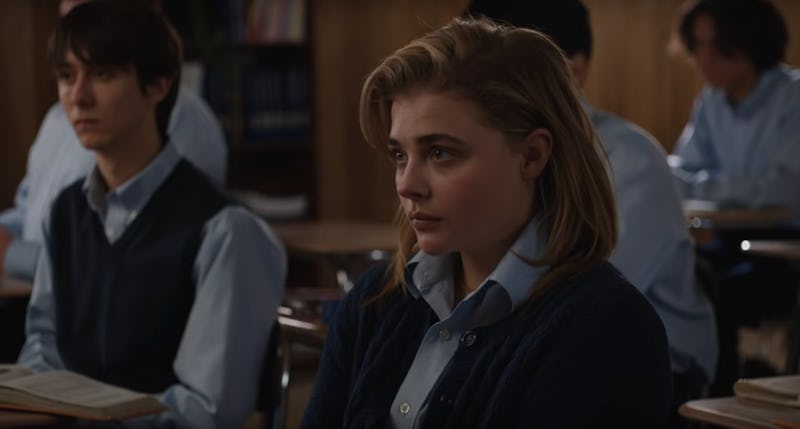 FilmRise
The Miseducation of Cameron Post depicts a harrowing experience too many LGBTQ people have been through. In the new film, based on the novel of the same name, a teenage girl named Cameron is sent to a conversion camp called God's Promise by her conservative aunt. Given how there have been many true stories about similar conversion camps, God's Promise could have easily existed. But is God's Promise from Cameron Post a real conversion camp?
Even though God's Promise is based on real places, the actual camp itself is fictional. In a 2012 Q&A for Autostraddle, Cameron Post author Emily M. Danforth divulged that even though she did extensive research for the creation of the facility, there is no conversion camp with that name. "The facility itself, as built in the novel — God's Promise – is an invention, it's fiction — there is not specific school or facility that it's based on. The practices that happen there, yes, but the place is my own, one born of my research," explained Danforth.
The author did disclose, however, that the "treatments" provided at God's Promise might feel realistic to viewers thanks to the research of real conversion camps. "I read all kinds of books from various practitioners of these therapies (and ordered materials directly from Exodus International, an organization that's really changed its rhetoric in recent months, but that remains in its function as a referral network for many ex-gay ministries—despite that even they have now mostly parted ways with that term)," said Danforth.
But that's not all her research involved. Added the writer, "I also spent hours and hours combing the websites and blogs of these ministries and practitioners, and also folks who themselves claim to be 'ex-gay' or who have just spent time on the receiving end of conversion/reparative therapy, (And I had one on one conversations with many of these people, in chat-rooms or via email.)"
In an interview with Slate from the same year, Danforth also shared that she was inspired to write the novel after learning about Zach Stark's controversial story. When Stark was 16, he wrote in a widely-shared MySpace post that his parents planned to send him to a conversion camp called Refuge that was run by Love In Action, which according to Danforth, is "one of the many organizations that fell under the umbrella of Exodus International, which is the world's largest organization that does Christian ministry in the realm of conversion therapy or reparative therapy."
In that MySpace post, Stark divulged the strict rules he was set to follow once there, from what he was allowed to wear to what kind of music he could listen to. His story was shared around extensively, receiving attention from activists — including Danforth herself. She managed to chat a bit with Stark via MySpace messages, but he eventually shut his page after being overwhelmed with the attention his post received.
"But it was that story that made me think, "Ok, I know I want to do this story about a girl in Montana. I know it's going to be a coming of age story, and now I know that I want to explore conversion therapy and see how that's going to become part of Cameron's story," explained Danforth to Slate.
Even though God's Promise isn't real, it is indeed inspired by real places that have forced LGBTQ people to hide their true selves. And the adaptation of The Miseducation of Cameron Post, which hits theaters on Aug. 3, brings attention to the lasting effects of these dangerous camps.