Taylor Swift's New Song May Finally Address One Of Her Most Famous Exes, So Go Ahead And Freak Out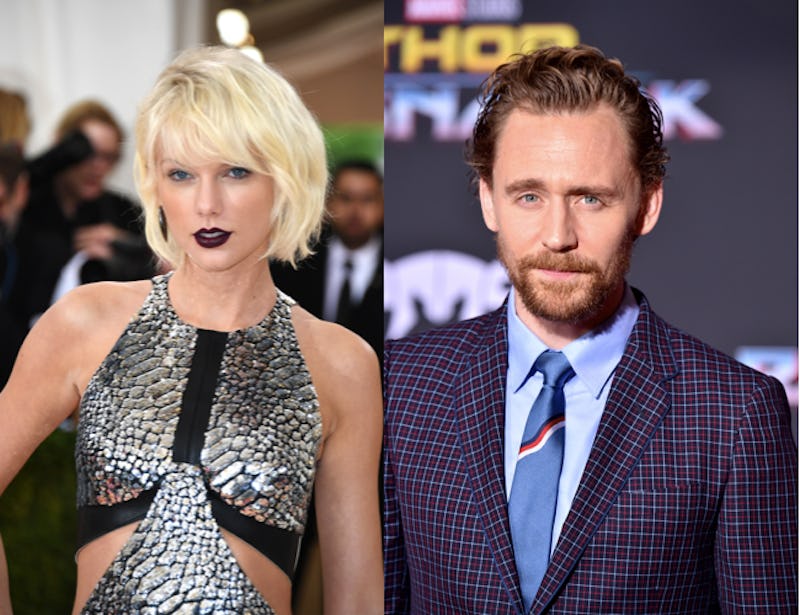 Getty Images
It is a truth universally acknowledged that when Taylor Swift drops a new single, the internet will promptly begin speculating whom the song is about. It happened with the first single she dropped from Reputation, "Look What You Made Me Do," and the interwebs quickly determined the song centered around her infamous VMAs feud with Kanye West. It happened again with her second single, "...Ready For It," which, apparently is about her time dating former One Direction member Harry Styles. So whom is Taylor Swift's "Gorgeous" about? The internet has plenty of hypotheses, but given how many times blue eyes come up, it almost certainly has to be the case that "Gorgeous" is about Tom Hiddleston.
Because Swift has a long and storied history of attributing her former flames (and feuds) as inspiration for her songs, it's no surprise that people are certain that "Gorgeous" is about #Hiddleswift. A few notable examples include, allegedly, Taylor Lautner in "Back to December," Jake Gyllenhaal in "All Too Well," Joe Jonas in "Forever and Always," and the list goes on. And there are even some more obvious mentions. Most likely, "Style" is about Harry Styles, and "Dear John" is about John Mayer. And, come on, "Gorgeous" being about Hiddleston, just makes so much sense.
Writing about the people in her life whom she has had romantic or otherwise impactful relationships or moments with seems to be Swift's go-to move, so it's no surprise the internet is teeming with ideas about whom this latest single could be about. The fact that Hiddleston appears to be the most likely candidate feels like the best kind of throwback.
For those who need a refresher, Hiddleston and Swift's romance burned bright and fast. The couple lasted just three months before they split in September 2016, but what a glorious three months it was. During that time, Hiddleston wore an "I heart TS" shirt in public, they danced at the Met gala, went on a whirlwind travel session, and she even met his mom.
So, why is "Gorgeous" probably about #Hiddleswift? Well, all of those mentions of baby blues are definitely reminiscent of Hiddleston. Then there's the part where Swift sings that she got drunk and made fun of the person in question's accent. The Avengers actor has one of those perfect British accents that's hard not to swoon over.
The only part that doesn't add up is when Swift sings, "I got a boyfriend that's older than us." She mentions that "he's in the club," which certainly sounds like a nod to her ex Calvin Harris. The DJ is 33, while Hiddleston is 36. Is Swift talking metaphorically? When she danced with Hiddleston at the gala, the actor definitely seemed like he was in touch with his youthful side. However, she could also be talking about younger man — maybe one she hasn't dated, but who is breathtakingly gorgeous?
Alternatively, Swift could also be talking about Harris, who has a Scottish accent and, yep, you guessed it, blue eyes. The couple dated for over a year, so the unrequited pining that underpins "Gorgeous" doesn't quite add up, but Harris is younger than most of Swift's other exes.
The idea that "Gorgeous" is anthem to the short, but sweet romance between Swift and Hiddleston is too good not to believe, though. As a couple, these two seemed like an odd fit at first, but their three-month-long relationship was packed with major milestones that were fascinating to watch from afar. It only seems fitting that their brief time together should be commemorated with an anthem about the gorgeousness of Hiddleston and his baby blues.
While the world may never know whom "Gorgeous" is about for sure, there's no shame in hoping it's an ode to the awesomeness that was #Hiddleswift.