Harry Belafonte Is Totally A Feminist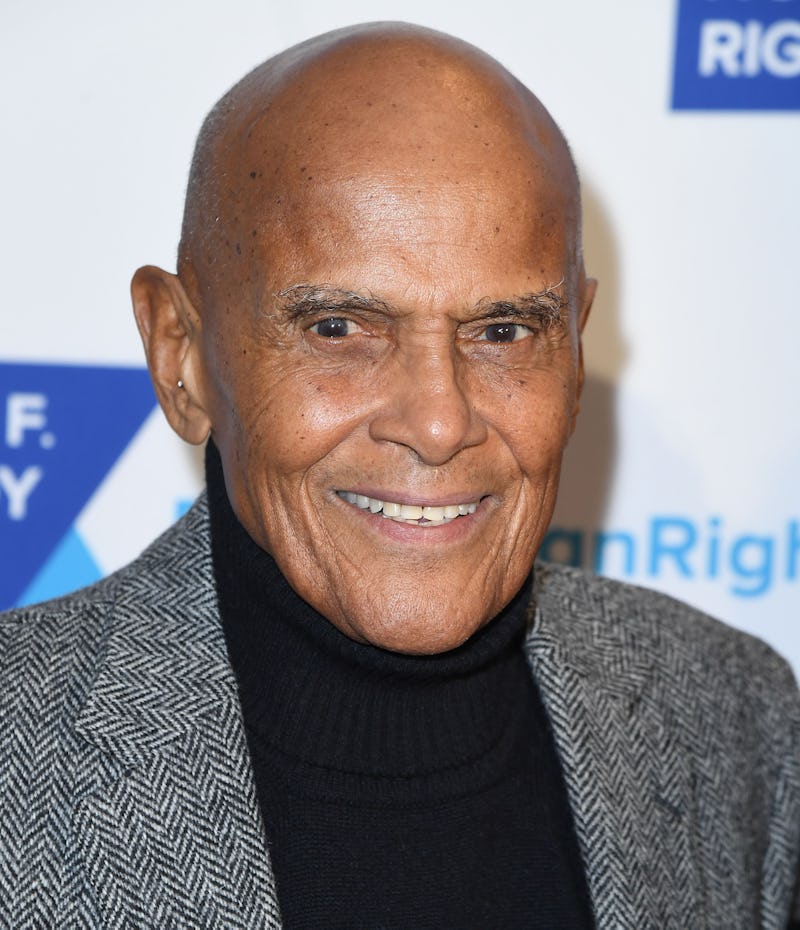 ANGELA WEISS/AFP/Getty Images
The day after Donald Trump's inauguration, something notable will happen. No, the world won't combust from the inside (hopefully). Instead, The Women's March on Washington will commence. What started as a small Facebook event has turned into a beacon of feminist light during the darkness that's followed 2016's election. The Women's March on Washington has partnered with Planned Parenthood, icon Gloria Steinem, and Harry Belafonte. Planned Parenthood and Steinem are both known for their impact on feminism, but is Belafonte a feminist? Given his role as honorary co-chair for the march, that question should answer itself.
He's primarily renown for his civil rights activism and his Grammy award winning music career. While the latter probably won't affect the march, the former will surely be seen throughout the political rally. As the protest aims to include intersectionality and diversity, Belafonte's presence will be beneficial. Not only will his participation (along with Steinem's) elevate the cause, it will add an alternate and invaluable viewpoint.
Executive director of the Arab American Association of New York, and one of four co-chairs, Linda Sarsour, had this to say about Steinem and Belafonte's involvement (per Buzzfeed):
Together we are bridging the historical struggles for women's rights and civil rights to the current intersectional movement for dignity and human rights.
In the current state of divisive affairs, the future of progressivism is unity. Women's rights are human rights. Thousands of women will meet at the nation's capital to make this message clear, and Belafonte, a highly regard civil rights activist, will stand behind them.
The inclusion of Belafonte, who has been outspoken about social and political issues all throughout his career, is an important one. Though he's nearing his late 80s, he still lends his voice to the oppressed and marginalized. He's spent the better part of his life advocating for civil rights, and he's a crusader for women's rights as well.
In 2014, during a Washington, D.C. gala celebrating the 100th anniversary of the African-American fraternity, Phi Beta Sigma, Belafonte spoke to a group of young, African-American men. After he was inducted as an honorary member, he said,
Let us use this century to be the century when we said we started the mission to end the violence and oppression of women. Let us never, ever let our children become the abusers to our women that we permitted in our lifetime.
He might not have been the most obvious choice as co-chair for The Women's March, but he's a powerful one, with a unique viewpoint on societal injustices and decades of activism to back it up.