Harry Styles' Single Could Be Inspired By Prince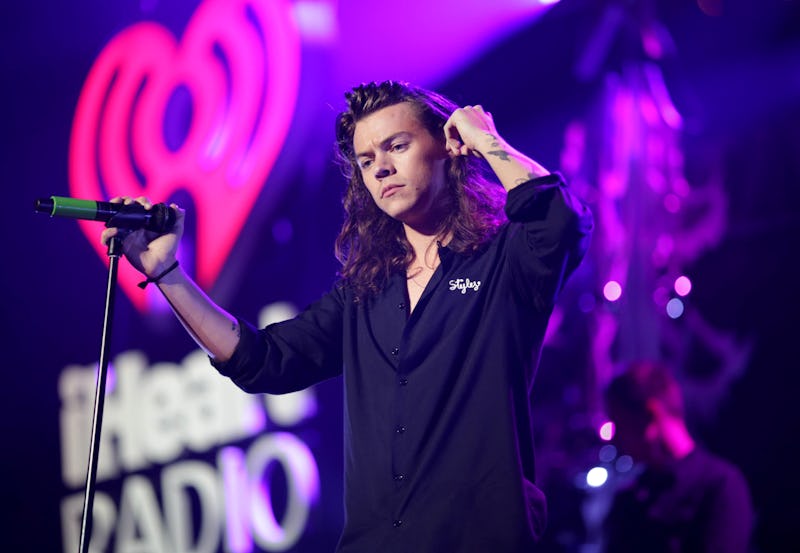 Christopher Polk/Getty Images Entertainment/Getty Images
In an announcement released on Friday morning, Harry Styles teased the release of "Sign Of The Times," his first solo single, via his social media channels. So, you can officially go ahead and just starting shrieking with wild excitement over that fact right now. The announcement, which was made along with some very moody artwork for the song, revealed that "Sign Of The Times," will be released on Friday, April 7. That is all terribly exciting, but there's another mysterious element to this announcement that's causing a minor stir over on Twitter. And that's the fact that Styles has announced the release date of "Sign Of The Times," exactly 30 years after the release of Prince's seminal album Sign 'O' The Times, was released. So, it's worth pondering, is Styles' "Sign Of The Times" inspired by Prince?
It would certainly make for a timely reference point, if it is, and, frankly, the coincidence is too big to ignore. The fact that Prince died almost a year ago, on April 21, 2016, could also lend some credence to the idea that Styles may be paying tribute to Prince's legacy with his first song as a solo artist. And suffice to say, there are plenty of theories on Twitter regarding the significance of this potential tribute to the late musician.
First, there's the fact that "Sign Of The Times," is Style's first solo release away from One Direction. Because, interestingly enough, while Sign 'O' The Times may have been Prince's ninth studio album as an artist, it was his first album following the disbanding of The Revolution, his legendary band. So, clearly, this coincidence could be part of a well-thought out statement regarding Styles' newfound independence as an artist.
There are others, whoever, who are taking this coincidence as a sign (no pun intended,) that Styles' "Sign Of The Times," will in fact be a cover of the Prince song, "Sign 'O' The Times." Which, in my opinion, seems a little far fetched. While we don't yet know what the singer's musical style will be with upcoming solo material, the overall vibe of the Prince song feels a little ill-fitting from everything we've heard from Styles so far in his career.
Though it'd be easy to imagine Styles being capable of reworking "Sign 'O' The Times" to fit his own musical prerogative, lyrically it's difficult to imagine him delivering such heavy content. There's no universe that I can seriously imagine hearing Styles sing lines like, "In France, a skinny man died of a big disease with a little name/ By chance his girlfriend came across a needle and soon she did the same," and, "Sister killed her baby 'cuz she couldn't afford to feed it/ And we're sending people to the moon." If he did, then he'd certainly be making a bold statement for his first solo single.
What seems more realistic is simply the fact that Styles is a fan of Prince, and wanted to pay a small tribute to the artist close to the one year anniversary of his death. It may also indicate that Styles' new direction since leaving One Direction is going to be inspired by the late artist, with funk, R&B, rock, and soul influences — and perhaps songs of a striking, experimental nature.
And I think I speak for everyone when I say that I'm excited to hear whether or not any of this may turn out to be true when we finally get to hear the first of Styles' solo work when "Sign Of The Times" is released on April 7.