Jamie Dornan Was At The 'Game Of Thrones' Wrap Party & Now I Have Questions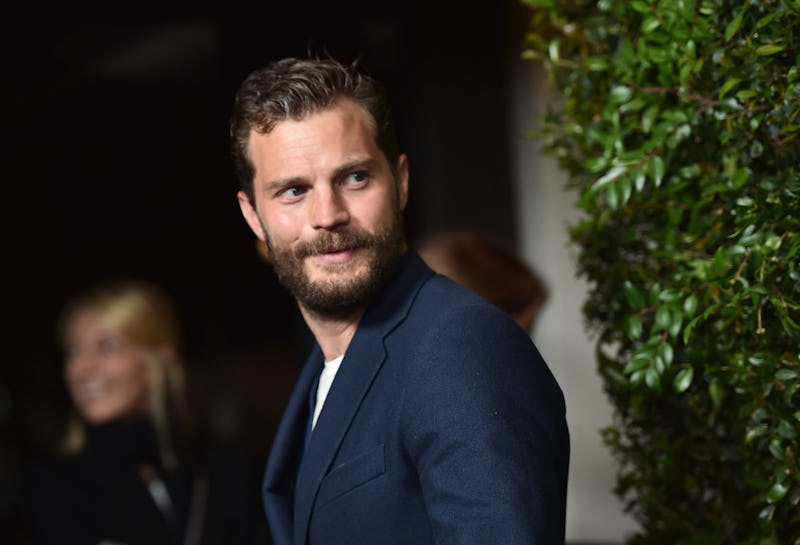 Alberto E. Rodriguez/Getty Images Entertainment/Getty Images
Even though it doesn't feel like it, the eighth and final season of Game of Thrones is fast approaching. Saturday night saw the cast and crew make their way to Belfast's Waterfront Hall to celebrate the end of filming and of the show itself, as reported by the Mail Online. One face that seems slightly out of place is Fifty Shades star Jamie Dornan, who was pictured arriving at the venue and posing with fans. While he may have just been there to support and congratulate the GoT gang, it got me thinking... is Jamie Dornan in Game of Thrones?
Right now it would appear the answer to the question is no, and obviously Dornan just turning up to a wrap party doesn't necessarily mean he will be a fresh face in the final season. There has been no announcement that Dornan will appear in GoT and to be sure, Bustle have reached out to Dornan's representative for comment. So why was Dornan one of the only non-cast members photographed at the event?
First things first, there were actually a few none cast members in attendance. According to the Belfast Telegraph, Tony Hawk was also in Belfast to visit the set and attend the bash, and I doubt we'll be seeing any half-pipe cameos from the American skateboarder (as much as I would love that to be true).
The cast and crew of Game of Thrones is massive, but there were glimpses of a select few including Isaac Hempstead Wright (Bran Stark), Ben Crompton (Dolorous Edd), John Bradley (Samwell Tarly), Pilou Asbæk (Euron Greyjoy), Jacob Anderson (Grey Worm), Hannah Murray (Gilly), Maisie Williams (Arya Stark), and Alfie Allen (Theon Greyjoy). Emilia Clarke (Daenerys Targaryen) and newly-wed Kit Harington (Jon Snow) were also in attendance, alongside show-runners David Benioff and D. B. Weiss.
I still can't shake Dornan being there, though. What if he is part of the season eight cast, but they're just keeping that info under wraps along with the rest of the plot? I wouldn't put it past HBO. There have been inklings of what might go down in the final season thanks to cryptic hints by the likes of Nikolaj Coster-Waldau.
It's not like Dornan hasn't crossed paths with people involved on the series, either. It was reported by Screen Daily in February that the actor will star in Brian Kirk's Borderland. Kirk directed a few episodes in the first season of GoT, and Borderland's writer Ronan Bennett co-created the recent BBC miniseries Gunpowder, which starred Kit Harington.
Dornan will also be performing alongside GoT's Peter Dinklage this year in the HBO film My Dinner With Hervé. The film follows Dornan as journalist Danny Tate, and the evolving, unique friendship between himself and actor Hervé Villechaize (Dinklage).
Perhaps Dornan only went to the wrap party as a supporting friend and guest — let's face it, judging by the above, he has enough connections — but either way, it looks like there are plenty of chances to be part of the Game of Thrones universe after the series ends.
In 2017, Vulture reported that HBO had "closed deals with four different writers to explore multiple possible spin-offs of Game of Thrones." It was also revealed that show-runners Weiss and Beinoff "will be attached to the four projects ... but will not write any of them." It's not hard to picture Dornan in a Game of Thrones role, TBH. I mean, just look at the beard he can grow — perfect for the continent of Westeros.
I guess we'll just have to wait just that little longer to see what the final season of Game of Thrones will bring. I'll definitely be keeping my eyes peeled.