Jasmine G. Is Living A Full Life Post-'Bachelor'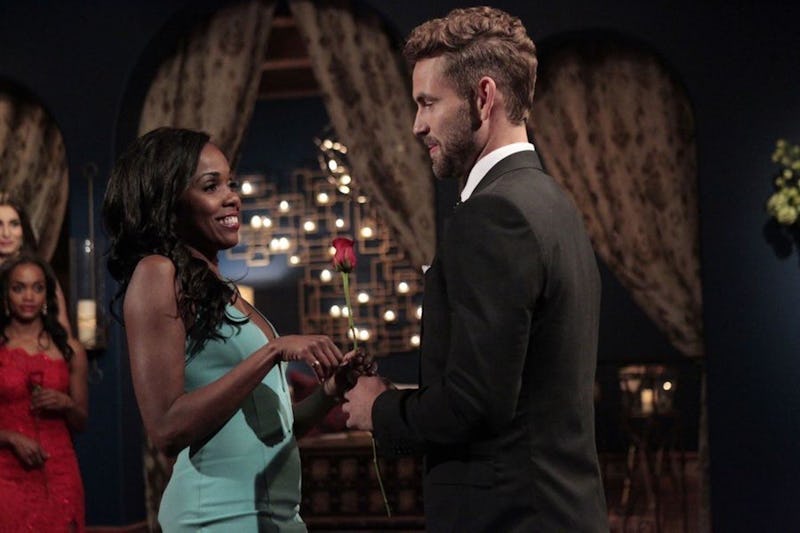 Rick Rowell/abc
We are starting to get down to the wire of Nick Viall's Bachelor season and things are really starting to heat up in The Bachelor mansion. There are only a handful of women left competing, and the frontrunners are starting to become pretty clear at this point. Sure, there are some surprises left over (I'm looking at you Corinne) and some obvious choices as well, but in between all of that there are wild cards. Some of these women seem like they have a great shot, but I can't completely bet on them yet. She has always been a contender but is Jasmine G. single now that The Bachelor has ended its filming?
It's pretty well-known that the winners of The Bachelor are kept under lock and key until the finale premieres. The secret of who Nick will propose to is one of the great secrets of the galaxy. Unfortunately, that means that we don't have an exact answer about whether Jasmine is single after the show or whether she is keeping her Neil Lane diamond at home for the time being. But luckily, through the magic of social media, we can sleuth through her Instagram account to see if we have any clues about her relationship status post-show.
The first thing we can do is look at the dates of her Instagram posts recently. Now, according to Reality Steve, filming for Nick's season of The Bachelor began on September 13th. If we use Bustle TV editor Martha Sorren's method then we can determine that Jasmine makes it pretty far in the competition with her producer-enforced social media break ending on Dec. 7 when she posted a photo of her from her ABC profile and an announcement that she would be on the season of The Bachelor.
Still, that method isn't an exact science. If we take a look at other photos that she has posted since filming began, I would bet that Jasmine is actually currently single. It looks like she is spending a ton of her time with her friends, having a amazing time since the show ended. She seems way more into posting squad photos of the other contestants rather than pictures of her and Nick. It looks like she really made some great connections with her fellow bachelorettes but I think her lack of Nick photos might be saying something loud and clear about the current state of their relationship.
If I had to guess, I would say that Jasmine is currently living that single life after The Bachelor. Don't feel too bad for her though, she looks like she has an extremely full life after the experience and she clearly fell for her fellow contestants along the way. That's a win in my book.