Why Jordan M. Didn't Want To Waste His Time In Paradise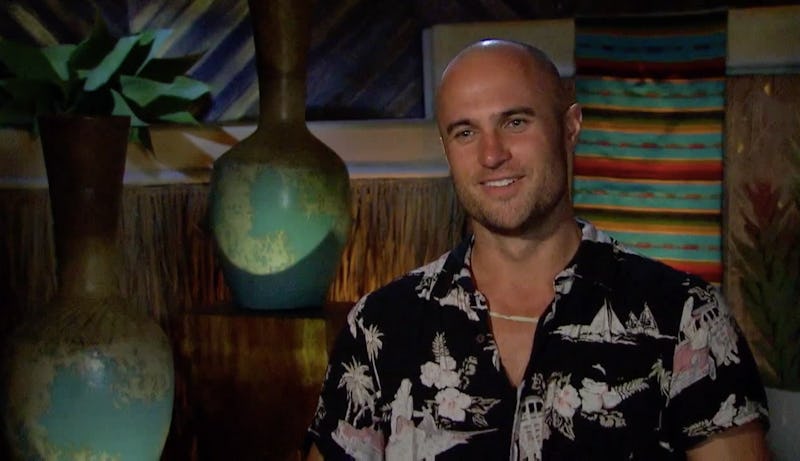 ABC
When Jordan Mauger arrived in Paradise, he made it clear that he wasn't there to waste anytime and was ready to fall in love. However, considering his Bachelor Nation track record, that's hard to believe. His attitude and flirtatious ways have lost him multiple chances at love in the past — so is Jordan M. single after Bachelor In Paradise, or is he back to his old ways? One can only hope that his coin flipping days are behind him.
If you're not familiar with the story, Jordan is notoriously known for his decision making method as star of The Bachelor New Zealand. According to Stuff, a New Zealand-based news website, Jordan ended things with the victorious suitor, Fleur Verhoeve, 72 hours after the show's finale. He later admitted that he simply tossed a coin to choose love between the final two women.
He showed up again on Bachelor Winter Games where he ended up falling for Bibiana Julian, who was eliminated from the current season of BiP early on. At Winter Games, Jordan was ready to discuss a future with Bibi, and she wasn't ready to take their relationship to the "real world" level just yet. Regardless of that experience, though, Jordan told Entertainment Tonight that he appreciated his time on Winter Games.
"I did get the experience I hoped for on the show and the highlight was being emotionally mature, vulnerable and allowing someone to connect with me on that level," he said. "[After] the whole sh*tshow of my experience in New Zealand, it felt like an important step to go there and have a moment of just enjoyment and putting my heart on the line." Had Bibiana remained in paradise until Jordan's entrance, it would've made for an interesting reconnection. But that wasn't the case, and instead, Jordan had a rose and an hour to find someone for it.
That someone ended up being Shushanna, who confessed she had feelings for someone else in Paradise right off the bat. And Jordan, an err — free spirit — said he doesn't have time for that, especially because there's not much time left in Paradise. That's why he was quick to pick up conversation with Cassandra and seems to be interested in her now.
While he may seem hard to love at times, Jordan says he really is a romantic. He even has a dream date planned if he were given the girl and the opportunity. "I'm a pretty hopeless romantic and if I have a special someone in my life, I go to extra effort to make them feel special," he told ET. "My ideal Valentine's date in LA would involve something to eat and drink at the beach or up in the Malibu mountains or Topanga. Somewhere quiet and low-key."
As for Jordan's current relationship status, the definition is unclear. However, his Instagram page features plenty of pictures with women, including some snaps with fellow Bachelor New Zealand alum Lily Mcmanus. They could totally be just friends, but fans won't know anything for sure until they see him through the Bachelor in Paradise finale.