Why 'Bachelorette' Contestant Jordan Might Still Be Looking For The Right Tinder Match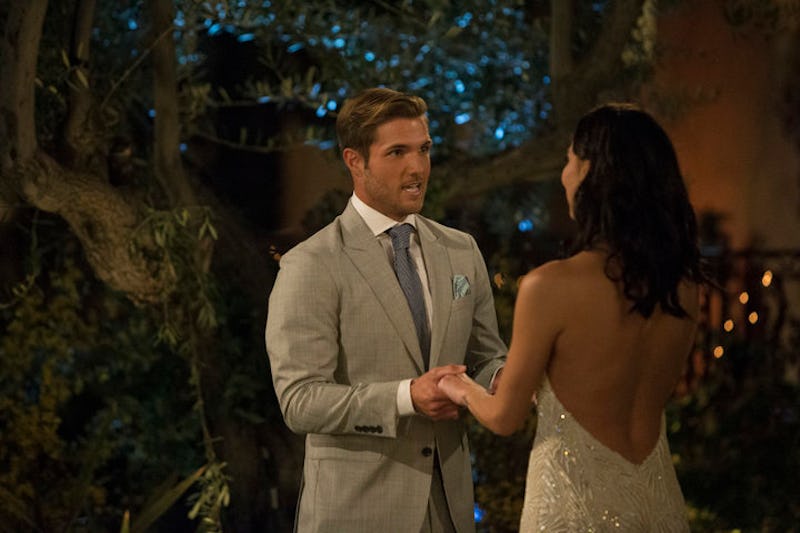 ABC
It wouldn't be a season of The Bachelorette without at least one contestant to act as the "player": someone who might be "here for the wrong reasons." This year, the man filling that role, at least according to the other contestants, is Jordan, a male model who hasn't been shy about reveling in his own good looks or his numerous Tinder matches. Though Jordan is still in the running for Becca's heart, it seems likely that it's only a matter of time before he's sent packing. But assuming he doesn't walk away with the final rose, is Jordan from The Bachelorette still single? Or has that Tinder success rate worked to his advantage?
First, it's important to acknowledge that Jordan is still on The Bachelorette coming into episode 5. But he hasn't stood out as a frontrunner so far, so it would be a twist if he comes away engaged to Becca. Assuming he doesn't, the question now is whether America's favorite "pensive gentleman" is still single, or if his steely blue gaze has managed to win him a girlfriend.
Unfortunately, Jordan' Instagram doesn't give very many clues into his love life, or his personal life at all, really. The account is understandably littered with modeling shots from Jordan's portfolio, and while he does have a lot of pics with different ladies, those ladies were paid to stand in the photos with him. So there's no evidence of a girlfriend on the 'Gram.
The next logical stop on the sleuthing trail is Twitter, but alas, there's absolutely no evidence of a girlfriend on that feed, either. Jordan mostly seems to use the platform in order to retweet his mentions. So we are left with no choice but to conclude that unless he's keeping a surprise engagement to Becca under very tight wraps, Jordan is single — or he has done a very good job of hiding his relationship from the world. And hiding from the world doesn't exactly seem to be Jordan's style.
But it probably shouldn't be too surprising that someone who has bragged so openly about his Tinder success rate would find it difficult to maintain a longterm relationship. For those who missed this part of the drama, or managed to block it out of their memories, David and Jordan got into a fight during a group date after Jordan claimed that he had matched with over 4,000 women on Tinder. "I go one-for-one. I think if I slide right on someone, they slide right on me," he bragged about what he claims to be his 100 percent match success rate on the app. David was not impressed.
None of this, however, means Jordan's romantic future is hopeless. If he lets go of his model persona when he's not on the show and stops bragging about his ability to match with women on Tinder, that could certainly improve his chance at finding love. And maybe Jordan will finally find the right Mrs. Pensive Gentleman on Bachelor in Paradise.
While the cast of Season 5 has yet to be announced, you can bet your bottom dollar that if Jordan wants to join the cast, he'll be there. The producers never fail to put the most recent season's villain on the beach in paradise, so it wouldn't be at all surprising to see Jordan strutting his stuff on the beach in Mexico this summer. And who knows? Maybe his future lady love will be waiting there for him.
Even if Jordan is currently single, he's sure to continue making a splash in Bachelor Nation for a little while longer. And who knows? Maybe one day one of those Tinder matches will finally text him back.