OMG! Kat Von D Teased A Possible New Product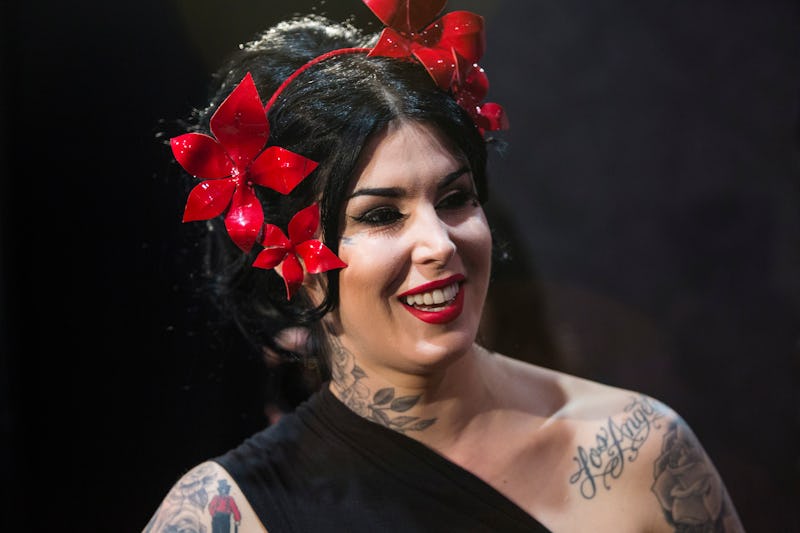 Jack Taylor/Getty Images Entertainment/Getty Images
Kat Von D's definitive and recognizable aesthetic certainly informs her beauty brand from packaging to products. They are an amalgam of rock 'n' roll, punk, goth, and edgy pinup glam. Kat Von D teased her brand's Lock-it Blotting Powder compact, which is glossy, black, wax seal-inspired, and stamped with the swirly KVD logo, on her personal Instagram. She also shared an image of the handheld mirror she had made to match the blotting compact! The makeup maven and celeb tattoo artist then asked fans if they'd want her to manufacture the mirror versions.
Of course Kat Von D-evotees responded in fevered fashion, because a hand mirror such as this would be a stunning addition to any cool vanity or the space where one gets ready for work or play.
Most KVD lovers indicated that they would indeed want the mirrors. There were a few "nahs" in the bunch but hey! You can't please everyone all of the time, right?!
That said, these babies have a vintage vibe, since hand mirrors aren't really "a thing" these days. But they would be an amazing limited edition item, a rad free gift when you spend a certain amount of money on KVD loot, or an awesome permanent addition to the lineup of products.
Hand Mirror, $18, Kat Von D
The KVD hand mirror, with the glossy finish, gives off such a gorgeous, goth vibe. I dig the compact, because duh!
There's the question from the brand guru herself. It was an informal poll!
This screenshot of a sample of the comments proves KVD fans are feeling the hand mirror.
Like I said, not every KVD fan wants a mirror.
But a lot sure do.
Kat tweeted the mirror and the Twitterverse also responded.
Kat knows her fanbase. That's of critical importance.
One "yes" is not enough!
I'm definitely feeling the fan desire for KVD mirrors. If the brand does indeed produce these, even in limited quantities, it would be a nice change of pace from the usual products or tools. The fact that Kat Von D isn't afraid to do things her way is what keeps her brand so buoyant.
Von D is working on a vegan shoe line, as well, ICYMI.
Images: Kat Von D/Instagram (1)