Are Both Katherine & Elena Returning To 'TVD'?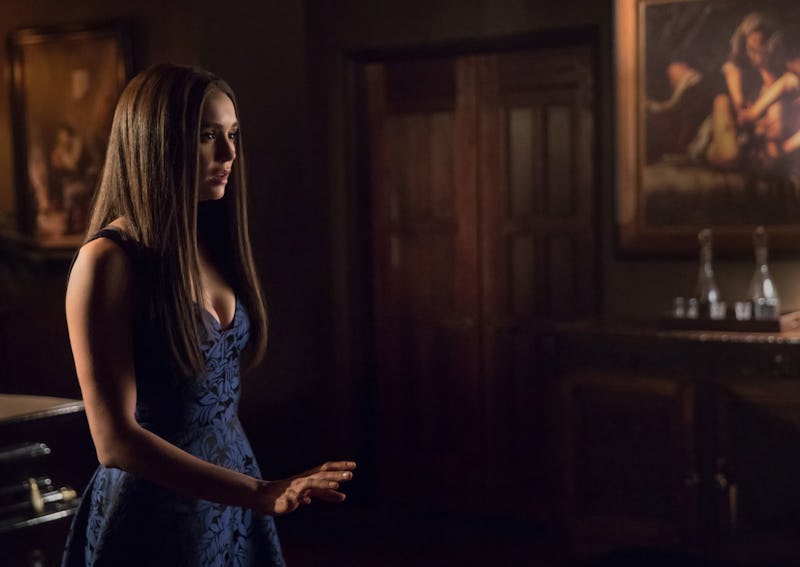 Bob Mahoney/The CW
Ok, TVD fans, breathe. Yes, Stefan is human; yes, Alaric wants to open a Mystic Falls school for witches, and, yes, Katherine Pierce is now in charge of Hell, but that's no reason to freak out. The real reason to freak out after The Vampire Diaries' "It's Been A Hell Of A Ride" is this: is Katherine returning instead of Elena on The Vampire Diaries? Well, it's possible.
Nina Dobrev has confirmed her return to The Vampire Diaries series finale, but just because Dobrev is coming back doesn't necessarily mean Elena will too. What if she's not going to be playing Elena in the finale, but Katherine? After all, Katherine's return to Mystic Falls seems inevitable after this episode. Now that she's in charge of Hell, she has the power to make Stefan and Damon's lives miserable, not to mention the entire world. That said, despite the absence of any explicit confirmation that Dobrev will return as Elena Gilbert, it's pretty likely that we'll see both Katherine and Elena in the series finale.
How am I so sure? Well, take showrunner Julie Plec's statement to Entertainment Weekly in 2015 about Dobrev's inevitable return: "When she left, she said, 'I want to see this character to its end at the end of the show." The character she is referring to is obviously Elena, as Elena is the main character Dobrev played on TVD.
Not convinced? In an article on the TVD series finale, Entertainment Weekly repeatedly refers to "Elena" and features a quote from Paul Wesley (Stefan) about "Stefan's final scene with Elena." (Plus, that blue dress she's wearing in the previews for The Vampire Diaries finale is totally Elena's style, not Katherine's.) So, I'm pretty sure that Elena is returning to The Vampire Diaries. And, after this episode, it looks like Dobrev will be bringing back Katherine as well.
The TVD finale is going to be epic.