Look Who's Back In 'The Vampire Diaries' Trailer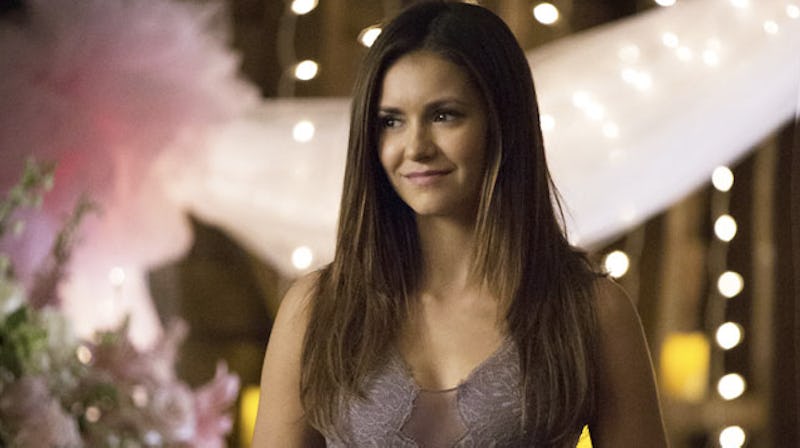 The CW
Do mine eyes deceive me? Or is that Nina Dobrev's Elena Gilbert in the teaser trailer for the Vampire Diaries series finale? Could that really be her reflection in the Mystic Falls High School trophy display? Is it happening? Is it just as showrunner Julie Plec promised? Is it just as Dobrev promised? Will Elena Gilbert wake up just in the knick of time? Will we see Elena at least once more before Vampire Diaries draws to a close? Is this real life?
Yes, it looks like Dobrev's comeback is indeed real life. On Monday, the CW released a 10-second preview of the last episode of The Vampire Diaries. And in that 10-second preview — spoiler alert — Katerina Petrova's doppelgänger admires her alma mater's trophy case. "What happened?" Elena asks in a voiceover. "Why am I here right now?"
I cannot wait to find out the answers to both of those questions.
On March 10, the final episode of the CW program will happen. And then, it will be over. After eight intense seasons of supernatural mayhem, the beloved program will be done. And after two intense Dobrev-less seasons, Elena will be back.
As much as I love the other characters, care about the other characters' journeys, want the other characters find their bliss, and so on, I am so ready for the return of Elena Gilbert. Elena is The Vampire Diarist, and The Vampire Diaries need their diarist. (I, uh, just hope it doesn't mean Bonnie Bennett has to go. They better figure something out with that whole Kai curse thing.)
You can watch the Dobrev-tastic trailer for The Vampire Diaries series finale here.
I'll be an Original Hybrid, that 10-second clip sure chilled me to my core.