This 'Last Tycoon' Character Is A Relic Of A Bygone Era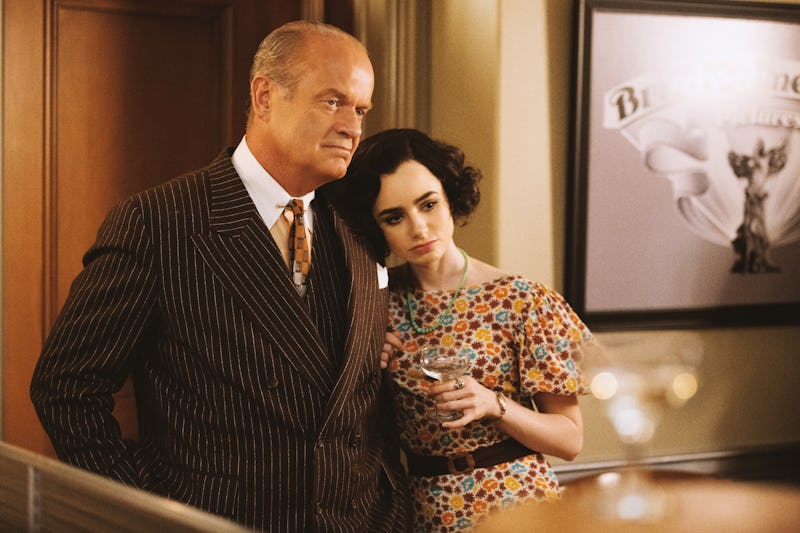 Jennifer Clasen/Amazon Prime Video
Amazon is looking to the past with The Last Tycoon, premiering July 28. The new drama takes place on the glitzy, glittering film lots of Hollywood in the late '30s and has all of the trappings of the time: slick movie makers, egocentric directors, dramatic actors, and plenty of tragedy. Kelsey Grammer gives quite the performance as Pat Brady, a studio co-head (the other is Monroe Stahr, played by Matt Bomer) who is trying to make movies that make money while keeping his daughter out of the family business and Monroe from messing it all up. Is Pat Brady based on a real person?
Suffice it to say that Brady… doesn't seem like the nicest guy. From what I've seen of the show so far, he's kind of a tyrant, and he can be dismissive of his wife and daughter. The version of Brady in the unfinished F. Scott Fitzgerald novel the show is adapted from was reportedly based on Louis B. Mayer, the co-founder of MGM. But when speaking at a press event Bustle attended, The Last Tycoon co-showrunner Christopher Keyser clarifies that the show is a different story. "By the way," he says, "Pat Brady is not Louis B. Mayer." Instead, The Last Tycoon creators went to a different studio to find their inspiration. "[Brady] is based almost entirely on Harry Cohn," says co-showrunner Billy Ray, "who was a much gruffer studio head and we thought just would add a little more muscle to the suit, in a good way."
According to TCM, Cohn was one of the presidents and co-founders of Columbia Pictures, famous for movies like It Happened One Night, Mr. Smith Goes To Washington, and From Here to Eternity. He was known as a "world-class tyrant," the network says, and despite the fact that Columbia really couldn't afford to have big movie stars on contract (which was something studios did back then), he figured out deals to get the big names into his pictures. He "counted mobsters and other unsavory types among his friends" and a photo of Mussolini on his desk, per TCM. To say Cohn was a tough character in Hollywood is an understatement.
Grammer tells press that he's channelled this tough, gangster-esque vibe to play Brady. He says:
"The key for my guy, this one little blurb I read about Harry Cohn in the book Citizen Cohn, where it said, 'He loved gangster movies because he fancied himself a bit of a gangster.' And so I thought, 'Ooh, you know, maybe I'll make him talk a little like a gangster.' Very subtle, like, 'F*ck you.' There's a little of that in him ... He is a tough, he comes from a tough side of town...He's a pretty direct son of a b*tch if you cross him, and he's a pretty great guy to work with if you don't."
Pat Brady is the perfect yin to Monroe Stahr's yang — they just have to get along long enough to keep the studio going and make the movies that rake in box office gold. Considering that Brady is based on a man like Cohn, I think they have their work cut out for them.
Additional Reporting by Sage Young