Kendall's Recent Instagram Posts Suggest She MIGHT Be Seeing A Certain Someone Post-'BiP'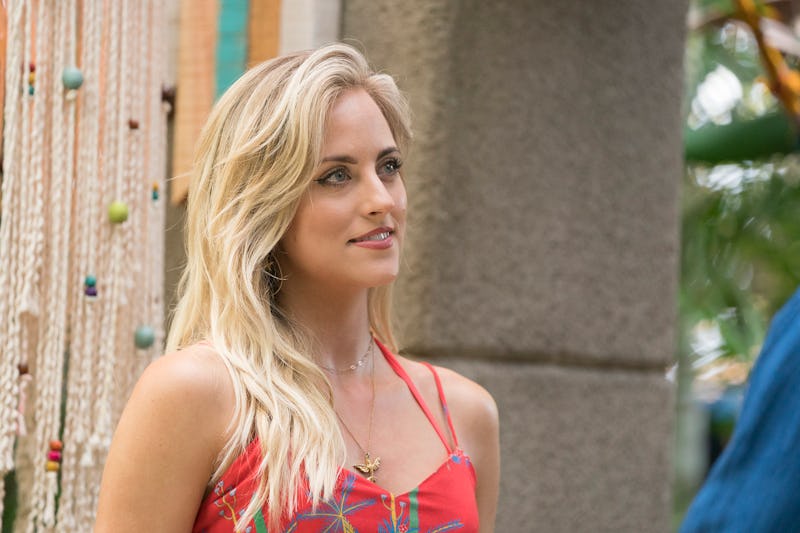 Paul Hebert/ABC
There's trouble brewing in paradise. Kendall and Grocery Joe seemed to be hitting it off on Bachelor In Paradise until Leo stirred up some confusion. Grocery Joe previously admitted that he's falling in love with Kendall, but now she is not sure if she wants to be with him or Leo. Yikes. It remains to be seen what will happen, but fans have one big question in mind – Is Kendall dating anyone after Bachelor in Paradise? The answers might lie in her social media posts.
Leo arrived on the scene last episode and asked Kendall out on a date. Of course, she said yes because this is a dating show that's all about exploring different options. Kendall and Leo basically turned their one-on-one date into a major make-out session while Joe sulked silently at a bar.
After the date, Kendall and Joe had an extremely awkward conversation where Kendall admitted to a possible connection with Leo because they have so much in common. Meanwhile, Leo is clearly on a great hookup adventure in paradise, which really doesn't match her goal of finding a soulmate.
She later revealed that she does care for Joe, but she is not sure if their relationship is the real deal. A Bachelor In Paradise love triangle is almost inevitable, but Twitter fans are not feeling Leo, especially after recent sexual harassment accusations against the stuntman.
Kendall responded to social media opinions with a (possibly shady) tweet thanking everyone for their concern about her decisions and overall love life. The taxidermy enthusiast obviously has to keep her current love life under wraps while the show is filming, but there are some potential clues on Instagram.
On Aug. 11, Kendall posted a photo of one of her infamous graveyard picnics at the Hollywood Forever Cemetery. That same day, Chicago-native Joe grabbed a chicken sandwich at the nearby restaurant Alimento LA. According to his Instagram page, he spent a couple of days in Cali and wasn't too far away from Kendall, who dined on sushi at an LA Dodgers game a couple of days later. Hmmm. It could have been a coincidence, but it's possible that the pair spent some time together.
Spoiler blogger Reality Steve believes they might be seeing each other casually, but no one will really know until Kendall is able to reveal details about her current relationship status. It's hard to sneak around in a social media world, but anything is possible when you are getting paid to keep quiet.
Outside of her potential secret meetups with Joe, Kendall seems to be living her best life. She recently celebrated a birthday with her twin sister Kylie (gosh, those first names sound familiar) and hung out with some friends to celebrate an album release party. Kendall also has several photos with Bekah Martinez, the same woman who sparked the aforementioned accusations against Leo. So, it's safe to say that the Leo/Kendall connection was nothing more than just a fling.
Is Kendall dating Grocery Joe or did she find someone better on Bachelor In Paradise? Or, is she still single and looking for love? Fans are rooting for a romance with Joe, but only time will tell what's really going on in her love life.