Why Kendrick Lamar & His High School Sweetheart Are #RelationshipGoals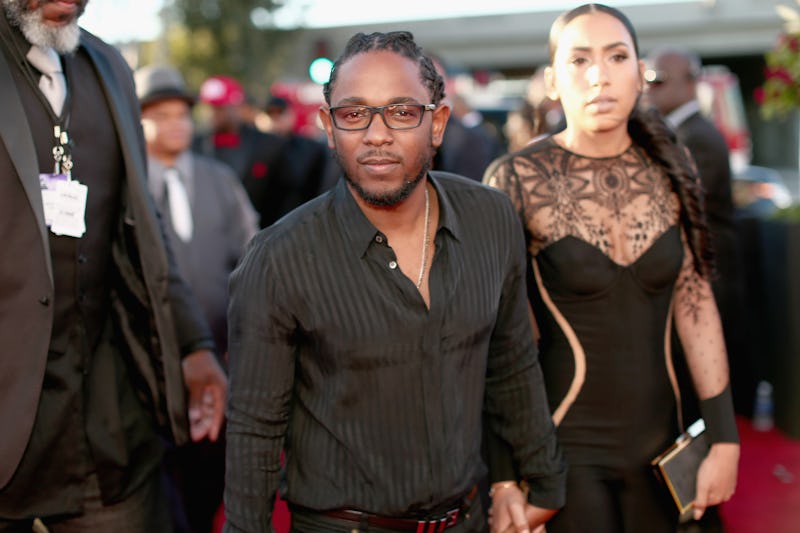 Christopher Polk/Getty Images Entertainment/Getty Images
Every time it seems that Kendrick Lamar has hit his peak, he manages to go even higher. He'll be attending the 2018 Grammys on the strength of his 2017 album DAMN., which is his third album in the past six years to be nominated for Album of the Year. However, Lamar likely won't be attending alone, but probably appearing alongside his partner Whitney Alford just as he did during the 2014 Grammy ceremony. He and Alford have been partners for a few years, but fans may be surprised to learn that Kendrick Lamar isn't married to Whitney Alford — not yet, that is.
Lamar's commitment to Whitney Alford has been well-documented following their public appearances together. She's also been a topic of conversation during some of his interviews. Lamar told Billboard, "[She's] my best friend ... she's somebody I can tell my fears to." Alford has also likely been the subject of some of his most touching music. The most recent single from DAMN., "LOVE." is a tribute to the idea of love itself. Since he and Alford have been together for so long, it's reasonable assumption that she inspired it in some way.
People reported that Lamar announced his engagement to Alford in 2015, while being interviewed on a radio show, meaning that the couple is going on nearly 3 years of being engaged. These two may not be married yet, but you'd be hard-pressed to find a more devoted couple in the world of music as they go as back all the way to high school.
Lamar is an atypical rapper not only in his music, but also how he treats his personal life. While a great deal of his music is informed by his own experiences and observations, you aren't likely to find his name blowing up gossip blogs online in the way his more public contemporaries like Drake and Kanye West are known to. While Lamar and Alford keep their relationship relatively private, the artist has been open about how her support has helped him.
In a 2014 profile in The New York Times, Lamar said that Alford has "been here since Day 1." And she was also present for some of the time writer Lizzie Goodman spent with the artist. Goodman that she observed that "Alford was so at ease sassing him that at first I thought she was [Lamar's] sister." The profile also featured one exchange in particular that serves as a peek into how Alford and Lamar interact. Goodman wrote:
"When someone suggested that the group make a party stop in Miami after the tour headed south in a few days, Lamar said, 'I just don't think I could ever throw around money at the club.'
'Why, are you too cheap?' Alford responded.
'Hell, yeah!' he called out proudly."
If that isn't love, then what is?
Lamar is renowned for weaving a lot of serious concepts into his music, and the knowledge that he has a long-term partner gives a new weight to those words. While "LOVE" may be the most obvious treatise on his view of the topic, the track "​untitled 06 | 06.30.2014." features Lamar going into detail about his relationship:
"I'm promising your lack of tolerance stuck on a zero
I'm promising that I'm acknowledging you as my hero
Cause you believe in me
No you're not easily impressed
But I possess qualities that you need to see
Look at my flaws, look at my flaws
Look at my imperfections in awe
Look how you unique that my mystique is a round of applause
And yours equally valued
You stick out like an alien compared to those around you
And that's alright because I like it
You and me are the same
Hopefully I'm invited, hopefully you don't change
Because I know for sure who you are"
Between their history, their chemistry, and Lamar's poetic words about Alford, it's easy to see that these two are in it for the long haul, even though they've yet to walk down the aisle.