Hold On, Kanye West Might've Misspoke About Kim Kardashian Going To Law School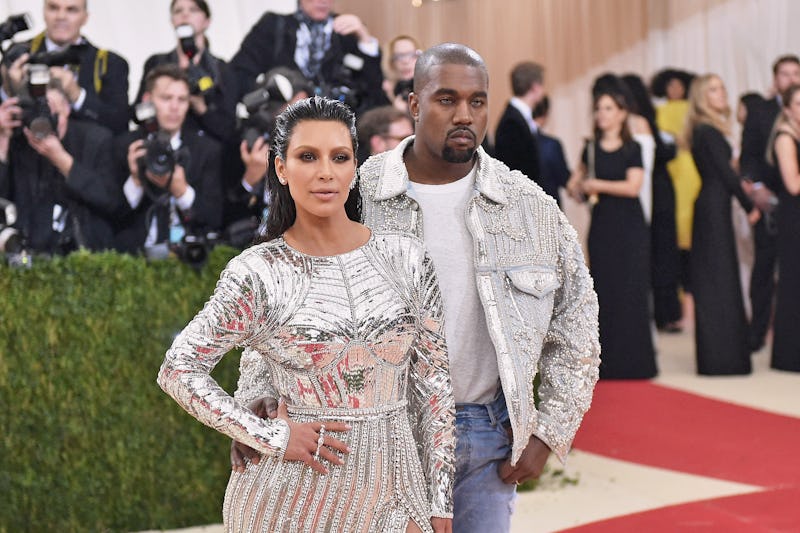 Mike Coppola/Getty Images Entertainment/Getty Images
Kim Kardashian may already be busy with her popular reality show and her KKW Beauty line, but she might be adding one more thing to her résumé — at least according to her husband. In a recent interview, Kanye West said Kim Kardashian is in law school, as People reported on Monday. So, could there be a Kim Kardashian, Esq. coming your way? Let's take a step back and examine the facts. (Bustle has reached out to Kardashian's rep for comment, but did not receive an immediate response.)
West told Extra that the famous couple is very much dedicated to helping others in regard to prison reform. In response to the Keeping Up With the Kardashians star's second meeting at the White House on Sept. 5, the "Stronger" rapper said, "I love it, I love it," and continued, "That's all we focus on, helping people that don't have a voice, breaking down the class systems." He also said that Kardashian is taking a serious step in her crusade for prison reform. He claimed, "My wife is in law school now, and it's extremely serious to us."
However, Extra later reported that West must have misspoke when he made his claim. The publication stated that Kardashian's reps confirmed that she was not in law school right now, as the rapper initially said. That doesn't mean that she's going to take a step back from her activism, though. Her reps noted that the KUWTK star remains dedicated to her prison reform efforts.
West's comments come on the heels of Kardashian's recent efforts to help fix prison reform in the U.S. She first became involved in the matter after she worked toward getting Alice Johnson, who was serving a life sentence for a nonviolent drug offense, a pardon from President Trump.
Kardashian had been particularly vocal about Johnson's case on social media, with the reality star even posting about the case in October 2017. According to Vanity Fair, she had been in contact with Jared Kushner, one of Trump's advisors, for months in order to try and get Johnson's case seen by the president. Their discussions led to a widely-publicized meeting between Kardashian and Trump on May 30, which coincidentally occurred on Johnson's birthday.
Around a week after their meeting, the president granted clemency to Johnson, according to Mic, and was soon released from prison. Kardashian discussed the news on Twitter, where she said that she hopes that this move "gives hope to so many others who are also deserving of a second chance."
As previously noted, Kardashian's prison reform efforts didn't stop at Johnson's case. The KUWTK star recently met with Trump at the White House once again on Sept. 5 in order to discuss the topic. According to Page Six, and as she noted herself on Jason Flom's Wrongful Conviction podcast, Kardashian is working to help free Chris Young. Similar to Johnson, Young is serving a life sentence for a nonviolent drug offense, per the Buried Alive Project's website.
It's clear that Kardashian is dedicated to making positive change in the lives of many who she believes deserve a second chance. Although, that doesn't exactly mean that she's going to law school to do so.