Kim Kardashian Has Pastel Pink Hair & She Insists It's The Real Thing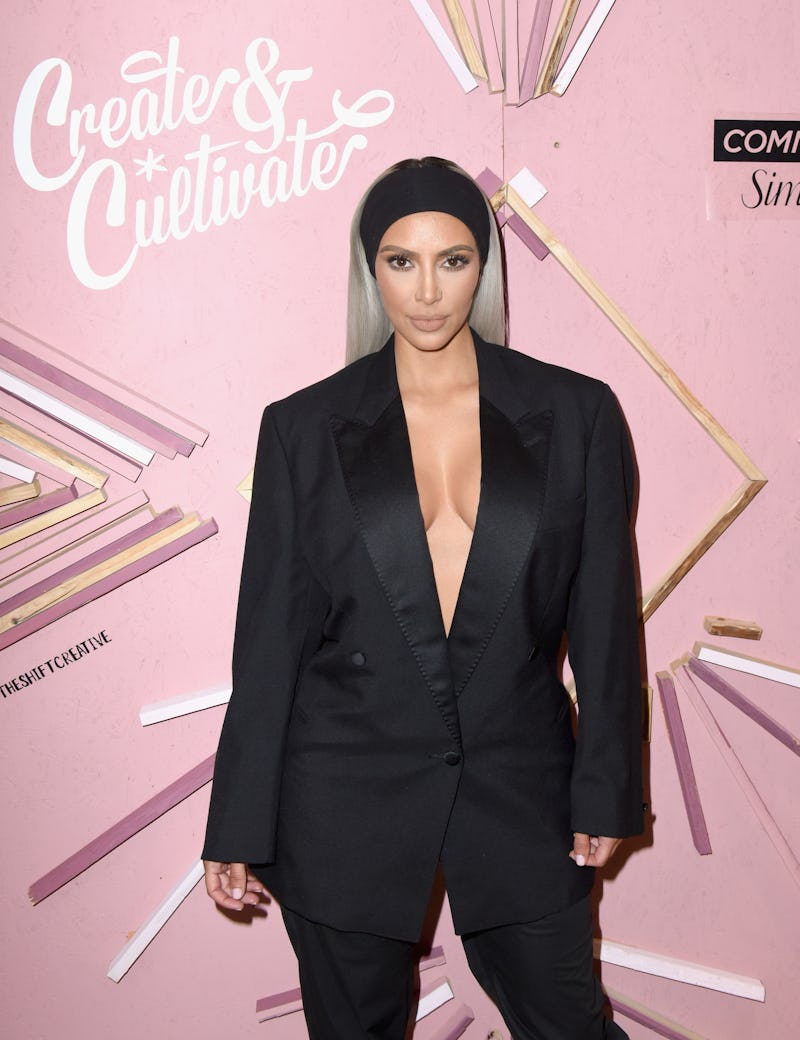 Vivien Killilea/Getty Images Entertainment/Getty Images
Pink hair, don't care! After several months with white hot blonde locks, Kim Kardashian has pink hair. Kardashian usually sticks to her signature brunette shade, with a few turns as a blonde here and there. Wild hair colors have long been the domain of her adventurous little sister Kylie Jenner, who has experimented with a variety of wigs and extensions. While KKW did rock powder blue hair with blunt-cut ends over the holidays, the makeup mogul and fragrance entrepreneur just showed off really long, stick straight, and hot pink locks on her Twitter feed.
Kardashian did previously announce to the world via Twitter that she was bored with being a blonde. Therefore, this strand shade swap is self-satisfying.
In these ridiculously cute images, Kardashian is totally twinning with Jenner circa 2016. She certainly appears ready for spring and Easter with her pastel pink 'do.
Kardashian used a Snapchat filter since she also rocked some fuzzy ears and a button nose. All of those graphics are obvious markers of a Snapchat filter. Her ombre, powder x hot pink hair fell in quite a cascade around her face and shoulders.
It's not easy discern whether her pink follicles are faux or if these locks are legit. The only think that is certain is that Kardashian looks gorgeous with cotton candy strands.
She shared the shots with her millions of followers, asking, "Hey guys, do you like my pink hair?" That's a largely rhetorical question. That's also some seriously pink hair.
Here it is in black, white, and less than 140 characters. The reality superstar hinted the day before that a big change was coming. She didn't disappoint!
Kardashian was having so much social media fun with her whimsical, unicorn-inspired hair. The hair is super duper long, so perhaps it's extensions. Maybe it's part of an aesthetic she is designing for a new KKW Beauty product photo shoot. She did confirm that the long-awaited KKW Beauty lipsticks will arrive this summer. She is also slaying a super soft, matte pink lip in the images. It could be a tease of one of the forthcoming lippies, too.
A user asked if the pink hair was a wig or real. She responded accordingly. Maybe she is trolling us all — since her icy blue locks from the Christmas season were bobbed and most definitely looked like a wig. There's nothing wrong with keeping her legion of enthralled fans guessing.
This user is predicting that Kardashian is rocking extensions.
Ultimately, Kardashian's major hair change inspired more questions than answers. But it is something to marvel at. The pink-haired Kim Kardashian West resulted in lots of chatter on Twitter. The Twitterverse was divided about her pink follicles — but that's to be expected.
These are the best reactions.
One user felt Kardashian was channeling rapper Nicki Minaj, who is known for her pink hair (and pink everything else!)
Kardashian is total #hairgoals for this user.
Some users were curious as to why Kardashian opted for pink at this point in her life.
Others were seeking intel about the lipstick shade she was wearing.
Kardashian didn't hide how she felt about her white blonde locks. But this user loved that look.
This KKW fan loves every hair hue she has tried.
This tweet essentially wins the internet's discussion about Kardashian with pink hair. Invoking her husband Kanye West put a period at the end of the sentence.
While this is likely a temporary pit stop at pink, Kardashian absolutely crushes this pretty hair hue. Here's hoping she keeps it for a minute before ultimately returning to her signature chocolate locks.