Kit Harington Had A Wild Night Out Before The Golden Globes This Year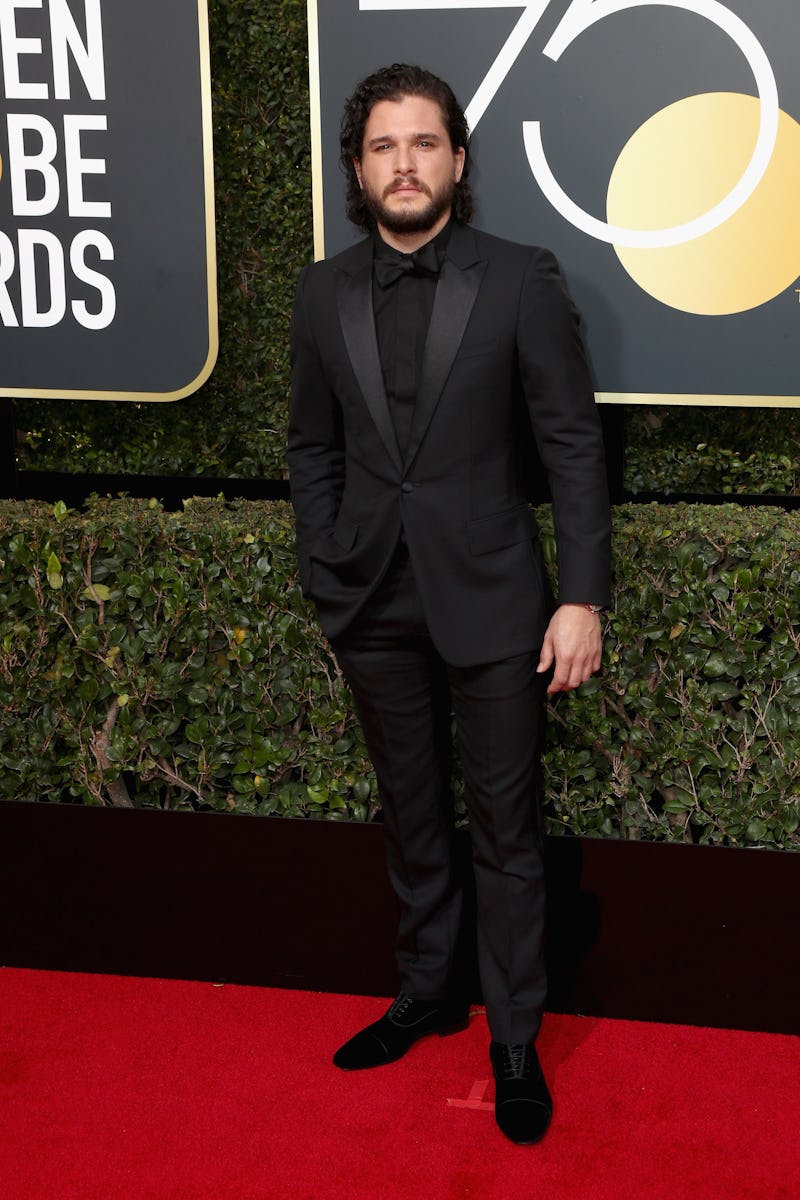 Frederick M. Brown/Getty Images Entertainment/Getty Images
Game of Thrones won't be back in 2018, so red carpet events like the Golden Globes are kind of us fans' only chance to see some of our favorite Westeros stars. Is Kit Harington at the 2018 Golden Globes? He made it, and it's an impressive feat.
Why? The Jon Snow actor was seen the night before Hollywood's biggest bash partying it up on the other side of the country. According to TMZ, he was physically removed from Barfly, a New York City establishment, for reportedly having a little too much fun and disturbing some other patrons. He was caught on security footage arguing over a pool game, to be specific.
According to People, he was there with his fiancée, former Game of Thrones (writer: Vanessa Taylor) actor Rose Leslie, and her sibling. Those presenting at or even just attending the Golden Globes often require a lot of prep, so this wild night did not bode well for Jon Snow rocking the red carpet this year.
However, Harington is presenting this evening, and was seen earlier Sunday at the Haiti Rising gala event in Hollywood with his costar Emilia Clarke, according to Page Six. The official name of the event is Sean Penn & Friends Haiti Rising Gala, which is benefiting the J/P Haitian Relief Organization.
Though Harington was not exactly the first one to hop out of the limo, he made it to the Globes red carpet in one piece. He did it! Harington opted for all-black, as well, in solidarity with the women of Hollywood and the Time's Up movement. That's not the biggest feat for male actors, who typically wear tuxedos, but he did add a black shirt and a black bow tie to his ensemble.
At the Globes, Harington and Clarke will both present, so get your 'shipping heart ready. Even if you aren't the biggest fan of Daenerys and Jon Snow getting together, it will be good to see the two monarchs side-by-side again. When they finally got up on stage to present Best Comedy Series to The Marvelous Mrs. Maisel (creator: Amy Sherman-Palladino) and Best Actor In A Comedy Series to Aziz Ansari for Master of None (writer: Zoe Jarman), Seth Meyers introduced them with his own take on Davos Seaworth's joke about Daenerys' having a comically long set of titles and names compared to the King in the North's simple "Jon."
This week, HBO confirmed that Game of Thrones (director: Michelle MacLaren) won't return until 2019. While fans have been picking that up for a while by interpreting comments from stars like Sophie Turner, who plays Sansa Stark, this confirms our fears.
"It's just bigger than it's ever been," said Harington in an interview with Time about filming the final season. "It is sinking in, it is quite emotional. I don't know how I'm going to feel this time next year when I'm finished. It's quite a sudden shift, I guess, but it feels like the right time."
As for the Golden Globes, Game of Thrones (casting: Carla Stronge) star Gwendoline Cristie is there, as well. It's not a full on Westeros reunion on the red carpet, but it's close. She is, of course, also representing Star Wars: The Last Jedi (producer: Kathleen Kennedy) — a family that Clarke will soon join as the female lead in Solo (casting: Nicole Abellera and Jeanne McCarthy).
Harington and his costars may even get near the trophies. The HBO series is nominated for Best Television Series, Drama. That's it, which is kind of a bummer after a stellar season. Hopefully, the grand finale will knock the Emmys and Golden Globes out of the park.