'Dark' Fans Will See A Very Familiar Face In Netflix's 'Dogs Of Berlin'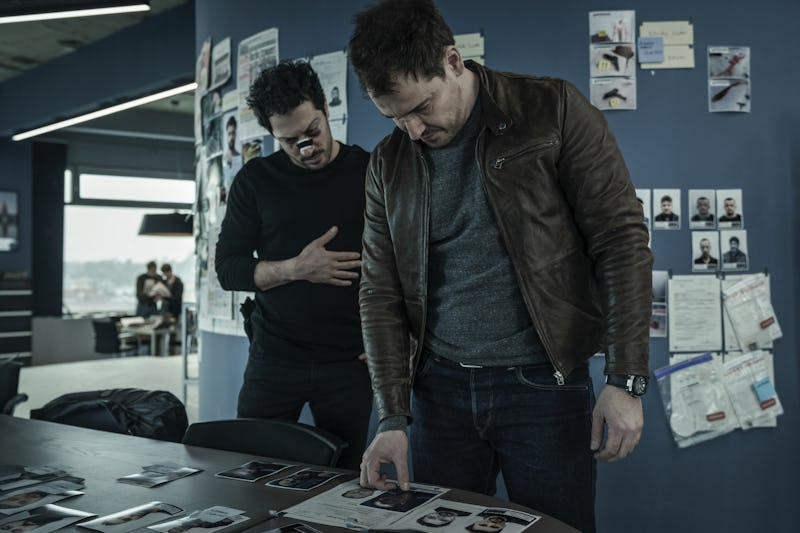 Stefan Erhard/Netflix
When it comes to producing original content, there's no denying that Netflix's focus is on English-language projects, but German-speaking subscribers will be pleased to know the streaming service is working to expand its international roster, too. Premiering Dec. 7, Dogs Of Berlin marks the platform's second German-language series. It follows police officer Kurt Grimmer (Felix Kramer), one half of a buddy cop duo, as he investigates everyone from Neo-Nazis to government officials to get to the bottom of who murdered a Turkish-German soccer star. While such a high-stakes story may sound ripped from the headlines, Dogs Of Berlin is fictional — which means that no, Kurt Grimmer isn't based on a real person — but it does explore some very real issues facing Germany today.
According to NBC, tension has lingered between German and Turkish-origin citizens since an influx of second- and third-generation relatives moved to Germany during the economic boom of the 1950s and '60s. In 2015, that tension was heightened when Chancellor Angela Merkel opened the borders to another 1 million migrants, reigniting a difficult debate about what it means to be German not unlike the one America is grappling with now.
Dogs of Berlin pushes this hostility to brutal extremes, opting to use severe violence between criminals and cops to probe racial tensions, rather than the calmer, mostly closed-door discussions actually happening in the country. Of course, the move makes sense: this approach has the makings of a high-intensity, politically charged series you won't want to stop watching. Seeing a bunch of people push paper wouldn't exactly have the same draw.
While Dogs Of Berlin is a show whose characters and events are undeniably related to 21st century Germany, it's clear that international viewers will have interest in it, too. Netflix has been amassing an impressive lineup of German-language programming, including the 1920s crime drama Babylon Berlin, Cold War-based miniseries The Same Sky, and time-travel sci-fi series Dark — which also happens to star Felix Kramer. Since Dark and Dogs Of Berlin are the only two German series on Netflix that are also produced by the streaming service, this means that Kramer is 2-for-2.
In Dark, Kramer plays Tronte Nielsen — well, a version of Tronte Nielsen, anyway. The show's complex web of family trees and multiple time periods makes it feel like the show needed to get every actor in Germany on set to properly convey the scope of the story, and as such, Kramer's role is relatively small compared to others. Kramer plays the 1986 iteration of Tronte Nielsen, a character who is also played by actors Walter Kreye (who joins the story from 2019) and Joshio Marlon (who shows up in 1953).
But while Kramer only has a small part in Dark, it's enough to prove that his intensity is perfect for moody dramas like Dark and Dogs Of Berlin, and here, he takes on a leading role. Kurt Grimmer may not be a real person, but Felix Kramer is as well-suited an actor as any to depict the darkest aspects of present-day Germany.