Kylie Jenner's Rocking A New Hair Color Again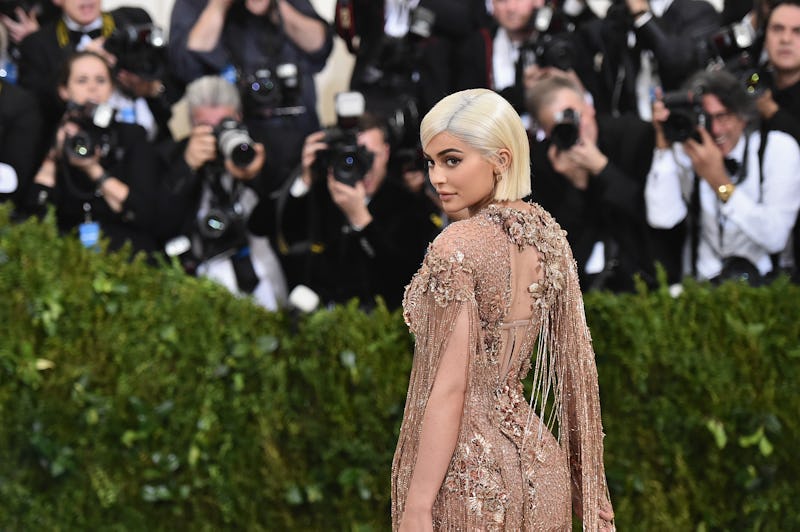 Mike Coppola/Getty Images Entertainment/Getty Images
When it comes to hair color, Kylie Jenner can't stop and won't stop. The youngest member of the Kardashian and Jenner clan seems to debut a new hair look as often as she launches new Kylie Cosmetics products. Friday, Kylie Jenner's new red hair made its first appearance, but like always, there's a lingering question of whether not the new 'do is real. While you may think you know the answer, if there's anything fans have learned about Jenner's hair game, it's that she's wildly unpredictable.
The one real giveaway that her new red hair isn't hers? The length. Jenner's real hair currently falls around her collarbone, and the new look? Well, it's basically down to her butt. Unless those Sugar Bear Hair gummies are truly as miraculous as the Kardashian and Jenner sisters make them seem to be, these tresses are most likely not her own.
As for the color, there is a small chance that Jenner dyed her real hair and added extensions. However, based on her recent social media activity, a color seems exceptionally unlikely. Just a few hours before, she posted a much more vibrant red, and only days ago, she was rocking her naturally dark hair. While Jenner may be no stranger to shocking the world with hair color — blonde hair moment, anyone? — this doesn't seem to be one of them.
The color isn't Jenner's first foray into the world of reds and pinks, though. While her dark locks are her staple, she's been known to dabble with a red hue every now and then.
Jenner rocked a brilliant red for her birthday in the past, and while the color looks great, she was appropriately criticized for her appropriation of corn rows.
The Life of Kylie star has also taken her hair a shade lighter and slayed pink.
Who could ever forget Jenner's Coachella sherbet orange locks?
Rose gold is also no stranger to Jenner.
When it comes to her hair, Jenner is clearly not afraid of change, and who doesn't love guessing when she'll inevitably alter it again. For now, though, Jenner's red hair is killer.