Why 'The Walking Dead' Fans Should Be Prepared To Maybe Lose Maggie Too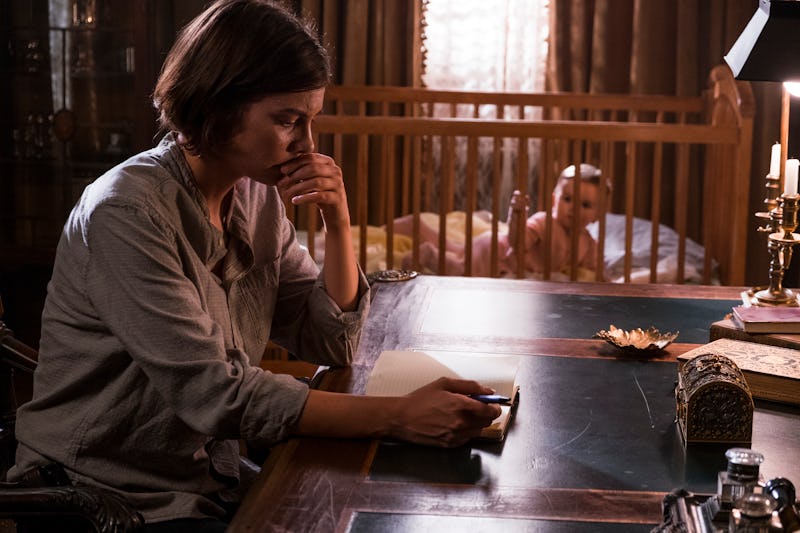 Gene Page/AMC
The Walking Dead (executive producer: Gale Ann Hurd) shocked audiences in the midseason finale by revealing that Carl is not long for this world. Now, with the rest of the season returning on Feb. 25, panic and worry for the rest of the post-apocalyptic survivors has started to settle again. Casting announcements during pilot season make that all the more stressful for avid fans. For example, is Lauren Cohan leaving The Walking Dead? We can't lose Carl and Maggie in one season, can we?
According to Entertainment Weekly, Cohan has booked an ABC pilot for next season. The drama is called Whiskey Cavalier and she will play CIA operative Frankie Trowbridge. She will star opposite actor Scott Foley, who has the titular role. Not only that, but the announcement notes that Cohan's AMC contract for Season 9 has not yet been finalized. Does this mean that she is moving on from TWD (producer, 54 episodes: Angela Kang) and kissing her newfound leadership position at the Hilltop goodbye?
Walking Dead fans know that this kind of revelation is nothing to scoff at, honestly. There are always signs from the outside world that an actor may or may not leave the show, and the the show surprises fans anyway. Other projects haven't kept cast members from The Walking Dead for long. Heck, Danai Gurira was in Black Panther, Avengers: Infinity War, All Eyez On Me, and had a play she wrote, Eclipsed, on Broadway in 2016. She did all that while slaying walkers and Saviors as Michonne, so anything is possible.
Remember when Cohan got a haircut in 2016 and Walking Dead fans were in a tizzy over it? That turned out to be a red herring. It's Cohan's contract that causes the most pause or concern. Maybe a break is in order. In fact, it may even be a good thing for the actor. Anonymous sources told The Hollywood Reporter that Cohan is not happy with her current AMC situation with regards to salary. If this is an equal pay situation, who can blame her? The article reports:
"Although Cohan is not seeking salary parity with male leads Andrew Lincoln and Norman Reedus, her camp and AMC have been engaged in a months-long negotiation that remains far apart. Insiders suggest that Cohan is actively looking for her next job and not trying to use the pilot casting process to force AMC's hand as the actress' camp remains frustrated by AMC's lowball offers."
Bustle has reached out to AMC for comment.
Even if this new series does take Cohan away from TWD, this does not necessarily mean that Maggie will be gone for good. It is still possible for an actor to leave this show without their character getting killed off, right? Perhaps her community will break off from Rick's for a bit, and the show's focus will shift away from the Hilltop. Perhaps Cohan will just appear as a guest star for a while as the actor pursues other projects. That Old Man Rick future fantasy sequence definitely opens up some weird possibilities and directions for this series.
Also, an ABC pilot is still just a pilot. Don't put too much energy into worrying over a single piece of news. Whiskey Cavalier may not get picked up to series. It may not go anywhere, and Cohan may find a way to do both. There are more reasons why this pilot announcement is not a harbinger of doom for Maggie fans and Cohan fans.
Of course, it would be heartbreaking for Maggie to die right after truly coming in to her own as a leader. So let's not focus on that, and carry on as if nothing is wrong for now. It seems as if the actor is at least considering a break from the series, permanent or not. That said, knowing The Walking Dead, they'll find a way to throw a curveball in the story no matter what.