Kristin Chenoweth's 'Trial & Error' Character Has Some Eccentric Real-Life Inspiration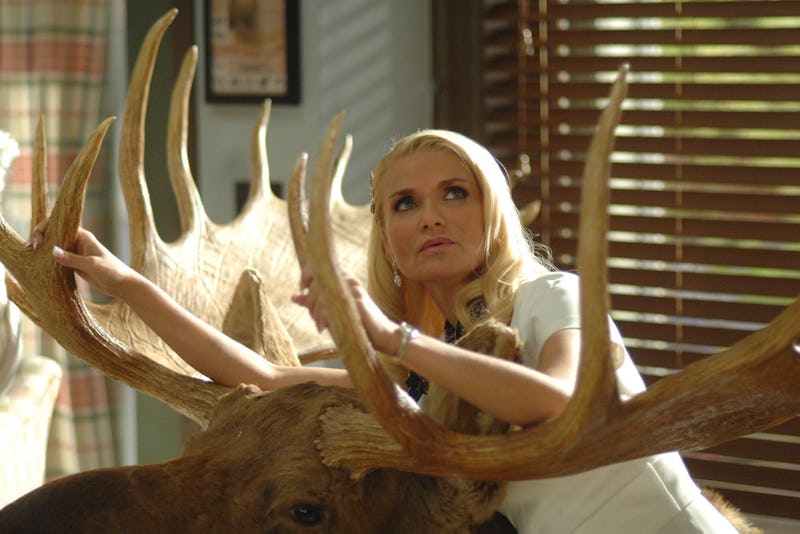 Sergei Bachlakov/NBC
The second season of NBC's courtroom satire Trial & Error premieres on July 19, and will introduce viewers to a new eccentric lead character on trial for murder. Lavinia Peck-Foster, played by Kristin Chenoweth, may be a fictional creation, but fans of a particular true crime docuseries may recognize some aspects of her case. It may not be obvious at first, but Lavinia of Trial & Error is inspired by Robert Durst, the subject of the popular true crime docuseries The Jinx, according to an interview co-creator Jeff Astrof gave to TV Guide.
The first season of Trial & Error featured John Lithgow as Larry Henderson, whose trial was reminiscent in many ways to that of Michael Peterson of The Staircase. Trial & Error is replicating the original formula, putting details pulled (and parodied) from actual cases into the context of a goofy comedy.
Astrof told TV Guide that he didn't want to spoil too much of the show, but assured audiences, "There's a few nods to [The Jinx]" in the show's second season. The Jinx, which aired on HBO in 2015, is a docuseries featuring interviews with eccentric real estate heir Robert Durst about his alleged connection to various crimes. While there's no telling what twists and turns the show will take on its way to discovering who killed Lavinia Peck-Foster's husband, the fact that The Jinx provides some of her characterization means that fans of that HBO series will be in on a few inside jokes.
The Jinx investigates the 1982 disappearance of Robert's wife Kathleen Durst, who was never found, but later declared dead, according to NBC News. Robert Durst was never charged of any crime related to her disappearance, although Kathleen Durst's family later sued him for her alleged wrongful death. Per The New York Post, it remains outstanding. In 2003, Durst was found not guilty in the murder of his former neighbor Morris Black, per CNN, though he did admit to dismembering and disposing of Black's body. And in 2015, Durst was arrested and charged with first-degree murder in the 2000 death of his friend Susan Berman, per Variety. Durst pleaded not guilty in 2016, per The New York Times, and the trial is currently ongoing. Bustle has reached out to Durst's legal representation for comment on the series.
What makes his life story even more unusual is that Durst is a member of the wealthy family that owns the Durst Organization. The company owns several skyscrapers in New York City and invested heavily in One World Trade Center, making them one of the largest names in real estate in the entire world. However, Robert Durst is estranged from his family, and when Robert Durst's father Seymour Durst passed away in 1995, rule of the company was given to Robert's younger brother Douglas Durst instead of Robert, per The Daily Mail. The image of a scorned heir suspected of criminal behavior seems to be what Chenoweth is conjuring with her performance as Lavinia Peck-Foster.
Considering the specific humor of this series, it's fair to assume that there will be a lot of references to Durst through the character of Lavinia. It's possible that Lavinia will jeopardize her defense thanks to footage of her stealing from a local grocery store, just as Robert Durst ended up being arrested after allegedly stealing a grilled chicken sandwich from a Wegman's per The Morning Call. Or maybe she'll say something incriminating while forgetting she's wearing a microphone, as Durst might have in The Jinx.
The writers of this show seem to recognize that there's simply no way to top the absurd details of some of the world's more infamous crime stories — besides setting them in East Peck, that is.