What Makes 'Logan Lucky' Nothing Like Your Typical Heist Movie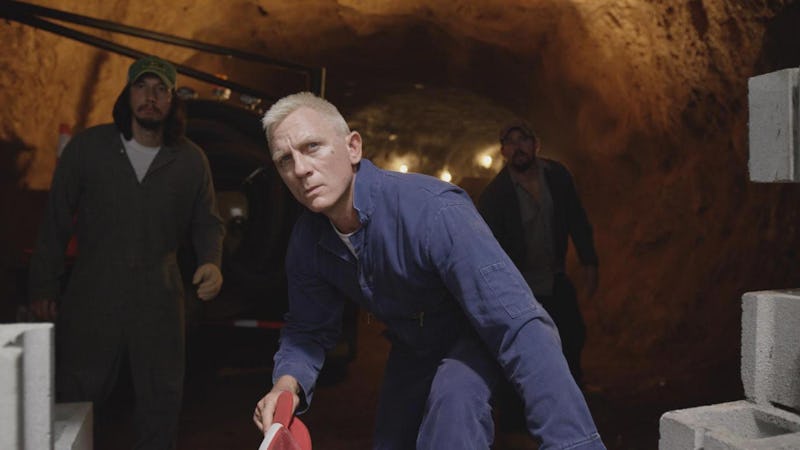 Bleecker Street
Ocean's 11 director Steven Soderbergh has returned to what is perhaps his most successful genre — the heist film — with his new movie Logan Lucky. The film tells the story of two southern brothers who enlist the help of a convicted bank robber to try and pull off a heist during a NASCAR race. It's wild and wacky, but also kind of seems like one of those stories that's so weird because it's true. But is Logan Lucky actually a true story?
It's not. The film is an original story that was written by first-time screenwriter Rebecca Blunt. Well, supposedly that's who wrote it. No one has been able to confirm that Blunt actually exists. She's given no interviews, she never visited the film's set, and no one involved with the film has met her — which is very bizarre for a first-time screenwriter on a film of this stature. Adding to the oddity is a report by The Hollywood Reporter's Tatiana Siegel that claims the name Rebecca Blunt is likely a pseudonym for either Soderbergh, his wife (E!'s Jules Asner), or comedian John Henson. Soderbergh then dismissed that report in a response to EW, saying, "Well, that's going to be news to Rebecca Blunt. When people make a statement like that they should be very careful, especially when it's a woman screenwriter who is having her first screenplay produced." Very strange indeed.
Whoever wrote the screenplay, whether it was Soderbergh, Asner, Henson, or the world's shyest screenwriter Blunt, they didn't base their tale on a true story, but they were at least partly inspired by a true event. The film's production notes claim that "Blunt" conceived the idea after reading about a massive sinkhole that opened up at Charlotte Motor Speedway — where the film's heist takes place — in 2010. She then envisioned a network of pneumatic bank tubes running under the speedway in this empty space (her mother apparently worked at a bank) and set the heist during the biggest race of the year, the Coca-Cola 600, according to Théoden Janes of the Charlotte Observer.
Logan Lucky is not based on a true story, and frankly fans may never know the full truth about the film's origins until the mystery of its screenwriter — allegedly one Rebecca Blunt — is solved.