OMG, Taylor Swift's New Song Title May Have Leaked Early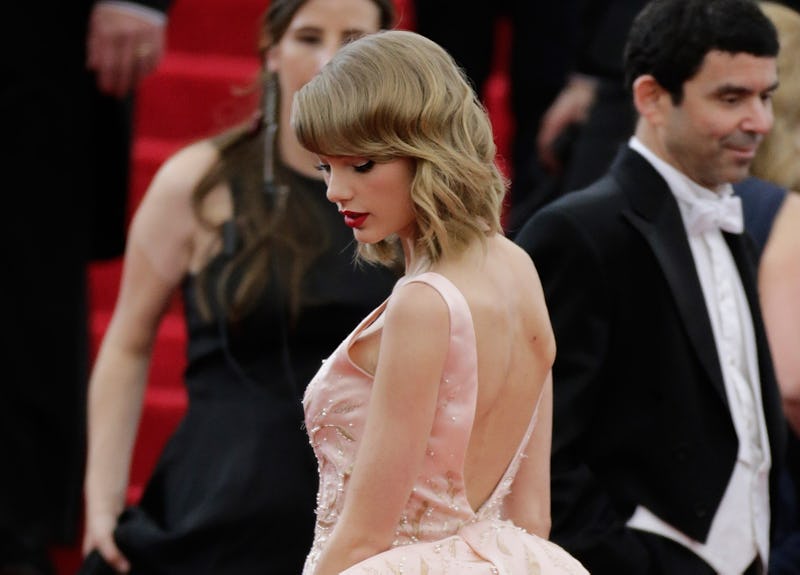 John Lamparski/Getty Images Entertainment/Getty Images
The countdown has begun as fans wait impatiently for the release of Taylor Swift's new single, her first since the 1989 era and her subsequent fall from public grace. But while midnight can't come soon enough for many people, we might know a little bit more about the single than we did before. Fans seem to think that Swift's new song is called "Look What You Made Me Do," and that's not a completely baseless assumption. A post that is claimed to have been deleted from the Beats1 — aka Apple Music's radio — official Instagram shows that song title next to Swift's name on a list of numerous singles that were released or are set to be released this week. (Bustle reached out to Apple for comment, but did not receive an immediate response.)
UPDATE: At 11:30 p.m. on Thursday night, the rumors were confirmed when Swift's new single "Look What You Made Me Do" appeared on Spotify.
EARLIER: The original tweets that were bearing the reported picture have since been deleted as well, which lends more evidence to the theory. After all, if it was just a rumor, wouldn't those posts still be up? Then again, there's always the slight chance that the picture is fake, and the tweets are being deleted because they'd distract from the real single. But "Look What You Made Me Do" has a good chance of being the right answer. It would fit with the edgier theme that Swift seems to be going for with Reputation.
After all, the defiant way in which Swift is looking at the camera on the Reputation album cover already had people thinking this would be a new, career-defining era of badassery from her. (And her detractors believing that this would be yet more of the singer's notorious tendency to dodge blame.) If "Look What You Made Me Do" really is the title, then it sounds like the song would be an odd combination of both: someone has made her do something, and it... sounds kind of badass?
Either way, questions about the title of the single will be answered soon enough. But Twitter sleuths just couldn't be patient about Swift's Reputation Era, which, honestly, should have been expected.