Whaboom's IG Hints At His Post-'Bachelorette' Life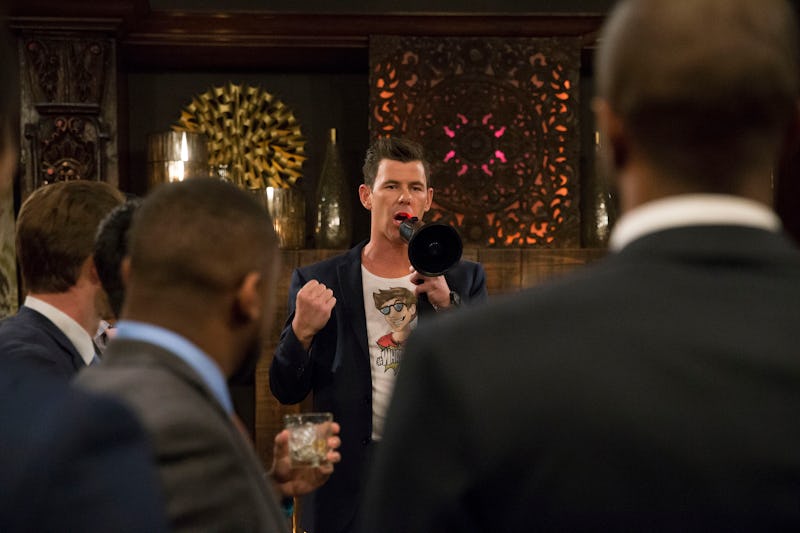 ABC/Paul Hebert)
This season of The Bachelorette has already featured some very unusual characters, like Adam, who brought a miniature puppet version of himself, or Jonathan, who called himself a "tickle monster." But by far the strangest contender for Rachel Lindsay's heart is Lucas, the guy who shouts "WHABOOM" at the top of his lungs. But while most of the other men (and the audience) were repulsed by his odd gimmick, Rachel liked him enough to move him up a round. So what gives? Is Lucas single at the end of The Bachelorette — or is he on the path to win?
Fans were surprised to see Lucas receive a rose in the season's first episode, given that he seems more interested in being the class clown than in getting to know Rachel. As the season's second episode demonstrated, he isn't exactly the sort of "husband material" that Rachel's looking for (sure, he won, but spiking a baby probably isn't the best way to demonstrate your paternal instincts). And his rivalry with Blake, which actually goes back to another reality TV show they both starred on, called Ex Isle, is already causing more drama than I feel like Rachel would accept in her everyday life.
It's possible, of course, that Lucas will still able to make a connection with Rachel. But is that what actually happened? Digging through his Instagram doesn't too offer much in the way of clues just yet, although it's very clear that he thinks highly of himself and his "Whaboom" personal brand. The day after the season premiere, Lucas was already plugging his T-shirts on Instagram, and even offered to sign them for his new social media followers. Is that something a guy who's engaged would do? Well, if he's Lucas... probably, to be honest. So that's not definitive one way or the other.
Speaking of Rachel, she doesn't feature much in Lucas's Instagram — not that she would, because recent pictures of the two together would be a huge spoiler. But he did share this video below of Rachel defending Lucas' obsession with "Whaboom," although she acknowledges that she doesn't understand it at all. Is that a tacit admission that she hasn't jumped completely onboard the Lucas train and chose someone else to spend the rest of her life with? I'm going to hope so, because the alternative is already too baffling to me.
Speaking of alternatives, Lucas recently appeared at a Memorial Day Weekend Las Vegas charity event with a whole bunch of other former Bachelor contestants, which feels suspicious. It seems like Rachel wasn't there; at least, she didn't take any pictures on her Instagram. Nor was she featured in anyone else's that I could find. Although Blake K., the hunky Marine who got cut in the first episode, did show up, and joked that he was looking for a "desert rose," so there was probably a lot of flirting being done there. I'm just saying.
Finally, there's one picture of Rachel and Lucas together, which Lucas has interestingly decided to splice together with a picture of himself winning the Husband Material obstacle course. I don't know, guys, if it were my Instagram and I'd gotten engaged at the end of the show, I'd maybe not made the focus so much on me. But Lucas would, is the thing! So who knows whether or not this is evidence of anything?
His caption reads, "You can't define WhaaaB❤️❤️❤️❤️❤️❤️m without Love 😎💃🏾," which is arguably false, given that Lucas seems to define "Whaboom" as literally whatever sensation he's feeling at the moment. But sure, hon, you go ahead and market that catchphrase!
Sadly, there's only one way to tell for sure whether or not Lucas is still single by the end of The Bachelorette — by watching it every week. Luckily, that's not such a bad fate. Let's be real, I'd be watching it anyway.