Lucy Liu Just Went Blonde & She Looks SO Different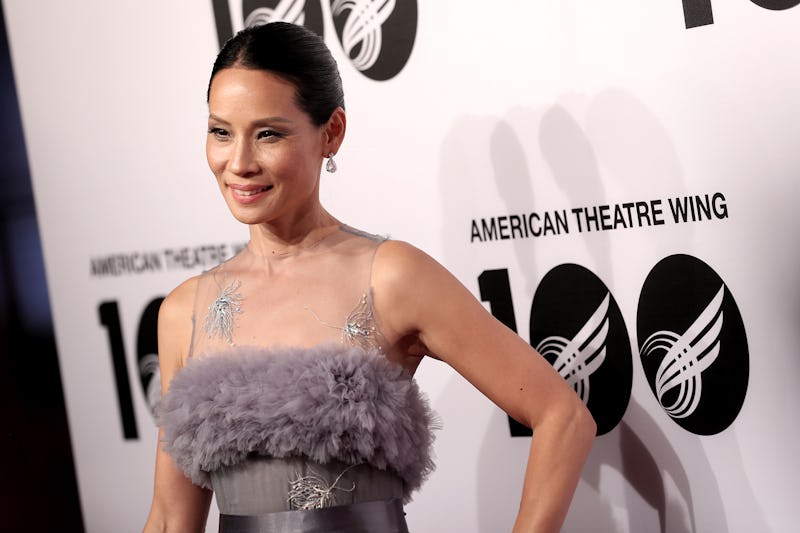 Jemal Countess/Getty Images Entertainment/Getty Images
Some stars are just known for their classic looks. From Ariana Grande's ponytail to Jessica Chastain's red locks, there are some hair styles that fans associate with stars. Now, though, Lucy Liu's blonde hair is going to throw her fans into a tailspin (but in the best way possible) because this actor has totally switched her look. Are the new blonde locks real, though? This is Hollywood after all and with a multitude of celebrities commonly donning wigs to give their fans and the public the hair bait and switch, there's always a chance this new 'do may not be here long. Honestly, though, it looks pretty convincing.
According to People, Liu made an appearance at the Obie Awards, a gathering that honors stage works that are both off Broadway and off-off Broadway. It was during the show that Liu debuted the new blonde look, and while you may be bummed that this Charlie's Angel no longer has her signature hair from the film, the blonde is totally amazing on her.
If you're thinking she's gone Kim Kardashian platinum blonde, the change isn't quite that jarring. Liu's iteration of blonde is definitely a more sandy hue that compliments her skin beautifully.
The color looks perfect on Liu even if it may shock her fans.
As for whether the new hair could be for a film role, Liu's IMDB reveals that two of her latest films are in post-production, and according to their trailers, she's dark haired in both. There is, however, one film Stage Mother, that Liu is attached to where she could be blonde, but there's no way to know for sure.
Her other well-known work is her starring role in CBS's Elementary. Liu has been portraying Dr. Joan Watson since the show's inception back in 2012, and it has been picked up for a new season according to Den of Geek. For the show, however, Liu has always has black hair.
Unfortunately, Liu has no social media presences so motivations for her change are pretty mysterious. However, since Elementary has been renewed, it seem possible that this really could be a wig. If that's true, though, it's unbelievably realistic. However, it wouldn't be the first time that a celebrity has used a wig to fool people.
Who else has used wigs for a realistic look change before? The Kardashians and Jenners may just be the queens of using wigs to trick fans into believing hair changes. Kylie Jenner made a big stir in the past when she took to her Snapchat account and showed her hairstylist chopping her locks into a gorgeous blunt bob.
As it turns out, however, this extremely believable look was actually just the work of a talented wig artist and not a real chop.
Then, of course, there's her sister Kim Kardashian. As of late, the KKW Beauty founder has been switching up her hair looks quite a bit thanks to wigs. Perhaps her most mind boggling changes, however, revolve around her penchant for going blonde (just like Liu).
Kardashian has been a true blonde and a platinum blonde, but each time she switches it up from her natural dark hue, there's always a question of whether or not the change is a wig. Kardashian has both colored her own hair and worked a blonde wig, so when it comes to the queen of the wig-based fake-out, she may just be the reigning monarch.
As for Liu, only time will tell if her new blonde hair is real. For now, though, it's a gorgeous summertime look for the Elementary actor, and she honestly looks amazing.