Why Priyanka Chopra's Royal BFF Probably *Won't* Be Attending Her Wedding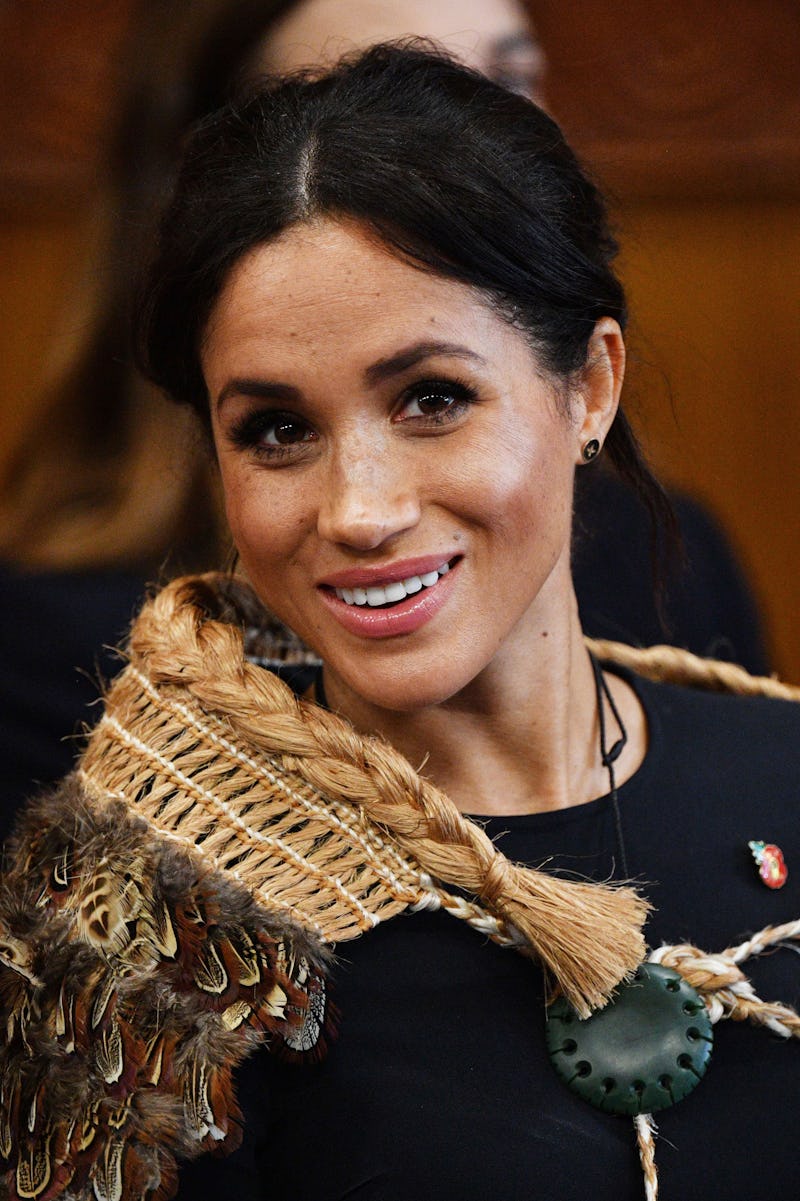 Pool/Getty Images Entertainment/Getty Images
It's almost time for Priyanka Chopra and Nick Jonas' wedding. In advance of their big day, you might be wondering exactly who will be in attendance to support the happy couple and, in particular, whether one royal friend will be there. So, is Meghan Markle attending Priyanka Chopra's wedding? The two have been good friends for some time now, after all.
Unfortunately, there apparently won't be any royal sparkle at the upcoming affair. According to Us Weekly, Markle will not attend Chopra's wedding. But the reason she won't be heading to India for the celebration may be due to some previously reported big news of her own. In case you somehow missed one of the most major news items of the year, the Duchess of Sussex is expecting her first child with Prince Harry, as Kensington Palace announced in October.
Considering that she's pregnant, a source explained to Us Weekly that it was more likely that the royal wouldn't be attending Chopra and Jonas' nuptials. They explained, "Meghan will not be going to Priyanka's wedding, especially now that she is pregnant."
There was much speculation into whether or not Markle would attend her friend's wedding, especially since Chopra attended the duchess' wedding back in May. In a lovely ode to her friend's big day, the Quantico star took to Instagram shortly after to pen a note to the newest member of the British royal family. She wrote, in part, alongside some of the most beautiful photos taken on the Duke and Duchess of Sussex's wedding day:
"Every once in a while there is a moment when time stands still.. that happened today.. You my friend.. were the epitome of grace, love and beauty. Every choice made at this wedding by you both will go down in history, not just because it was your wedding but because this incredible wedding stood for change and hope."
Even though Markle may not attend Chopra and Jonas' wedding, there's no doubt that the celebration will still be a royally exciting event. And it appears that the festivities are already well under way. As People noted, the bride and groom-to-be are already in India, which is where their two ceremonies (a Western and Indian wedding) will take place.
On Nov. 28, the two engaged in a Puja ceremony in Mumbai, per E! News. According to the Smithsonian Institute, a Puja ceremony is a traditional celebration that involves showing reverence to a god, spirit, or other divine entity. E! News also reported that the traditional ceremony is one of many that the couple will take part in during their wedding celebrations through the Dec. 1 weekend.
Naturally, the festivities will also include a healthy dose of star power. Of course, Jonas' brothers Joe and Kevin Jonas will be by his side with their significant others, Sophie Turner and Danielle Jonas, respectively. As E! News noted, you might also find Kelly Ripa and Dwayne "The Rock" Johnson in attendance, as well. But in case any royal watchers were wondering, you won't find Markle amongst that famous bunch.