Nick Jonas & Priyanka Chopra Reportedly Took A HUGE Step To Show Their Wedding Is Soon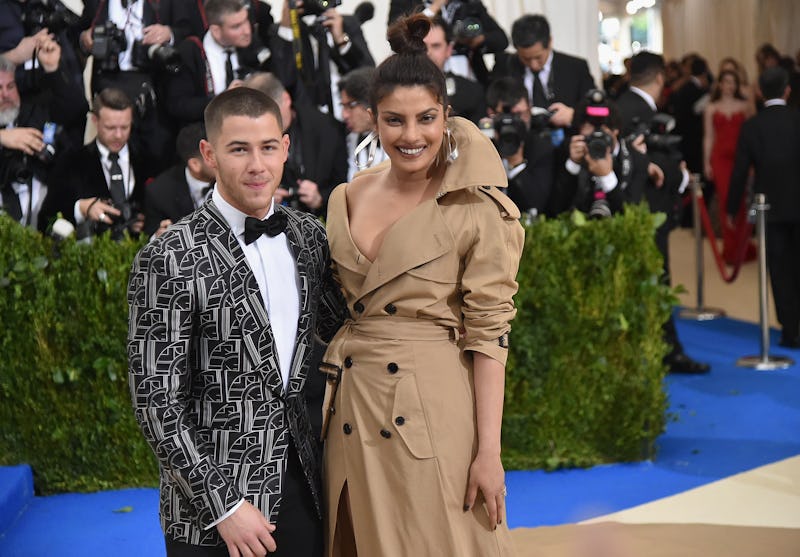 Mike Coppola/Getty Images Entertainment/Getty Images
Hear that sound? Those are wedding bells preparing to ring for one of the Jonas brothers. According to The Blast, Nick Jonas and Priyanka Chopra reportedly got their marriage licence in a Beverly Hills courthouse last week. The outlet also reported that the couple plans to file for a licence in Chopra's home country of India, so that their marriage will be official there as well. While the couple has yet to announce a wedding date, this feels like one more sign that they'll be saying their "I dos" soon.
In recent weeks, Chopra and Jonas have been ramping up the engagement celebrations. Right before Halloween, Chopra had her bridal shower at Tiffany's Blue Box Cafe, and she also had her bachelorette party during the first weekend in November. These two big pre-wedding events coupled with the news that the pair have reportedly obtained their marriage licence suggests that their wedding may be sooner than expected. According to The Spruce, a couple has 90 days to use a marriage licence in the state of California, so don't be surprised if Chopra and Jonas tie the knot sometime during the holiday season.
Chopra and Jonas announced their engagement in July, after two months of dating. In August, they celebrated their happy news by throwing an engagement party for both of their families in India. While they haven't had a long engagement, their posts on social media illustrate just how excited they seem to be about their upcoming nuptials.
Luckily for fans of the couple, Chopra and Jonas have shared quite a few photos of their various celebrations leading up to their wedding day. During her bachelorette party weekend, the former Quantico actor shared plenty of fun pictures of her pals in Amsterdam. She even gave her future sister-in-law, Game of Thrones star Sophie Turner, a special shoutout, and they both revealed they now call themselves the "J Sisters" in what seems to be a sweet nod to their future husbands' old band name, The Jonas Brothers.
Turner is engaged to Joe Jonas, and although they announced their engagement first, it definitely looks like Chopra and Nick will be the first to make it down the aisle. Thankfully, there's no competition between these two couples. A source told People, "They're not really competitive in terms of who's going to get hitched first."
It seems that Chopra's family and Jonas' are super supportive of their relationship. Jonas' mom, Denise, even commented on one her future daughter-in-law's bachelorette party photos. As reported by People, she wrote, "Be good." (And added a heart emoji for extra measure.) Basically, these two and their families are doing more than their fair share to keep cuteness alive.
Only Chopra and Jonas know the exact date of their wedding — well, them and their family and friends, of course — and that's how it should be. Given their track record, they'll no doubt share a few photos of their big day with their fans, but the best part of their upcoming nuptials isn't the promise of pictures, it's knowing just how ready these two adorable people seem to be to spend the rest of their lives together.