Priyanka Chopra's Message To Meghan Markle Will Make You Adore Their Sweet Friendship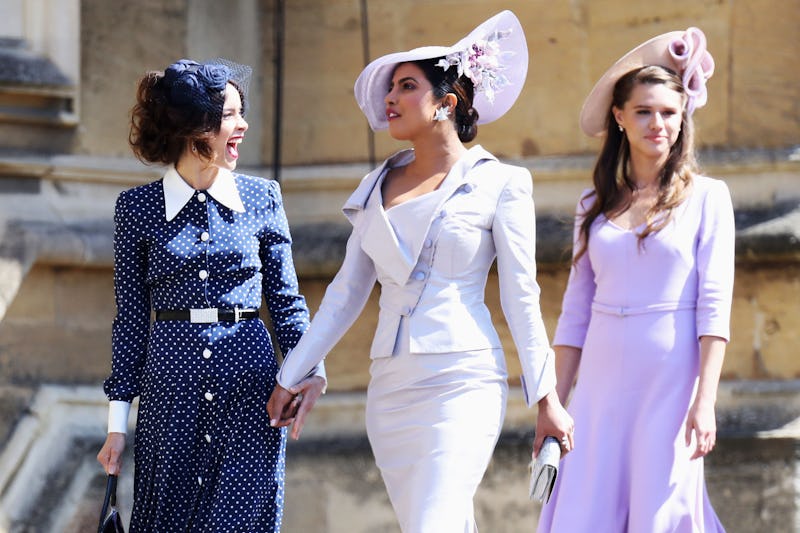 Chris Jackson/Chris Jackson Collection/Getty Images
They may have only been friends since 2016, but Priyanka Chopra and Meghan Markle seem to understand each other on a special level. Their friendship is one that's rooted in mutual respect, which only makes Priyanka Chopra's message to Meghan Markle on her wedding day even more of a fitting tribute. The Quantico star attended the royal wedding, but she also made a point to write an Instagram post for her ride or die BFF.
In a post that's accompanied by some of Prince Harry and Markle's best wedding photos, the actor wrote an ode to her pal that will make you emotional all over again. Chopra wrote,
"Every once in a while there is a moment when time stands still.. that happened today.. You my friend.. were the epitome of grace, love and beauty. Every choice made at this wedding by you both will go down in history, not just because it was your wedding but because this incredible wedding stood for change and hope. Both things that the world needs desperately. Thank you for being the perfect picture of all things good.. seeing your union and love blessed in front of my eyes Made me so happy.. and tear up! I wish you both love happiness and togetherness always.."
Are you crying? Because it's totally normal to be crying right now. With just a few words, Chopra managed to capture everything that's beautiful not only about the couple, but about Markle. Remember, Chopra knew her way before she was the Duchess of Sussex, and she knows that Markle is an advocate of women's rights, a strong leader, and an all-round awesome person. Prince Harry may be the one who's royalty, but it's clear that Chopra sees her friend as nothing less than a queen.
It's so lovely to know that Markle has such a beautiful friendship that she can rely on. While her life has gone through some major changes in the past few months, it seems that Chopra has remained someone who is always in her corner. Duchess or not, everyone needs friends who surround them with love and support.
Chopra attended the royal wedding rocking a truly exceptional lavender ensemble that made her look like royalty herself. The actor seems to have put some serious thought into her look, which is what one does when they're attending their friend's wedding. She even wore an over-the-top fascinator, that, of course, looked classy on her.
When Markle's Vanity Fair cover story hit newsstands in October 2017, Chopra made it a point to advocate for her friend. She told Entertainment Tonight,
"I mean, she's on the cover of Vanity Fair. It would have been nice to write about her not just her boyfriend. I'm just saying. I mean, she's an actor, she's an activist, she's a philanthropist. I mean, she does so much more."
To Chopra, Markle will never be simply Prince Harry's wife. She knows the actor as an activist with a giving spirit, and a whole lot more going on than just marrying a prince. She seemed to express those sentiments once again in her congratulatory post. Rather than focus on the surface level things, the actor zeroed in on the ways in which Markle and Prince Harry's love is already bringing people together.
There's no denying that Prince Harry and Markle are an amazing couple. Their wedding was brimming over with love and warmth. However, if you're just as enamored with Chopra and Markle's bond, then just know that you're not alone. These two women are fiercely protective and supportive. As Chopra's wedding day message so handily proves, their friendship is truly remarkable.