Why 'Pretty Little Liars' Fans Should Start Getting Excited About The Royal Wedding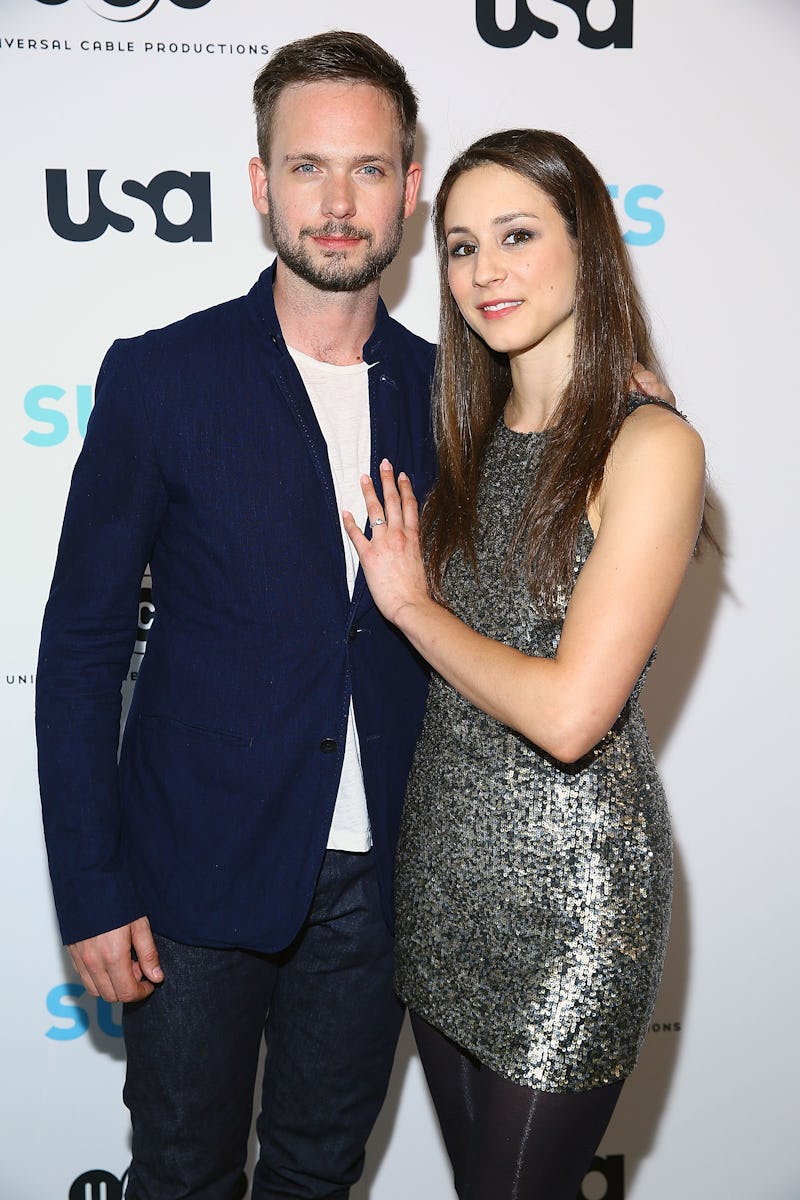 Astrid Stawiarz/Getty Images Entertainment/Getty Images
Meghan Markle and Prince Harry's wedding will reportedly be a celebrity-filled affair that will please both Suits and Pretty Little Liars fans. Patrick J. Adams and Troian Bellisario are attending the royal wedding, according to a Friday report from Access Online. A source also told the outlet Markle's other Suits co-star Gabriel Macht and his wife, Jacinda Barrett, (who also appeared in the USA drama for several episodes) will be in attendance, as well.
On Friday, The Blast also reported both Adams and Macht were invited — and were going to the wedding at St. George's Chapel at Windsor Castle on May 19. According to The Blast, Adams even "left this week for the U.K." Neither Adams, Macht, nor their spouses have commented on if they're going to the biggest wedding of 2018, but there's definitely a good chance.
Seeing as Markle starred alongside Adams and Macht for seven seasons, it would make sense for them to receive invites. Plus, Adams and Markle played love interests, so they spent a lot of time together.
Ever since Markle and Prince Harry announced their engagement in November 2017, Adams has been somewhat vocal about his co-star's exciting news. In response to the royal engagement, he first joked on Twitter, "She said she was just going out to get some milk..." He then got more serious and tweeted, "Playing Meghan's television partner for the better part of a decade uniquely qualifies me to say this: Your Royal Highness, you are a lucky man and I know your long life together will be joyful, productive and hilarious. Meghan, so happy for you, friend. Much love."
On April 5, Adams and Bellisario spoke about the royal wedding with Entertainment Tonight and about what they plan on giving Markle and Harry as a wedding gift. "We were trying to choose between like a blender or bread maker," he said. "You know something classy, like a good blender. Like a Vitamix, yeah. She's gonna need a Vitamix for sure." The former Pretty Little Liars star suggested, "I think she'd really dig a Roomba." Adams later added, "Whether I'm there or not, the Vitamix is going to the wedding.'
Bellisario also admitted she had no idea what a fascinator is and told ET, "Obviously we have so much to learn." The actor/director said if she needs a hat or gloves for the wedding her mom has plenty to choose from.
In addition to Adams and Macht, Access Online reports that 25 other people from Suits will be at the wedding, including Markle's other co-stars Sarah Rafferty and Gina Torres. "About 25 people from Suits are attending the wedding and they're trying to put together a dinner on the Friday night," the same source said.
Based on how Markle captioned the following Instagram re-posted by Rafferty (Markle's Instagram has since been deleted, like her entire IG account), it's probably a safe bet both Torres and Raffery were invited. "My @suits_usa sisters [heart emoji]️ Celebrating our friendship of six years and counting. So much deep love for these two women and the sage advice, comforting meals and shoulders to cry on they've generously shared with me. Love you both @iamsarahgrafferty #ginatorres."
In March, a source told Hello! magazine Markle was inviting her Suits co-stars, including Abigail Spencer. "The cast has been contacted in regards to invites from Kensington Palace." The source said a few other famous faces would also receive invites, like Serena Williams and Priyanka Chopra. On April 25, Quantico star Chopra revealed she was going to the wedding and announced she wasn't a bridesmaid.
Markle and Harry's wedding is definitely something to look forward to, especially if Adams, Bellisario, and a bunch of other celebs will be in attendance.