Here's The Nathan Chen Dating History Primer You Didn't Know You Wanted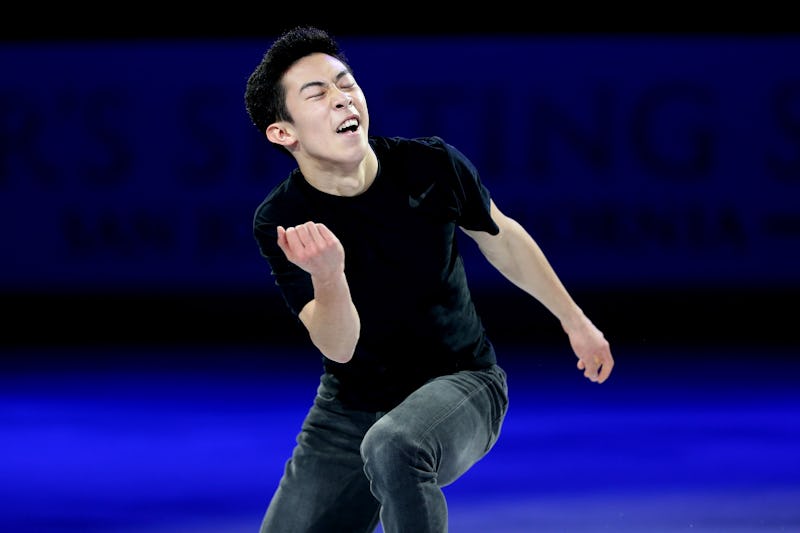 Matthew Stockman/Getty Images Sport/Getty Images
Olympic medal contender Nathan Chen is the talk of the town. Not only is the athlete super accomplished at just 18 years old, but the Salt Lake City native is also on his way to breaking even more records. Since he's gaining even more celebrity by the day, he's also gaining his fair share of admirers. Chen's dating life is a mystery, though. And, honestly, according to Chen's social media accounts, there may not be much time for the superstar to play the field.
The 2017 U.S. figure skating champion first fell in love when he was just 3 years old, coincidentally during the 2002 Winter Olympics, and the games were being held in his hometown. In in an interview with InStyle, Chen explained that, because of the games coming to town, he had access to a lot of the rinks around the city. Chen, the youngest of five siblings, admired his older brother's hockey skates, but because his mother thought a figure skate blade would be easier for him to handle, he donned that particular gear instead. And from that moment on, figure skating was a huge part of his life — to the point that he even predicted at the age of 10 that he'd be competing in the 2018 Olympics.
However, Chen tried his hand at a slew of other sports — dance, more specifically ballet, and gymnastics, to name a couple. The teenager's Instagram shows that he's pretty good at the piano, too. During a recent Facebook Live event with the Jump On It! figure skating camp in Colorado Springs, Chen revealed that playing the guitar is also one of his favorite hobbies.
The young star thinks that other athletes should consider having an extracurricular, too, explaining, "Definitely [have] something off of the ice where you can take your mind off of skating, have fun. That's definitely what I do with my guitar."
So, even when off the ice, Chen is mastering another skill.
That type of dedication doesn't leave much time for him to engage in more normal high school activities, however. In a recent interview with Team USA, Chen shared that FOMO makes him a little jealous of other teens his age. "I never got to go to prom or homecoming or a lot of the typical teenage stuff," he said. "But, if you think about it, I've gotten to go and meet different people and travel all over the world." Who wouldn't take mingling with world renowned athletes over high school hallway drama, any day?
After this 2018 winter Olympics season, Chen has big plans for the future. While speaking during the Jump On It! camp's Facebook Live event, he made it clear that going to college and pursuing a medical field is a goal of his. Chen also mentioned to International Skating Union that he had interest in studying business, and, while talking to NBC News, hinted that he's also intrigued by zoology. But before embarking on the journey to higher education, taking a gap year is at the top of his mind, and competing in the 2022 Winter Olympics falls somewhere in there, too.
It's no secret that Chen is on his way to greatness. After all, he doesn't have the distinction of being the only professional skater to land five quads in a single routine for nothing. With his family by his side — and with his tremendous work ethic and dedication — he's going to continue accomplishing new heights in whatever he decides to do in the future. "My siblings are looking out for me, making sure I'm not doing something stupid," the athlete said in the Team USA interview. "They are making sure my head is set straight and that I'm a good person outside of skating and inside of it, too."
Whether you find yourself absolutely smitten by Chen's larger-than-life athleticism, or you simply admire his determination in the sport, rooting for the 18-year-old champion will be easy this season.