Yes, 2018 Winter Games Star Nathan Chen Is On Snapchat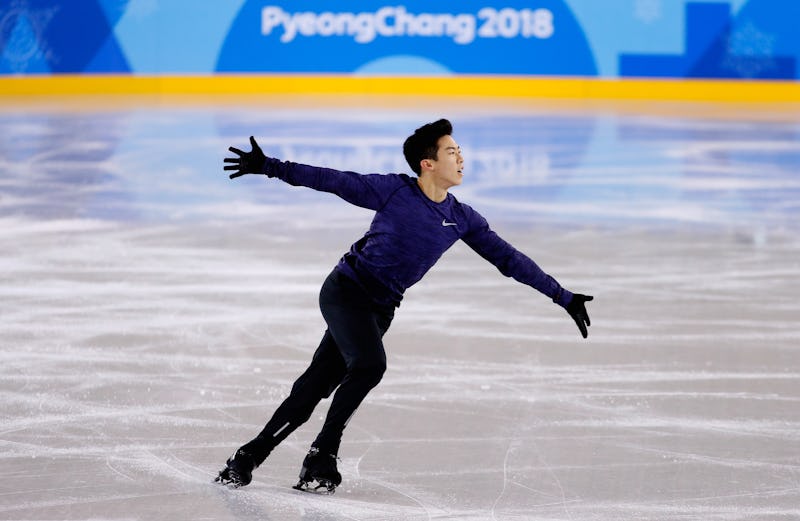 Jamie Squire/Getty Images Sport/Getty Images
Since 1924, the globe has gathered for the Winter Games. And since 1924, audiences have asked an all-important question: "Is that Olympian on Snap?" When the 2018 Winter Olympics begin on Feb. 8, Nathan Chen will be one of the great athletes representing USA. And yes, Nathan Chen is on Snapchat. And yes, if you're looking for his Snapchat name, you've come to the right place.
As the wicked talented skater notes on his official page over at FigureSkatersOnline.com, you can find him on Snap at Nathan_Chen. And if Snapchat isn't your thing, you can follow him on Instagram and Twitter at @nathanwchen. Looking to follow him on Facebook? Here you go: Chen has a page on the social networking site, too.
Whether or not you decide to keep up with Chen on social media is one thing, but you most certainly are going to want to keep up with his performances while he's competing at the Winter Games in Pyeongchang, South Korea. (But uh, why wouldn't you want to keep up with him on social media? Dude is putting up excellent content, including but not limited to precious photos with precious puppies.) Chen is definitely going to be one to watch at the 2018 Olympics. As the Team USA website points out, the 18-year-old competitor is this season's only undefeated men's skater.
Yes, he is the only undefeated men's skater in the world. That's the opposite of something to sneeze at. Will he maintain that streak during the Olympics? There's only one way to find out: Watch the Games. OK fine, you could find out by simply googling the results or looking up the outcome on Twitter, but where is the fun in that?
Being the current only undefeated skater in the world is only the top of the ice rink, er, iceberg. Chen's ever-growing list of accolades is beyond impressive. According to Time, at least year's nationals, Chen became the only man to complete seven quadruple jumps in one competition. Ever. And The Atlantic predicted that he could very well be the best athlete to ever grace the sport of figure skating, and there's been serious hype surrounding his career since he was a little kid. As the NBC Olympics site points out, when Chen was 10 years old, he won the novice title at the National Figure Skating Championships. And it's only been up from there.
According to The Washington Post, the routine Chen's got in store for the Olympics will be one of the most difficult figure skating routines to ever happen at the Winter Games. Suffice it to say, the expectations surrounding Chen at the Pyeongchang Olympic Games are pretty high.
Oh, what's that? You want more information regarding photos of adorable dogs? Here you go.
Oh, you thought we were done going over Chen's list of accomplishments? Think again. According to FigureSkatersOnline.com, he is a four-time national champion, was the 2017 Four Continents Champion, and again, went entirely undefeated during the 2017-2018 season. According to the New York Times, if there is one men's figure skater who is poised to run away, er, skate away with the gold in 2018, it's Chen.
Chen will compete alongside fellow Team USA skaters Adam Rippon and Vincent Zhou. The Men's Single Skating Short Program will kick off on Feb. 8. If you want to try to watch as much skating as possible (and why wouldn't you?), you can check out the entire figure skating schedule here. As far as where you can watch the Winter Olympics goes, there are lots of options, including but not limed to NBC, the NBC mobile app, and Hulu.