I Tried The OFRA x Kim Thai Wanderlush Cream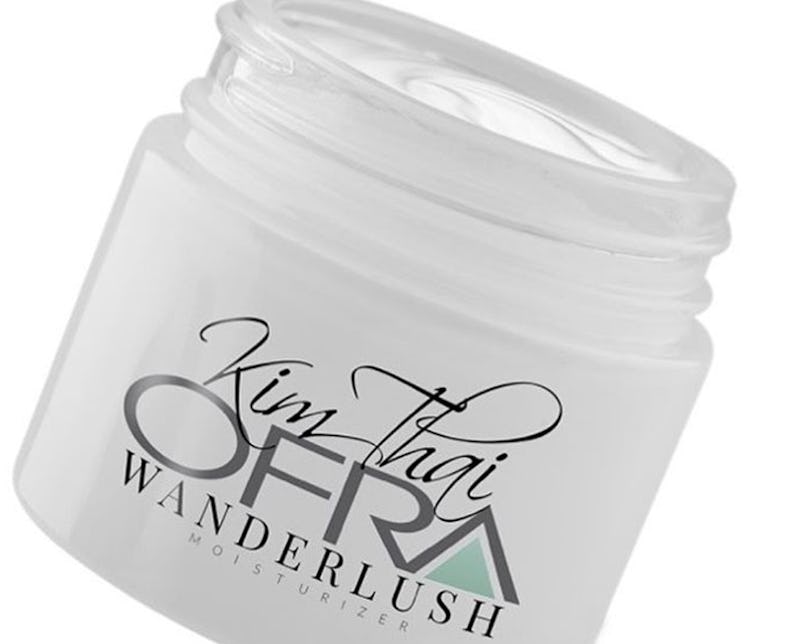 If any of your New Year's resolutions involve taking better care of your skin, well, you also need to resolve to grab this minimalist miracle in a jar in order to help facilitate that goal. OFRA and vlogger Kim Thai will drop Wanderlush moisturizer on Jan. 2 at 1 p.m. ET. It's the brand's first-ever skincare collabo. I received a full-sized sample of the majorly luxe cream in advance of the launch. Is the OFRA x Kim Thai Wanderlush moisturizer, which costs $29.99 without the discount code, worth it? I tried it and here's the scoop.
After washing my face, I scooped out a quarter-sized dollop and slathered it on my face and neck before bed last night. I prefer to let my skin breathe while I sleep. Therefore, I like a lighter, no-nonsense moisturizer or even just an eye cream. I was struck by the fact that Wanderlush was rich and, well, lush, yet shockingly light. I didn't feel gooped up. It's colorless and also scent-free, making it pleasant to use at night when I crash out. I don't want to inhale a strong or heavy scent that keeps me awake while I am trying to stack Zs.
I followed up this morning with a generous swipe on my face and neck after washing my face in the shower and before putting on makeup. It penetrated quickly; I didn't have to wait too long for it to absorb and then to apply concealer.
My skin felt super soft and nourished, without any excess bells and whistles, like fragrance. Upon use, I found Wanderlush to be no frills, which was a welcome quality, and highly effective. It also served as a base for my concealer and then a dusting of powder. It served two purposes — moisturizing and priming — and my skin didn't feel like layers of products were pancaked on top of it. So, yeah, this baby is a total win.
Bonus tip: You can use it for face or body, but I love how it felt on my face and neck. It wasn't heavy or cloying. It was skin-loving.
Another thing that makes Wanderlush worth it? Well, $2 from every jar sold is being donated to St. Jude's. You can passively do good with purchase — baby your skin and help sick children in need. That's a beautiful thing.
This screen grab of the caption from Kim Thai's Wanderlush post offers a run down of its properties, status, and usage.
Images: OFRA Cosmetics/Instagram (2); Amy Sciarretto (1)