Oscar Isaac Is Married, Apologies All Around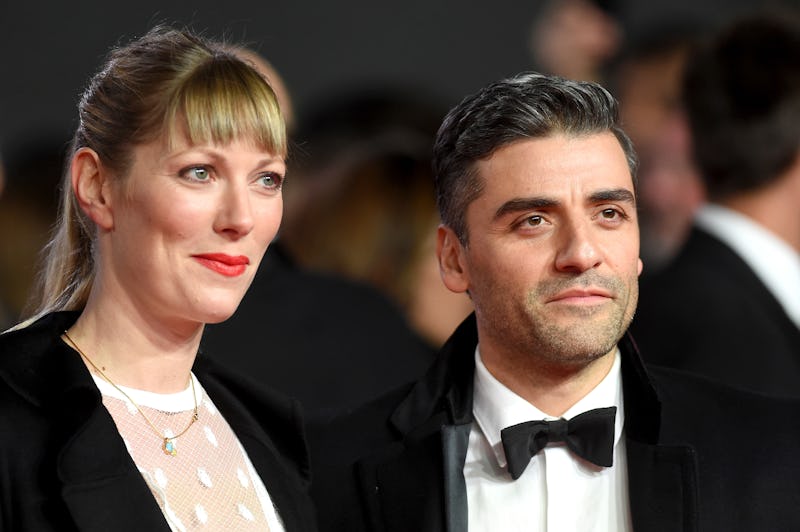 Stuart C. Wilson/Getty Images Entertainment/Getty Images
The Star Wars: The Last Jedi promotional tour has bestowed upon the world many gifts, including but not limited to many beautiful photos of and endearing interviews with the internet's boyfriend, Oscar Isaac. Isaac, who plays resistance pilot Poe Dameron in the epic space saga, has been making people swoon since he came into his own in the Coen brothers' 2011 film Inside Llewyn Davis. But is the Internet's favorite beau cuffed up? Much to everyone's chagrin, indeed, Oscar Isaac is married to Elvira Lind, though it seems they tied the knot very, very quietly.
Isaac is notoriously private, and though he's charming as hell in interviews (and on-screen) he speaks very little about his personal life. The Guatemalan actor did, apparently, let slip to Esquire that he and Lind, his longtime partner with whom he welcomed a son in April of this year, are married. Esquire writer Miranda Collinge, who was lucky enough to interview Isaac in November, revealed that Isaac is, in fact a husband now when describing his apartment:
"He kept a vague eye on the sky from the balcony of the one-bedroom apartment he shares — until their imminent move to a leafier part of Brooklyn — with his wife, the Danish documentary film-maker Elvira Lind."
(He wasn't paranoid-watching the sky; it was the day of the Great American Eclipse.)
Collinge also writes later that Isaac and Lind got married in March, a month after Isaac's mother, Eugenia, passed away, and a month before their son was born, who they named Eugene after her. But that's it! Those are all the details; no engagement story or details about the wedding at all.
More recently, though, Isaac caused his admirers pain and heartbreak when he called Lind his wife in a BuzzFeed video of himself and Star Wars co-star (and another one of the internet's boyfriends) John Boyega reading some thirsty tweets about themselves. After reading one that offered some advice — "Sexy ways to spice up the bedroom: wear an Oscar Isaac mask" — he said, "That's what I tell my wife to do all the time." Gasp! An admission that made hearts break. He was also wearing a gold band on his finger while reading all the shameless, salacious, very relatable tweets.
Although it's not clear when Isaac and Lind began dating, they made their first public appearance together at the Golden Globes in January 2016. Isaac won the award for Best Actor in a Limited Series or Television Motion Picture for his work in Show Me A Hero, and before he bounded up to the stage he kissed Lind right on the lips, right in front of everyone. A rare move for the very private actor, but he was obviously elated.
Lind is an artist, too. The 36-year-old is a documentary filmmaker and photographer, and hails from Copenhagen, Denmark. Earlier this year, Lind's film Bobbi Jene won the prize for Best Documentary Feature at the Tribeca Film Festival, but she couldn't be there to accept — because she had just had her baby! Lind sent her thanks in a sweet video in which she's holding newborn Eugene. "If I could, I would be dancing, jumping up and down, probably all week long," she said in the video.
In addition to her film and photography work, she and Isaac together created the website Staircase Sessions, which documents musicians playing stripped-down, intimate versions of their favorite songs, in a staircase.
Though Isaac and Lind are gradually becoming a tiny bit less secretive about their relationship, for a long time, the actor was so skilled at keeping his personal life under wraps that people were confusing Lind with his previous partner, Maria Miranda. It was rumored that he had proposed to Miranda back in 2007, but in 2015 media outlets began misidentifying Lind as Miranda in photos. Confusing! It's possible that no one ever knew what Miranda actually looked like. Was she even real?!
It matters not. What matters is that Isaac is married, and you're just going to have to get used to it. If you're truly feeling betrayed, why not transfer your affection to John Boyega? He's not married (yet), and he looks amazing in velvet tuxedos.